PASADENA, Calif. -- The best moment of the 2013 Rose Parade? An army sergeant who was deployed to Afghanistan stepped off a parade float to surprise his wife and young son, three months before his redeployment date.
The surprise reunion, coordinated by the military and pet food company Natural Balance, was seven months in the making. The family was kept on a need-to-know basis, which means Army Sgt. First Class Eric Pazz, 32, wasn't informed of the surprise until five weeks ago, when he was tasked with telling wife Miriam Pazz, 29, that she won an an all expenses-paid trip to the Rose Parade through a military-only contest.
Miriam Pazz and her 4-year-old son Eric Pazz II made the trip from their home at a U.S. military base in Germany to Pasadena, Calif. As they stood on Colorado Boulevard watching the Rose Parade, they were stunned to see Sgt. Pazz atop the "Canines with Courage" parade float.
The crowd stood up to watch Pazz run and hug his family. He swept his son up in his arms and handed his wife a red rose. After the tearful reunion, Pazz returned to the float to finish the parade with his family by his side.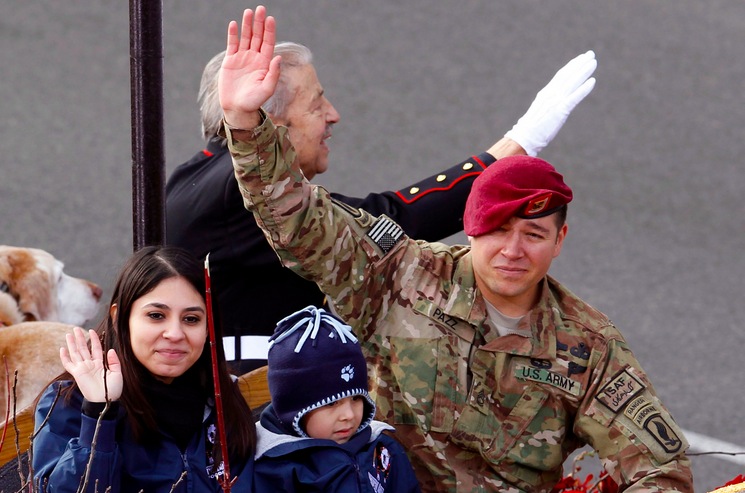 Photo by Associated Press. Story continues below.
"It was an extremely emotional experience," he told The Huffington Post. "It was a very vulnerable, very emotional moment."
Before New Year's Day, Pazz had been separated from his family for seven months.
Miriam Pazz, who avoids watching surprise military reunions when her husband is deployed, was stunned that she was now the subject of such a video -- and a nationally televised one at that.
"It was overwhelming. It's too hard to describe," she told HuffPost.
The couple have been married for eight years, and Pazz said it was difficult to keep such a huge secret from his wife. "She knows me inside and out," he said to HuffPost. "She knows when I'm not being completely honest."
"It was pretty interesting," said Miriam Pazz, smiling. "He's usually not very good with secrets."
For the rest of the week, the family is going to spend time around Southern California visiting Hollywood and Disneyland. But Pazz already knows that the hardest thing about his amazing surprise is right around the corner.
"When we got up on the float, the first thing my son said to me was, 'is it March already? Is that why you're here?'" he said.
"Now I gotta explain to him, when I go back, that I have to go away again for a while -- that I'm not going to see him again for a couple of months," he continued. "So in that aspect, it's even more difficult. You're forced to go through that moment of separation again."
Pazz served in Iraq and Afghanistan, and has received the Purple Heart and Bronze Star. At the end of this week, he will return to Afghanistan until his discharge date in March.
The "Canines with Courage" display, which raises awareness about the effort to erect the first-ever memorial for military working dogs, was sponsored by pet food company Natural Balance.
The Pentagon sponsored another military-themed float, which replicated the Korean War Veterans memorial in Washington. The Pentagon's Rose Parade debut comes a few months before the 60th anniversary of the armistice that ended the fighting in Korea.
To see more heartwarming military reunions, check out the slideshow below.

Loading Slideshow
In an attempt to make a memorable entrance, a sailor -- who's been away from home for more than eight months -- decided to sneak into a family picture at his grandma's 76th birthday celebration, <a href="http://www.huffingtonpost.com/2012/03/27/sailor-surprises-grandmother-birthday-celebration-video_n_1383183.html" target="_hplink">The Huffington Post reports. </a> Wrapping her arms around him, the sailor's grandmother yelled in excitement at the sight of her grandson.

Last October, Staff Sergeant Chris Reed -- armed with a trays full of fast food -- <a href="http://www.huffingtonpost.com/2011/10/28/soldier-surprises-wife-chick-fil-a_n_1064431.html" target="_hplink">surprised his wife,</a> Amy, at a Chick-fil-A restaurant in Eustis, Fla. "It started off with her just screaming and her shedding tears. Then everyone started shedding tears. There wasn't a dry eye in the place," Chick-fil-A's Kevin O'Leary<a href="http://www.wesh.com/r/29594797/detail.html#ixzz1c6woi2k8" target="_hplink"> told WESH.com.</a>

After being deployed in Kuwait and Iraq for a year, Specialist Matthew Peters from Owensville, Mo., popped into the cafeteria of Washington West Elementary School to give his son, Blake, <a href="http://www.huffingtonpost.com/2011/09/22/military-surprise-homecom_n_974780.html" target="_hplink">a long overdue hug. </a> Peters had told Blake, who dissolved into tears at the sight of his father, that he'd be home 10 days later than when he actually showed up.

On an episode of <a href="http://www.youtube.com/watch?v=WEDV8nu3tf8" target="_hplink">TLC's "Surprise Homecoming",</a> Sgt. Lawrence Lee sings his way back into the hearts of his two children.

In March, <a href="http://www.huffingtonpost.com/2012/03/29/military-father-surprises-daughter-on-stage_n_1389434.html" target="_hplink">The Huffington Post</a> reported that father-of-three MSG Joseph Devine (U.S. Army) returned from Afghanistan after spending a year in Afghanistan. Devine decided to surprise his 18-year-old daughter on stage at her high school after she delivered a speech as captain of her speech team. "She is daddy's only little girl, always will be, and boy did it show," <a href="http://www.huffingtonpost.com/2012/03/29/military-father-surprises-daughter-on-stage_n_1389434.html" target="_hplink">said Devine's wife, Kathryn.</a>

Last December, Capt. Dawn McCracken-Bruce reunited with her young sons just in time for Christmas, <a href="http://abcnews.go.com/WNT/video/iraq-war-mom-surprises-sons-mall-15225161" target="_hplink">ABC News reports.</a> The soldier mom surprised her two children at the mall.

A soldier home from Kuwait <a href="http://www.huffingtonpost.com/2012/05/07/a-soldier-home-from-kuwai_n_1498126.html" target="_hplink">paid an unexpected visit to</a> his father-in-law. The soldier's wife, Cari S., captured the tender moment on camera "My big, tough Daddy turns into a big ole' softy when it comes to his kids, and he is so proud of his son-in-law. As you can see, he is on a business call and walks right by my husband when he comes in. I love his reaction," she wrote <a href="http://welcomehomeblog.com/2012/05/02/u-s-soldier-home-from-kuwait-surprises-father-in-law/#disqus_thread" target="_hplink">in the video's description</a> on the Welcome Home Blog.

A U.S. Army couple serving in a parachute-jumping unit in Afghanistan returned home to the delight and tears of their two young children, <a href="http://www.fox11online.com/dpp/news/local/fox_cities/Army-couple-surprises-children-at-Outagamie-County-Regional-Airport?hpt=us_bn9" target="_hplink">Fox 11 News reports. </a> When asked what she wants to do with her parents, Travis and Isela Ulman, during their two weeks at home, 11-year-old Tashia said that she has big plans. "Hug them over and over and then I want to show them my room and I want to bring them to school," she said.

In this viral video, watch as a soldier is reunited with his beloved pooch, Emmit. The huge Great Dane, aptly nicknamed "Thunderpaws", is seen giving Trevor Chowder, who had just returned from a nine-month deployment in Afghanistan, a long and loving hug, <a href="http://news.yahoo.com/blogs/upshot/soldier-dog-reunion-video-hit-210952704.html" target="_hplink">Yahoo! News reports.</a>

There are many videos of servicemen and women surprising their families, but it's a special treat when we see the tables turned. Here is a heartwarming new video from the <a href="http://welcomehomeblog.com/2012/05/14/u-s-marine-gets-surprised-by-his-8-year-old-little-sister/" target="_hplink">Welcome Home Blog</a> which shows a Marine getting a big surprise from his little sister. "My son-in-law took my 8-year-old daughter with him to deliver my son's motorcycle to him in AZ. Our Marine did not know that his little sister was coming. This video is of when he found out," wrote the Marine's mom, Barbara W., <a href="http://welcomehomeblog.com/2012/05/14/u-s-marine-gets-surprised-by-his-8-year-old-little-sister/" target="_hplink">in the video description.</a>

A 6-year-old boy with cerebral palsy gave his soldier dad a very special homecoming when he walked into his father's open arms, <a href="http://www.rightthisminute.com/video/Marine-RTM-son-walks-first-time-Jeremy-Michael-Cooney" target="_hplink">RightThisMinute.com reports.</a> Marine Staff Sgt. Jeremy Cooney, 31, had been told that his son would never be able to walk. However, during the seven months that Cooney was away, <a href="http://www.huffingtonpost.com/2012/05/10/jeremy-cooney-us-marine-son-cerebral-palsy_n_1507423.html" target="_hplink">his son learned to walk on his own.</a> Cooney's wife Melissa kept her son's progress a secret for the duration of her husband's deployment so that when he finally returned home, he would be welcomed with the gift of a lifetime.
Related on HuffPost:
Check out photos below from the Rose Parade 2013:
Loading Slideshow
Vanessa Manjarrez, Nicole Nelam, Sonia Shenoi, Madison Teodo, Victoria MacGregor, Tracy Cuesta, Kate Benuska. (AP Photo/Reed Saxon)

The 2013 Rose Queen and Court are seen in the 124th Rose Parade in Pasadena, Calif., Tuesday, Jan. 1, 2013. Queen Vanessa Manjarrez is at top center, with princesses, clockwise from top right, Nicole Nelam, Sonia Shenoi, Madison Teodo, Victoria MacGregor, Tracy Cuesta and Kate Benuska. (AP Photo/Reed Saxon)

Jane Goodall

Jane Goodall, of England, famed for her work with chimpanzees in Africa and for her efforts on behalf of endangered species everywhere, is seen in the 124th Rose Parade in Pasadena, Calif., Tuesday, Jan. 1, 2013. (AP Photo/Reed Saxon)

A woman smiles from the float "Wonderful Indonesia" from the Ministry of Tourism and Creative Economies, Republic of Indonesia_the winner of the President's trophy for the most innovative use and presentation of flowers_ in the 124th Rose Parade in Pasadena, Calif., Tuesday, Jan. 1, 2013. (AP Photo/Patrick T. Fallon)

Protesters with the Occupy movement carry signs and characters to protest the foreclosure practices of banks including Wells Fargo after the conclusion of the 124th Rose Parade in Pasadena, Calif., Tuesday, Jan. 1, 2013. (AP Photo/Patrick T. Fallon)

The Dole Dreaming of Paradise float is the winner of the Sweepstakes trophy, for the most beautiful entry, in the 124th Rose Parade in Pasadena, Calif., Tuesday, Jan. 1, 2013. (AP Photo/Patrick T. Fallon)

The "Cycling Through Paradise" float from China Airlines, winner of the International trophy for the most beautiful entry from outside the United States, appears in the 124th Rose Parade in Pasadena, Calif., Tuesday, Jan. 1, 2013. (AP Photo/Patrick T. Fallon)

The University of Wisconsin Marching Band performs in the 124th Rose Parade in Pasadena, Calif., Tuesday, Jan. 1, 2013. (AP Photo/Patrick T. Fallon)

A woman waves from the "Cycling Through Paradise" float by China Airlines, winner of the International trophy for the most beautiful entry from outside the United States, in the 124th Rose Parade in Pasadena, Calif., Tuesday, Jan. 1, 2013. (AP Photo/Patrick T. Fallon)

Volunteer David Burney from Milwaukee helps put the finishing touches on the RDF TV rose float in Pasadena Monday, Dec. 31, 2012. (AP Photo/Nick Ut)

Workers prepare Honda's "Follow Your Dreams" Rose Parade float, Saturday, Dec. 29, 2012, in Pasadena, Calif. The Rose Parade is scheduled for Tuesday, Jan. 1, 2013. (AP Photo/Mark J. Terrill)

The 2013 Rose Queen and Court ride a float in the 124th Rose Parade in Pasadena, Calif., Tuesday, Jan. 1, 2013. Queen Vanessa Manjarrez, top center, appears with princesses, clockwise from top right, Nicole Nelam, Sonia Shenoi, Madison Teodo, Victoria MacGregor, Tracy Cuesta and Kate Benuska. (AP Photo/Patrick T. Fallon)

The 2013 Rose Queen Queen Vanessa Manjarrez rides a float in the 124th Rose Parade in Pasadena, Calif., Tuesday, Jan. 1, 2013. (AP Photo/Patrick T. Fallon)

The Dole float "Dreaming of Paradise," winner of the top prize_ the Sweepstakes trophy for the most beautiful entry_ makes its way in the 124th Rose Parade in Pasadena, Calif., Tuesday, Jan. 1, 2013. (AP Photo/Reed Saxon)

The float "Freedom Is Not Free, " sponsored by the Korean War Commemoration Committee, appears in the 124th Rose Parade in Pasadena, Calif., Tuesday, Jan. 1, 2013. (AP Photo/Patrick T. Fallon)

The Kaiser Permanente float "Oh, The Healthy Things You Can Do," winner of the Theme trophy for the best presentation of the parade theme"Oh, The Places You'll Go," makes it way in the 124th Rose Parade in Pasadena, Calif., Tuesday, Jan. 1, 2013. (AP Photo/Reed Saxon)

A member of the Stanford University Marching Band wears a Wisconsin Cheese head hat while performing in the 124th Rose Parade in Pasadena, Calif., Tuesday, Jan. 1, 2013. (AP Photo/Patrick T. Fallon)

The La Canada Flintridge float "Dino-Soar," winner of the Animation trophy for the best display of animation, makes its way in the 124th Rose Parade in Pasadena, Calif., Tuesday, Jan. 1, 2013. (AP Photo/Reed Saxon)

A flying penguin, part of the float "Tuxedo Air," build by Cal Poly Universities_ winner of the Bob Hope trophy for the most comical and amusing entry_ appears in the 124th Rose Parade in Pasadena, Calif., Tuesday, Jan. 1, 2013. (AP Photo/Patrick T. Fallon)

The "Follow the Stars… Adopt A Pet!" float built by the Beverly Hills Pet Care Foundation, winner of the Lathrop K. Leishman trophy for the most beautiful entry from a non-commercial sponsor, appears in the 124th Rose Parade in Pasadena, Calif., Tuesday, Jan. 1, 2013. (AP Photo/Patrick T. Fallon)

O.T. Triplett, who has worked the Pasadena Tournament of Roses since 1989, smiles while wearing a rose sticker before the start in the 124th Rose Parade in Pasadena, Calif., Tuesday, Jan. 1, 2013. (AP Photo/Patrick T. Fallon)

Dancers perform on a float featuring Disney's "Cars Land" in the 124th Rose Parade in Pasadena, Calif., Tuesday, Jan. 1, 2013. (AP Photo/Patrick T. Fallon)

The float "Wonderful Indonesia," from the Ministry of Tourism and Creative Economies, Republic of Indonesia_ winner of the President's trophy for the most innovative use and presentation of flowers_ appears in the 124th Rose Parade in Pasadena, Calif., Tuesday, Jan. 1, 2013. (AP Photo/Patrick T. Fallon)

Special effects explode on a float featuring Disney's "Cars Land" during the 124th Rose Parade in Pasadena, Calif., Tuesday, Jan. 1, 2013. (AP Photo/Patrick T. Fallon)

The Rose Parade float "Freedom Is Not Free" by the Korean War Commemoration Committee is seen in Pasadena during the final judging of floats on Monday, Dec 31, 2012 prior to the kick off of the 124th Rose Parade on New Year's Day. The Defense Department for the first time will put a float in Pasadena's Tournament of Roses, one of the most watched parades, to commemorate the veterans from a conflict that still casts a shadow over the world. (AP Photo/Nick Ut)

Jane Goodall, the world's foremost expert on chimpanzees looks over flowers in Pasadena, Calif., Monday, Dec. 31, 2012. Goodall will be the Grand Marshall of the 2013 Rose Parade in Pasadena, Calif. New Year's Day. (AP Photo/Nick Ut)

The Stanford University band, known for their colorful nonconformity, march in the 124th Rose Parade in Pasadena, Calif., Tuesday, Jan. 1, 2013. Stanford will play Wisconsin in the Rose Bowl football game. (AP Photo/Reed Saxon)

Nicole Angelillo, Gerald Sapienza, Sean Valentine

Newlyweds Nicole Angelillo and Gerald Sapienza, both of Chesapeake, Va., kiss aboard the Farmers Insurance "The Love Float," in the 124th Rose Parade in Pasadena, Calif., Tuesday, Jan. 1, 2013. The couple, married aboard the float just minutes earlier by nationally syndicated radio personality Sean Valentine, center, are the winners of a national promotion by Farmers. Others are unidentified. (AP Photo/Reed Saxon)

Other Wisconsin band members are reflected in the tuba section as the band marches in the 124th Rose Parade in Pasadena, Calif., Tuesday, Jan. 1, 2013. Wisconsin will play Stanford in the Rose Bowl football game. (AP Photo/Reed Saxon)

Performers with the PAVA World Korean Traditional Marching Band march in the 124th Rose Parade in Pasadena, Calif., Tuesday, Jan. 1, 2013. (AP Photo/Reed Saxon)

Dressed in their signature white suits, tournament members push a utility truck off the parade route in the early morning hours prior to the start of the 124th Rose Parade in Pasadena, Calif., Tuesday, Jan. 1, 2013. (AP Photo/Patrick T. Fallon)

The float carrying the spirit squad for Stanford University, which will face Wisconsin in the Rose Bowl football game, is seen in the 124th Rose Parade in Pasadena, Calif., Tuesday, Jan. 1, 2013. (AP Photo/Reed Saxon)

A Tournament member rides a scooter down the parade route in the early morning hours prior to the start of the 124th Rose Parade in Pasadena, Calif., Tuesday, Jan. 1, 2013. (AP Photo/Patrick T. Fallon)

The California Polytechnic Universities' float, "Tuxedo Air," is the winner of the Bob Hope trophy for the most comical and amusing entry, in the 124th Rose Parade in Pasadena, Calif., Tuesday, Jan. 1, 2013. (AP Photo/Reed Saxon)

Eric Pazz, Eric Pazz Jr., Miriam Pazz

The Natural Balance Pet Foods float, "Canines With Courage," is the winner of the Past Presidents' trophy for the most innovative use and presentation of flowers, in the 124th Rose Parade in Pasadena, Calif., Tuesday, Jan. 1, 2013. Seated at the front are Army Sgt. First Class Eric Pazz, waving, and his wife Miriam and 4-year-old son Eric Jr. after their surprise reunion on the parade route. Miriam Pazz had been told she had won a contest to attend the parade and did not know her husband, who was deployed in Afghanistan, would be there. He got off the float in front of their seats, to a standing ovation on their reunion. (AP Photo/Reed Saxon)

A flame shoots out above a rose volcano on the Dole Dreaming of Paradise float, winner of the Sweepstakes trophy for the most beautiful entry in the 124th Rose Parade, in Pasadena, Calif., Tuesday, Jan. 1, 2013. (AP Photo/Patrick T. Fallon)

The California Polytechnic Universities' float, "Tuxedo Air," is the winner of the Bob Hope trophy for the most comical and amusing entry, in the 124th Rose Parade in Pasadena, Calif., Tuesday, Jan. 1, 2013. (AP Photo/Reed Saxon)

Eric Pazz, Eric Pazz Jr., Miriam Pazz

The Natural Balance Pet Foods float, "Canines With Courage," is the winner of the Past Presidents' trophy for the most innovative use and presentation of flowers, in the 124th Rose Parade in Pasadena, Calif., Tuesday, Jan. 1, 2013. Seated at the front are Army Sgt. First Class Eric Pazz, waving, and his wife Miriam and 4-year-old son Eric Jr. after their surprise reunion on the parade route. Miriam Pazz had been told she had won a contest to attend the parade and did not know her husband, who was deployed in Afghanistan, would be there. He got off the float in front of their seats, to a standing ovation on their reunion. (AP Photo/Reed Saxon)

In this photo provided by Hannah Storm, ESPN anchor Hannah Storm, left, poses for a photo with co-host Josh Elliott, anchor for ABC's Good Morning America, on the parade grounds of the Rose Parade on Tuesday, Jan. 1, 2013, in Pasadena, Calif. Storm hosted the Rose Parade telecast Tuesday in her first on-air appearance since sustaining first- and second-degree burns to her face, hands, chest and neck in a propane gas grill accident Dec. 11. (AP Photo/Courtesy Hannah Storm)

Olympic gymnasts Kyla Ross and McKayla Maroney ride in the 124th Rose Parade in Pasadena, Calif., Tuesday, Jan. 1, 2013. (AP Photo/Patrick T. Fallon)

Protesters from the Occupy movement and others lead an "unofficial" parade entry after the last unit of the 124th Rose Parade in Pasadena, Calif., Tuesday, Jan. 1, 2013. (AP Photo/Reed Saxon)

Korean War veterans and others ride the float "Freedom Is Not Free " sponsored by the Korean War Commemoration Committee in the 124th Rose Parade in Pasadena, Calif., Tuesday, Jan. 1, 2013. The float depicts the Korean War Veterans Memorial in Washington. (AP Photo/Reed Saxon)

The BOSS, Bands of Santiago Sharks, from Santiago High School in Corona, Calif., marches in the 124th Rose Parade in Pasadena, Calif., Tuesday, Jan. 1, 2013. (AP Photo/Reed Saxon)

The Donate Life float "Journeys of the Heart" carries people who have received donated organs along ith relatives of donors in the 124th Rose Parade in Pasadena, Calif., Tuesday, Jan. 1, 2013. The relatives of donors each hold a portrait of a donor. (AP Photo/Reed Saxon)

Army Sgt. First Class Eric Pazz kisses his wife Miriam as his son Eric Jr. watches during the 124th Rose Parade in Pasadena, Calif., Tuesday, Jan. 1, 2013. Miriam Pazz had been told she had won a contest to attend the parade and did not know her husband, who is deployed in Afghanistan, would be riding on the Natural Balance Pet Foods float. Pazz is a highly-decorated soldier who has also served in Iraq. (AP Photo/Patrick T. Fallon)

Army Sgt. First Class Eric Pazz rides with his wife Miriam and son Eric Jr., after they were reunited in the 124th Rose Parade in Pasadena, Calif., Tuesday, Jan. 1, 2013. Miriam Pazz had been told she had won a contest to attend the parade and did not know her husband, who is deployed in Afghanistan, would be riding on the Natural Balance Pet Foods float. Pazz is a highly-decorated soldier who has also served in Iraq. (AP Photo/Patrick T. Fallon)

The Donate Life float "Journeys of the Heart" carries people who have received donated organs and relatives of donors in the 124th Rose Parade in Pasadena, Calif., Tuesday, Jan. 1, 2013. (AP Photo/Reed Saxon)

Members of the Norco Cowgirls Rodeo Drill Team ride their horses in the 124th Rose Parade in Pasadena, Calif., Tuesday, Jan. 1, 2013. (AP Photo/Patrick T. Fallon)

The Indonesia Ministry of Tourism float "Wonderful Indonesia," the winner of the President's trophy for the most innovative use and presentation of flowers, appears in the 124th Rose Parade in Pasadena, Calif., Tuesday, Jan. 1, 2013. (AP Photo/Reed Saxon)

The Pasadena City College Honor Band performs in the 124th Rose Parade in Pasadena, Calif., Tuesday, Jan. 1, 2013. (AP Photo/Patrick T. Fallon)

Nicole Angelillo, Gerald Sapienza, Sean Valentine

Newlyweds Nicole Angelillo and Gerald Sapienza, both of Chesapeake, Va., ride the Farmers Insurance "The Love Float," in the 124th Rose Parade in Pasadena, Calif., Tuesday, Jan. 1, 2013. The couple, married aboard the float just minutes earlier by nationally syndicated radio personality Sean Valentine, center, are the winners of a national promotion by Farmers. (AP Photo/Reed Saxon)

Bundled in blankets, people wait on the street in the early-morning cold before the start of the 124th Rose Parade in Pasadena, Calif., Tuesday, Jan. 1, 2013. (AP Photo/Patrick T. Fallon)