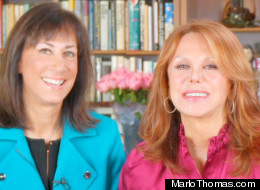 It can be scary broaching certain topics with your doctor. Luckily, Dr. Lauren Streicher stopped by Mondays With Marlo to share her advice. If you're feeling shy talking about specific questions, try making a list you can go over with your doctor. When you walk into your doctor's office, it'll help you tackle your questions in a business-like manner to ensure your concerns are addressed.
For more on staying healthy, check out Dr. Streicher's favorite women's health tips:
Women's Health Tips From Dr. Lauren Streicher
Always use protection during sex. Mid-life women can still get HPV, even from nice guys. HPV is the cause of not only cervical cancer, but also vulvar, vaginal, anal, penile, and some oral and bladder cancers.

Uterine cancer, not ovarian cancer, is the most common gynecologic cancer in the United States. Abnormal bleeding is an early sign, so see your doctor if you see red that you're not supposed to.

Healthy non-smokers can take low-dose birth control pills until age 55 as a great way to provide contraception, and to avoid the perimenopause hormonal roller coaster.

Don't ignore vaginal odor the day after sex. The most likely culprit is bacterial vaginosis caused by a change in pH. Similarly, if you have an abnormal vaginal odor no matter how many showers a day you take, BV, not poor hygiene, is likely to be your issue. Try RepHresh gel to get your pH back on track.

If yeast and bacterial infections are a regular occurrence, try a daily vaginal probiotic supplement containing lactobacillus strains, L. rhamnosus GR-1 and L. reuteri RC-14. Don't be confused with probiotics designed for digestion or the immune system.

Silicone lubes such as Wet Platinum last longer and are more slippery than water-based lubes.

Buy moisturizer that is for internal use if you're looking to eliminate painful sex. If a moisturizer says that it's for external use only, it's a vulvar moisturizer, and won't ease your pain.

If you are experiencing vaginal dryness, it may be your birth control. Consult your doctor about this issue, and he or she may switch you to another type.

A hysterectomy will not put you into menopause unless you remove your ovaries as well. Most hysterectomies can be performed laparoscopically as an outpatient procedure. Keeping your cervix is often an option.

Just because you don't need a Pap test doesn't mean you don't need a gynecologic exam.
Add Marlo On Facebook:
Follow Marlo on Twitter:

Weekly Newsletter

Sign up to receive my email newsletter each week - It will keep you up-to-date on upcoming articles, Mondays with Marlo guests, videos, and more!

Sign up here