There's a new page in the ever-growing book of bizarre beauty procedures. Joining the list of treatments like extreme butt implants and Japan's "bagel heads" comes gum tattooing. More specifically, tattooing your gums black to achieve a more beautiful smile.
While it may sound extreme to most, women in the country of Senegal have been doing it for years. The West African country inherited the custom from their ancestors and believe it will help women attract men. We're now learning about this unique beautification method thanks to a video that has surfaced following a young woman named Marième as she undergoes the procedure.
Although she's brave at first, Mariéme soon succumbs to the pain of the needles jabbing into her gums as they inject a black powder made of burnt oil and shea butter, only making it through four of the seven recommended layers of pigmentation.
"It hurts. I would never recommend this torture to anyone," she explains after the tattoo is finished.
Needless to say, the video is hard to watch. But the woman performing the tattoo explains its benefits:
Less and less women are doing this, but some are still interested. Especially young women who are looking for a lover. Listen to me, tattooed gums and a silver tooth: that's what's attractive. A woman should not have red gums. Her gums need to be dark. A nice smile attracts men. A nice smile with white teeth.
If you need a bit more convincing, the procedure is also said to boost dental health and eliminate bad breath, all of which could be yours for 1 Euro (that's less than $1.50) and the nerve to make it through a torture session.
No thanks, we'll just stick to Crest Whitestrips and Altoids.
Furthermore, we honestly can't see much of a difference between Marième's pre-tattooed gums and the darkened result. And for the record, the women in this film are already beautiful -- no black gums required.
Check out the video above and learn about other bizarre beauty treatments in the slideshow below.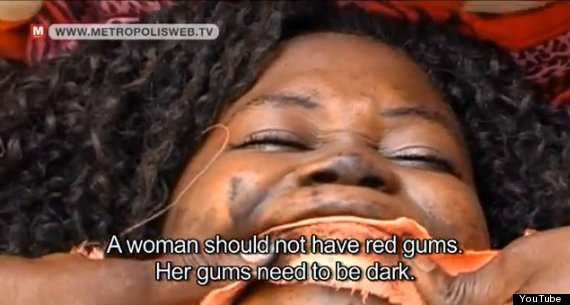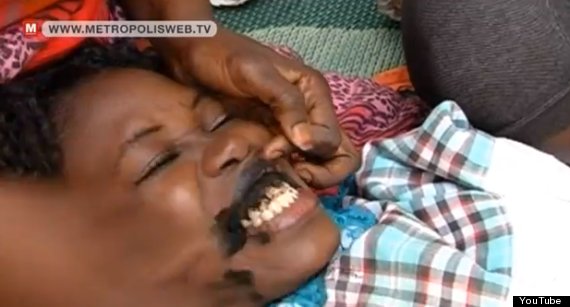 Related on HuffPost:
Loading Slideshow
Fish Pedicures

<a href="http://www.thestar.com/living/article/830236--little-nibblers-fish-pedicures-are-popular-but-controversial" target="_hplink">This popular treatment has become a spa go-to for women around the world who want softer, smoother feet</a>. Essentially, this treatment involves dipping your feet into a tank and letting hungry little fish -- Garra rufa fish -- gently eat away at the dead skin cells that make your skin feel rough. Some places and states have banned the practice for fears it may be unsanitary.

Bull Semen Hair Mask

<a href="http://www.metro.co.uk/news/35685-new-hair-product-uses-bull-semen" target="_hplink">According to Metro.co.uk, a hairdresser, Hari's, in Knightsbridge, London, "has combined... organically produced [bull] semen with the root of protein-rich plant katera</a>," to make an intense hair conditioning treatment. The procedure apparently takes 45 minutes and costs over $100.

Breast Milk Soap

Milk does do a body good. But the <a href="http://shine.yahoo.com/healthy-living/breast-milk-soap-it-does-a-body-good-2210353.html" target="_hplink">trend toward making your own soap</a> -- to be used when you shower or simply wash your hands -- out of breast milk is, well, a bit extreme. The trend emerged as people started to worry that brand-name soaps were full of chemicals and detergents that would harm their skin (or worse, cause cancer). And since milk is supposed to nourish the epidermis, well, why not turn excess breast milk into something, ahem, usable?

Solid Gold Facial

Why not add a little bling to your beauty routine? Now you can -- if you live in Florida and have enough cash to dish out for the, wait for it, 24 carat gold facial. Yep! Mar-a-Lago in Palm Beach offers spa patrons the opportunity to have their entire body painted in gold. The thought is karats can help stave off cellulite and prevent aging.

Fire Cupping

Fire cupping is a natural treatment where a practitioner ignites a cotton ball soaked in alcohol and places it inside a cup. When the cup is placed against a patient's skin, a suction action begins to happen -- which is said to increase circulation. Once "activated," the glass bulbs can be moved to key "energy" points all over the body to boost the immune system and increase blood flow (which will help give skin a natural glow, making patients look younger). <a href="http://www.cbsnews.com/2100-500165_162-628788.html" target="_hplink">A big fan of the procedure is reportedly Gwyneth Paltrow</a>.

Bird Poo Or Placenta Facials

We almost can't bring ourselves to write about these beauty trends, but they're too weird not to discuss. <a href="http://articles.cnn.com/2008-09-26/living/bird.poop.facials_1_facials-placenta-skin?_s=PM:LIVING" target="_hplink">In L.A., placenta facials -- which use placentas from Russian maternity wards -- are used on clients to nourish skin and prevent aging</a>. And many celebs, including Victoria Beckham, hail the "nightingale poo facial" as their biggest beauty saviour. <a href="http://www.dailymail.co.uk/femail/beauty/article-1350741/Its-hailed-beauty-wonder-product-Victoria-Beckham-loves--bird-poo-face.html#ixzz1qQrjRLaU" target="_hplink">According to the DailyMail</a>: "The nightingale poo acts as an exfoliate that brings out the dirt and dust that builds up in the skin and leaves the customer feeling refreshed."

Beer Bath

Who doesn't love a good soak in a tub? But one containing beer? Now that's interesting. All across Eastern Europe, people are "sudsing it up" in big tubs full of beer. The thinking is the hops and yeast are full of vitamins that will enrich skin with vitamins, exfoliate dead skin cells and help pores sweat out toxins. <a href="http://travel.nytimes.com/2006/04/30/travel/30surfacing.html" target="_hplink">Here's how you can explore the beauty treatment trend yourself</a>.

Chocolate Body Wraps

A chocolate body wrap? Well sign us up. Sure, there's no scientific evidence to support the claims treating your body to some of the sweet stuff will soothe, smooth and detoxify your skin, but it involves sitting in chococlate for an hour. Sounds pretty tasty to us. <a href="http://www.chocolatespa.com/" target="_hplink">Check out the spa devoted to all sorts of chocolatey good beauty treatments</a>.

Urine Therapy

When we first heard that this weird beauty treatment may well be on the rise again, we had to do a bit of research. And here's what we found out: urine therapy was historically used by the Greeks and Romans to cure all that ailed them. It was also used to, ahem, whiten their teeth. Essentially, the procedure involves drinking your own urine in the hopes you'll look and feel younger. In modern times -- and on shows like '<a href="http://www.huffingtonpost.com/2012/03/19/my-strange-addiction-finale-drink-bathe-urine-pee-video_n_1360973.html" target="_hplink">My Strange Addiction</a>' -- people have been known to drink urine for various reasons. <a href="http://urinetherapy.tribe.net/thread/f604954c-4b97-4a1d-800f-39a03e41d87f" target="_hplink">Some scientists have even speculated urine has anti-carcinogenic properties</a> -- which could stave off cancer and wrinkles. <a href="http://www.medicinenet.com/urine_therapy/views.htm" target="_hplink">No real evidence has been found to support those claims</a>.

Snake Venom Cream

Just because Gwyneth Paltrow swears by this cream -- and its accompanying facial -- doesn't mean you should actually try applying <a href="http://www.refinery29.com/gwyneth-paltrow-snake-venom-anti-aging-treatment" target="_hplink">snake venom cream</a> to your face. Apparently, using a cream which has venom as an active ingredient helps plump up the skin (much in the same way botox does).