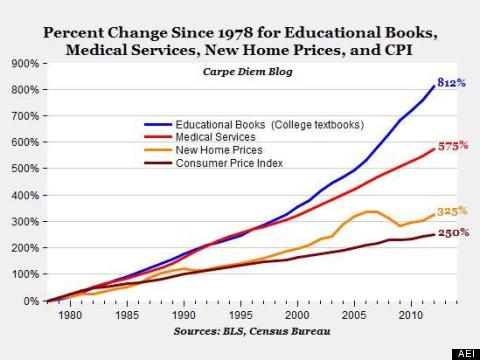 NACS no longer receives information from publishers about where textbook money goes, but as recently as 2008, they provided that cost breakdown. At that time, around 15.4 cents of every dollar went toward marketing the textbooks, 11.7 cents went to the authors, and the largest chunk—32.2 cents—went to the basics: paper, printing, and paying publishers' employees.
Just like the ongoing home price increases and housing bubble of the last decade were unsustainable, there is now growing evidence that rising college textbook prices and the "college textbook bubble" are also unsustainable, especially because of the growing number of low-priced and even free alternatives to over-priced $200-300 college textbooks. The textbook alternatives are part of the growing "open educational resources" movement, which is "terrifying" the college textbook cartel.
Also on HuffPost:
The 10 Most Expensive Colleges
SUBSCRIBE AND FOLLOW
Get top stories and blog posts emailed to me each day. Newsletters may offer personalized content or advertisements.
Learn more