Imagine it: a life in which you never, ever have to run out and buy "feminine hygiene" products again.
A company called Le Parcel now offers to deliver tampons and pads to you each month, along with some chocolate and a handy mystery gift. Users simply select which brands and products they prefer, enter their cycle's expected start date, and wait for the goods to be delivered right to their front doors incognito (unless the service really takes off, in which case everyone will know what "Le Parcel" contains).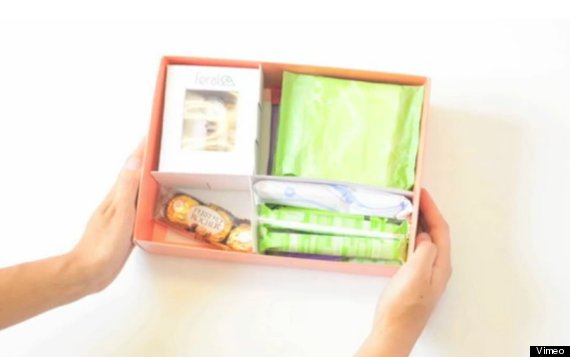 TechCrunch blogger Jordan Crook noted the convenience of such a service, writing: "If ever there was a consumer product suited for monthly subscriptions, it would be tampons. It only takes one midnight trip to the pharmacy for you to agree with me."
Several Twitter users seem excited about Le Parcel, which costs $15 per month.
Just discovered @leparcel What a clever & fun idea...every woman needs a pick-me-up like this at that time of the month. Sign me up!
Others on Twitter were less enamored of the concept, or simply found it hilarious:
If ever you feel that your menses are not Wes Anderson enough, Le Parcel is here to help: is.gd/R2yYZj
there is now a period subscription service: chocolates, cosmetics, tampons. pause for a moment and let that sink in. bit.ly/VzpCjb
The company's tagline? "Nature's gift stinks, so we give you a better one."
What do you think of Le Parcel? Sound off in the comments, or tweet @HuffPostWomen!
What Hollywood Calls Your Period
This Blogger's Books and Other Items from...
SUBSCRIBE AND FOLLOW
Get top stories and blog posts emailed to me each day. Newsletters may offer personalized content or advertisements.
Learn more