Best Food Bloggers: The Top 10 Of January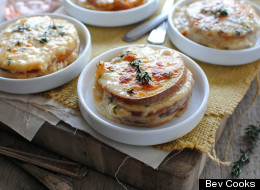 If your New Year's Resolution was to start reading new food blogs, you're in luck because we've got 10 stellar ones you should start following stat. (And if that wasn't your resolution, it really should be and it's not too late to change.)
The food blogging world is rich with creativity. But if you're new to reading them, you might just stumble across the handful of oldie but goodies that dominate Google search. That's where we come to your aid.
If we know anything, it's food blogs (we spend our days reading them -- not a bad gig, we know). There are 10 food blogs we just can't get enough of this month. There's one for the baker, health nut and curious cook too. But if you're looking to expand beyond that, you should check out our favorite bloggers of October, November and December.
Want to read more from HuffPost Taste? Follow us on Twitter, Facebook, Pinterest and Tumblr.
Top 10 Bloggers Of January
hungrygirlporvida.com If you're looking for great recipes and beautiful food photography that'll convince you to make them, you should be visiting this blog.

whatshouldieatforbreakfasttoday.tumblr.com For over a year and a half, Marta has been helping us find more interesting dishes to eat for breakfast. So if you're in a bit of a cereal slump, you'll definitely find inspiration on her blog.

versesfrommykitchen.com/ When someone can make a carrot, radish and goat cheese salad look this good, we know they're a keeper.

spoonforkbacon.com The bloggers that brought us rice crispie treat chocolate chip cookies -- why have we never thought of this?! -- consistently come up with recipes that make us want to run to our kitchens and get cooking. Not to mention their blog is loaded with beautiful photographs and great design.

bsinthekitchen.com This sister and brother duo bring a nice balance of sweet and savory. They're also to thank for the loaded nacho grilled cheese, the dill pickle grilled cheese, and our favorite, "The Canadian" pizza grilled cheese.

sipsandspoonfuls.com Sips and Spoonfuls is a blog that interweaves food, family and great photography. If you enjoy tales of personal experiences with great recipes, Sukaina will not disappoint.

bevcooks.com Bev of bev cooks decided seven years ago that eating cereal for dinner was no longer going to cut it. She set off teaching herself to cook, and since then she's made many great recipes along the way.

hungryrabbitnyc.com Hungry Rabbit never ceases to amaze us with cakes (peanut butter and jelly cake, and then a baklava cake!). And Ken, creator of Hungry Rabbit, is crafty when it comes to savory recipes as well.

www.sproutedkitchen.com If you're looking for healthy recipes that actually taste good, Sprouted Kitchen is a great resource. They've recently published a book, reaffirming just how good their recipes are.

www.seasonsandsuppers.ca If seasonal cooking is your jam, Seasons and Suppers is where it's at.