Sadly, we'd venture to say that body issues are as common as high heels in the modeling industry -- how could you not obsess about your frame when your job is to keep it as small as possible? Fortunately, we've got Daisy Lowe to keep it real.
The British model graces the cover of Grazia's "Happy Body Issue," an apt theme for a fashion figure who's been known to embrace her relatively curvy shape ("curvy" in terms of the industry she's in, we mean). Daisy tells the mag, "Being skinny just doesn't suit me."
Our reaction: thank you. There are other sizes than a double zero, you know. Unfortunately, the 24-year-old seems to hit a few roadblocks herself when it comes to garment sizes:
"There have definitely been moments when I have been very upset at some shoot when the clothes didn't fit, and you feel horrendous about yourself. I can sit here and say 'I love being curvy' but of course there are pressures to be thinner. Stick you next to a 15 year old Russian model doing the shows and these look like thunder thighs!"
Oy. Well, at least we know that the former Playboy cover girl is happy to wear only underwear. And hopefully Vogue's Health Initiative and other healthy standards movements will gain some steam. Until then, at the very least, it's refreshing to hear Daisy talk frankly about how she's being affected. Perhaps then we can all stop comparing ourselves to preteens in heels.
What do you think of Daisy Lowe's comments about the fashion industry size standards?
PHOTO: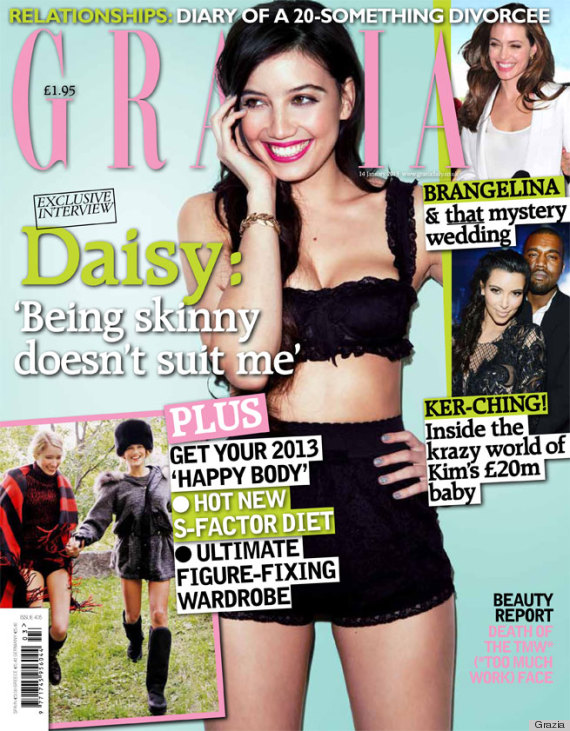 See some models who like to eat!
"The best thing you can do for someone is make them a beautiful plate of food. How else can you invade someone's body without actually touching them?" (Esquire)

"In the sixties, car stickers said: 'Forget Oxfam. Feed Twiggy.' But the irony is that I've always loved my food – even including wicked things such as sticky toffee pudding and buns. I do my own food shopping – I never let anyone else do it. I always buy organic and try to buy locally and in season. We have a house in Suffolk and I love shopping for food at the markets there." (Delicious Magazine)

Teigen, who has an awesome food-centric blog, once said, "I'm so blessed to have the lifestyle where I get to travel so much, but it's SO nice to be at home where I'm comfortable in my own kitchen. Whereas my days revolve around being insecure or being mad about something, or sad about something, when I get to actually cook everything goes out the window. It's like therapy. I'm sure the 10 glasses of wine help too!" (Beauty and the Feast)

Word is that Kate is writing her own Kosher cookbook. "Kate recently cooked Jamie a Jewish meal following kosher techniques from Stasha. It's all she's been talking about," says a source. (Hollywood Rag)

"What I've tried to do it make raw accessible to more people...People were asking me, 'How do you stay looking so good? How do you stay so thin? How do you do this, how do you do that?' Airline attendants, especially, were coming up to me on airplanes and saying to me, 'With all the travel you do, and we do the same, we're so tired, we feel so bad. Every time we see you you're smiling. How do you do it?' And I say, 'I have to tell you, it's the raw food.'" (Dawn of a New Day)

"I was too thin. I was working all the time, not eating at home. Spaghetti bolognese on planes. Ugh. Now most of my meals I cook for myself with organic ingredients." (Vogue)

In an interview she said that she maintained her own garden at her old home with lettuce, squash, beans, potatoes, and herbs. She says "it was nice for the kids to see that they could actually grow and eat their own things. (Good Housekeeping)

Our favorite plus-size model (and Aussie) Robyn Lawley, who has a gorgeous food blog called Robyn Lawley Eats, once said, "I think [cooking] is the best pleasure in life. I wanted to be a chef my whole life so I am very Nigella Lawson in the kitchen and I will always refuse to give up that beautiful passion just so I can look like a stick insect and fit the mould." (Pony Ryder)

Dunn will show off her cooking skills as part of Jay-Z's YouTube channel which will be relaunched this Saturday, according to CNN. In preparation she's been testing out some recipes. Dunn tweeted on Saturday, "I just made the perfect boiled egg! #ProudMoment."

"I started my blog because I have so many friends who always ask me recipes or my opinion on which restaurant to go to. So I guess i did it for them. I've always heard growing up that "good food is one of the greatest luxuries in life" and it's very true. I love being a foodie because I get to truly appreciate the hard work and passion that people put into a dish. And I love to be able to give my friends a real meal." (Vogue)

On the opening of their "Fashion Cafe" in 1995 Claudia Schiffer said: "I love chocolate. We love so many different things...We have french fries, hamburgers on the menu." (Bangor Daily News)

"I'd like to have my own burger place, I'm going to call it Lara's Baps and Buns. There's not a proper good caff here. I want a proper good chips place. They're all too fancy. [My life] is quite fancy, but I still like chips. That's the plan." (Telegraph)

Besides making her own cookies, Karlie says she always likes to have food on hand: "Spearmint gum, dark chocolate, and some kind of delicious snack (you can always count on me to have something to eat in my purse, especially backstage—I generally have just about everything except the kitchen sink hidden in my bag)." (Vogue)

Sophie is the author of the successful cookbook, Miss Dahl's Voluptuous Delights and host of the TV cooking series The Delicious Miss Dahl. The granddaughter of children's book author Roald Dahl, she began her career in the spotlight as a high-fashion model and starred in one of the most banned fashion ads of all time.

" [In five years] I'd like to be living in the country, growing my own food and living as self-sufficiently as possible." (Red online)

Cara told Beauty High that in preparation for the Victoria's Secret Fashion Show, "I had McDonald's for lunch yesterday and pizza for dinner. I need to eat a lot otherwise I feel faint. I get in the worst moods if I don't eat. This morning … I was like, I'm going to be a f*** bitch if I don't eat."

Scouted at 16, Lorraine strutted for big design houses such as Chanel and Versace before finding her passion in baking. Her cookbooks include: Lorraine Pascale's Fast, Fresh and Easy Food, Baking Made Easy, and Home Cooking.

Male model Cesar Casier of Belgium is also super passionate about cooking, so much so that he enlisted the help of model pals Karlie Kloss, Milla Jovovich and more to launch a cookbook called "Model Kitchen."

Elettra Wiedemann, daughter of Isabella Rossellini and former model Jonathan Wiedemann, is a Lancome face and the founder of Goodness, a pop-up restuarant serving, healthy locally-sourced food across the street from the tents at New York Fashion Week.
Want more? Be sure to check out HuffPost Style on Twitter, Facebook, Tumblr, Pinterest and Instagram at @HuffPostStyle.
--
Do you have a style story idea or tip? Email us at stylesubmissions@huffingtonpost.com. (PR pitches sent to this address will be ignored.)