If we've learned anything from this letter about a lost toy written by a 7-year-old boy, it's that Lego's customer service department should RUN THE WORLD. No, seriously.
Story continues after photo: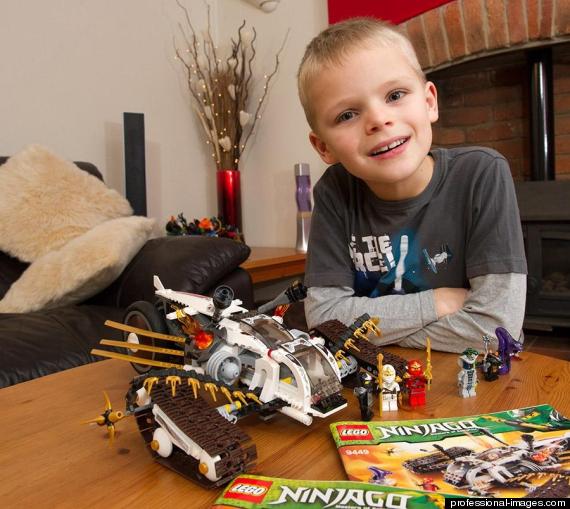 Luka Apps of Highworth, Wiltshire, was devastated when he lost a recent Christmas present -- a Jay ZX Lego character -- while on a shopping trip. According to the Sun, Luka's father, Simon Apps, had warned him about taking the toy shopping, and sure enough, the figurine managed to fall out of the boy's pocket at a store.
Luka was so upset about the loss of his new toy that he decided to write a letter to the company explaining his misfortune.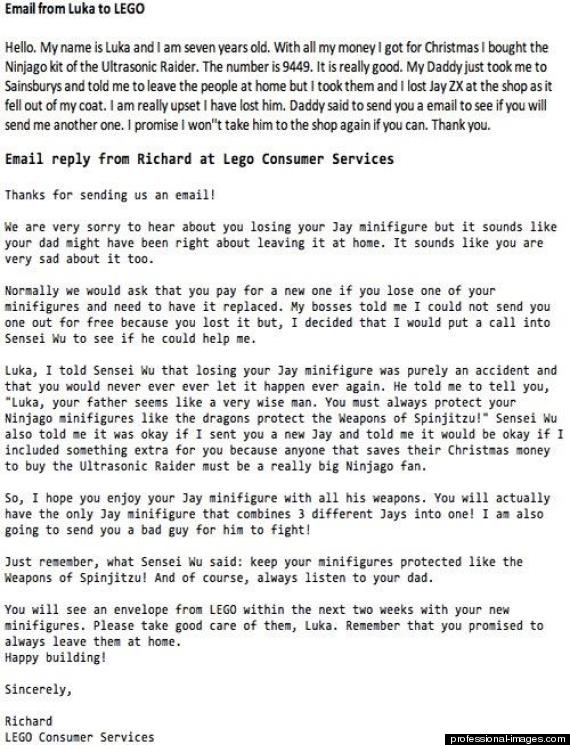 The 7-year-old was shocked when a reply letter came in the mail offering not only to replace the toy but extra goodies for being honest, reported ITV.
When the new toy finally arrived in the mail, Simon Apps tweeted:
@blueprintpromo1 Luka was literally jumping up and down when he read the reply. Had to be shared.

— Simon Apps (@simonapps) January 8, 2013
And Luka wrote Lego back:
Hello Richard.

Thank you for talking to Sensei Wu for me.

I promise I will look after them.

– LUKA
Since then, Luka's story has made its way around the world through social media.
Thank you, Lego, for restoring our faith in people (and customer service reps).
Also on HuffPost:
Loading Slideshow
World War II Savior Reunited With Children He Rescued

This BBC TV show "That's Life" that aired in 1988 connected Sir Nicholas Winton with some of the lives he saved during World War II. In an operation called <a href="http://storify.com/storyvault/the-c" target="_hplink">Czech Kindertransport</a> Winton organized the rescue and safe passage of about 669 Jewish children who were designated for transport to Nazi concentration camps. In the clip, one of the children, Vera Gissing, embraces Winton and thanks him for saving her life.

Deaf Woman Hears Her Own Voice For The First Time

Sarah Churman, a 29-year-old who was born deaf, <a href="http://www.huffingtonpost.com/2011/09/30/sara-churman-deaf-woman-_n_989220.html" target="_hplink">tries out her cochlear implants for the first time</a> with some amazing results.

Dads Find Out They'll Be Grandpas

When a same-sex couple receives news of a grandchild on the way, utter adorableness ensues.

Kid Receives Nintendo-64 For Christmas

A boy and his sister receive the N-64 and freak out. There are no words for how excellent this video is.

Kristen Bell's Sloth Meltdown

Kristen Bell has a thing for sloths. And we have a thing for how adorable Kristen Bell is when she thinks there's a sloth in the vicinity. MUST. WATCH. ON REPEAT.

Lily Gets Her Birthday Wish

"Oh my goodness," Lily tells her mother as she opens up her birthday present. But the gift gets better when the 6-year-old learns that she is getting her birthday wish -- <a href="http://www.huffingtonpost.com/2011/10/06/girls-adorable-reaction-disneyland_n_998989.html" target="_hplink">going to Disneyland</a>.

Soldier's Homecoming

A <a href="http://thestir.cafemom.com/big_kid/127341/military_dad_surprises_9yearold_during" target="_hplink">military dad surprises his 9-year-old daughter</a> during a school spelling bee. Spoiler: Everyone tears up.

Man Learns He's Cancer-Free

<a href="http://www.huffingtonpost.com/2012/06/25/hodgkin-lymphoma-patient-_n_1625775.html" target="_hplink">Jake Bouma</a>, a 28-year-old Hodgkin's lymphoma patient, meets with his oncologist to discuss the results of his latest PET scan.

Dog Meets Soldier Returned From Afghanistan

Okay, so this isn't technically "a person" receiving good news, but what's a better example of pure, unbridled joy than a dog who is seeing her owner after 8 months? Gracie is so excited that she starts crying! Keep 'em tissues handy.

Marine Surprises Sister At Graduation

It seems the whole school was in on it. Instead of just receiving her diploma, Jessica was greeted by her brother who recently returned home from Afghanistan during her graduation from California Polytechnic State University.

Radio DJ Finds Out She Won

Detroit radio DJ Shannon Murphy of "Mojo in the Morning" finds out she won a contest and will co-host "Live with Regis and Kelly."

Son Meets Father After 49 Years

<a href="http://www.huffingtonpost.com/2011/10/28/son-michael-hubbard-meets_n_1064094.html" target="_hplink">Michael Hubbard meets his father</a> for the first time in person after 49 years.

Justin Bieber Surprises His Biggest Fan

Paige, who calls herself Justin Bieber's biggest fan, got a special surprise from the pop star when he knocked on her door.

Lab Chimps See Sunlight For The First Time

This just fills us with utter happiness.

Misty Hyman

Misty Hyman totally wasn't expecting to win this Olympic race -- she had no idea she'd won until a few seconds after she'd finished. The look on her face is priceless.