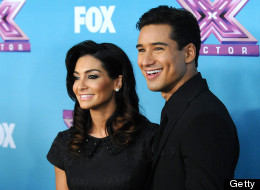 Love swaps seats faster in Hollywood than a game of musical chairs, but are celebrities just looking for themselves? Find Your Facemate founder Christina Bloom certainly thinks so. She created the online dating website last year based on the research that those who look alike stay in like. With over 50,000 users worldwide (a number Bloom hopes to increase to a million), the website matches people to one another based on an algorithm that assesses 66 different facial points. In short, it matches people whose facial structures are in sync.
"It's about the shape of the face. We lead with the face," Bloom said. "That's the first level of chemistry. You see someone and you decide within the first few minutes whether you're interested in them or not. Right away, you can see it in a photo or you can see it when you meet the person, you can see style. So along with the face and the style, you're pretty much making up your mind within the first few minutes."
But what of Maria Shriver and Arnold Schwarzenegger, or Seal and Heidi Klum, two couples whose facial structures aligned in strikingly similar ways but didn't last? Perhaps they just weren't compatible in the end: "If your values are similar, then you have a better chance for having a better, longer relationship. We really believe in the end, you have to have the same values."
If this sounds lofty, consider that a 2006 study showed that longtime married couples were perceived to look like one another -- the longer together, the more similar in appearance. Bloom has her own theory about this.
"When you're young, you have a full head of hair, you probably have more fat on your face. As you get older, you lose your hair, your face thins out, you see the similarities more," she said. "People want to believe, 'oh, your environment or the way you talk to each other.' How can your facial features change over the years? I don't think they do. You just see it more because you get older."
So which Hollywood couples have found their face-mates? Flip through the slideshow below to see the 20 star pairings that Bloom says perfectly match up.
Celebrity Couples Who Look Alike
"Actress Hilary Swank's new boyfriend looks so much like her ex, Chad Lowe, that it's eery! The outline of their faces is the same and the contour of their lips is exact."

"Singer Christina Aguilera didn't have a match with her ex, Jordan Bratman, but she and Matt Rutler are perfect, with their wide-set eyes and faces. It looks like they are a hit."

"FYFM understands the attraction between her and Eddie. They are very clearly facematches, with similar cheeks and eyes."

"Melanie and Antonio have had their struggles, but their amazing chemistry keeps them together. Take a look at their rounded faces, big foreheads, and same-shaped chins."

"Spider-Man Andrew Garfield couldn't resist this face! Emma Stone has the same wide-eyed look and their lips and chins are identical."

"'Modern Family' star Jesse Tyler Ferguson is engaged to longtime boyfriend Justin Mikita and their facial similarities are obvious, especially when their hair is removed in photographs!"

"Hilary Duff and her hunky hockey husband Mike Comrie are similar with their strong chins and wide lower faces."

"These two lovely actors, Idina Menzel and Taye Diggs, are beautifully matched with their wide and toothy smiles, proving that there are no ethnic barriers when it comes to love!"

"It's no wonder their relationship started with wild chemistry. Brad and Angelina are amazingly similar with their remarkably chiseled faces. The shape of their face and eyes are totally in sync."

"The happy newlyweds, Ryan Reynolds and Blake Lively, are a match made in heaven. Their long faces and chins make them irresistible to one another!"

"We predicted that Kristen and Rob would reunite. Kristen's indiscretion was overruled by her strong chemistry with similar-looking beau, Rob. They have the same sultry eyes and similar-shaped lips. We predict a long-lasting relationship for these two."

"Kim and Kanye have long faces and chins, features set in similar proportion on the face and full cheeks. They both have prominent eyes and eyebrows, too."

"George Clooney with current girlfriend, Stacey Keibler, are good face matches. They have similarly shaped long faces, broad foreheads, and tapered chins."

"ABC's "Good Morning America" anchor Sam Champion married longtime beau Rubem Robierb late last year. We believe it is actually easier to identify facial similarity between gay couples simply because they are of the same gender."

"Newlyweds Evan Rachel Wood and Jamie Bell's similar facial features make them perfect face mates."

"Close-set eyes, facial outlines and rounded chins make Eva Mendes and Ryan Gosling a great match."

"FYFM is hearing wedding bells in 2013 for Leonardo DiCaprio and 'The Wolf of Wall Street' co-actress Margo Robbie, who have been dating since November. Christina Bloom notes the facial similarities between Robbie and DiCaprio's mother."

"After Seal and Heidi Klum split last year, she began dating her bodyguard, Martin Kristen. FYFM points out that Seal and Kristen do share similar face shapes, something Klum is obviously attracted to."

"Mario Lopez and his look-alike wife Courtney Mazza recently married and could be siblings!"

"Newlyweds Kate Winslet and Ned Rocknroll share facial features that are obviously noticeable!"