After losing the Golden Globe for Best Original Song to Adele, Taylor Swift faced ridicule from the Golden Globes hosts over her split from Harry Styles, the latest in a long line of public, angsty lyrics-inspiring breakups.
"You know what, Taylor Swift? You stay away from Michael J Fox's son," Tina Fey told a laughing crowd.
Amy Poehler joked that maybe Swift should "go for it," and Fey replied, "No, she needs some me time to learn about herself."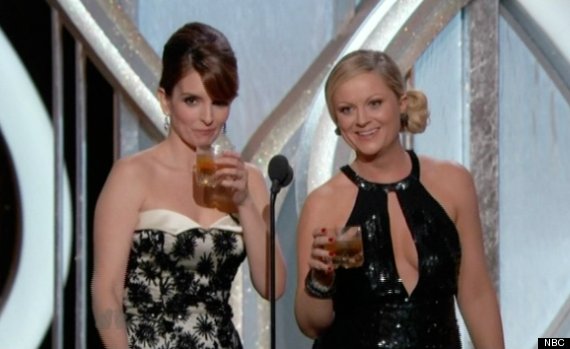 Here's a guide to Swift's many exes, from Taylor Lautner to Jake Gyllenhaal.
A gallery of the awards -- and HuffPost's liveblog of the proceedings -- can be found below.
Golden Globes Winners And More
"Argo"

Daniel Day-Lewis, "Lincoln"

Jessica Chastain, "Zero Dark Thirty"

Hugh Jackman, "Les Miserables"

"Girls"

Ben Affleck , "Argo"

Jodie Foster

Lena Dunham, "Girls"

"Brave"

Don Cheadle, "House of Lies"

Claire Danes, "Homeland"

"Amour"

Quentin Tarantino, "Django Unchained"

Anne Hathaway, "Les Miserables"

Ed Harris, "Game Change"

Jennifer Lawrence, "Silver Linings Playbook"

Kevin Costner, "Hatfields & McCoys"

"Skyfall"

"Life of Pi"

"Homeland"

Damian Lewis, "Homeland"

Julianne Moore, "Game Change"

"Game Change"

Maggie Smith, "Downton Abbey"

Christoph Waltz, "Django Unchained."

Hollywood is preparing for the Golden Globe awards, and many British stars have been attending a tea party ahead of the main event.
More on Jodie Foster's big night at the Golden Globes:
After being introduced by Robert Downey Jr., Foster coyly said, "While I'm here being all confessional, I just have the sudden urge to say something I've never been able to air in public. A declaration that I'm a little nervous about. Not quite as nervous as my publicist, huh, Jennifer? But uh, you know, I'm just going to put it out there. Loud and proud. I'm going to need your support. I am -- single!"
More here, from HuffPost Gay Voices.