Earlier this month Google executive Eric Schmidt embarked on a journey to North Korea, one of the world's most secretive and Internet-restrictive countries.
While the U.S. State Department publicly criticized Schmidt's timing and intentions, human rights activists have seen the visit as a reminder of something significant. As Irish outlet RTE News reports, many believe that Google Earth is invaluable in revealing evidence of North Korea's system of prison and labor camps, which are said to number in the dozens.
Human rights groups estimate that as many as 250,000 political prisoners suffer through starvation and intense manual labor in these camps, with blogs like One Free Korea compiling everything we know about these locations. Managed by Washington lawyer and North Korea activist Joshua Stanton, the blog details six prison camps -- three of which Stanton uncovered. One of these camps is Camp 22, which can be seen on Google Maps below.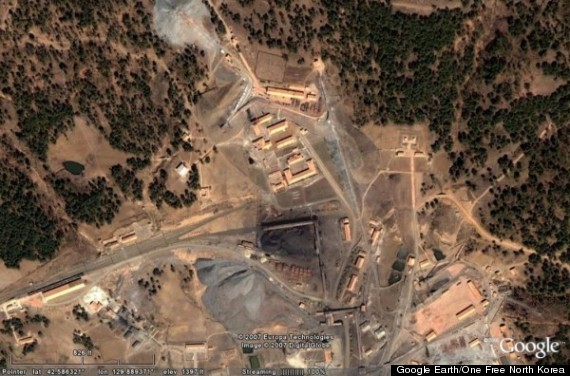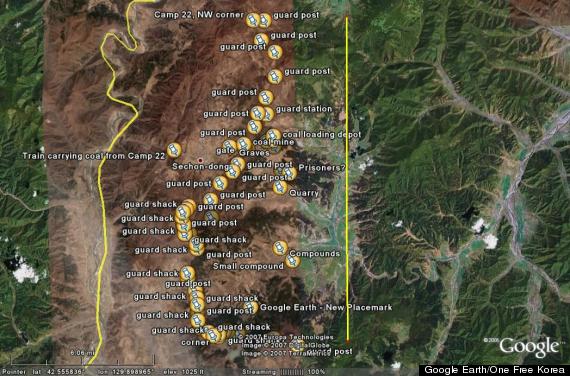 Bird's eye Google Earth view of Camp 22
The satellite images provide an idea of what the camps look like from above, though the atrocities allegedly committed there are hard for the imagination to comprehend. The blog notes that upwards of 50,000 men, women and children are housed in Camp 22, a place where prisoners are forced to stone each other to death, women are frequently raped by prison guards and between 1,500 and 2,000 people -- many of them children -- die from malnutrition or starvation every year.
Many families are forced into these camps because they are "guilty by association", with some seeing three generations of their lineage live and die within the walls, most of them punished for a crime committed long ago.
Stanton has even found camps by accident, as he did in 2007 when he discovered Camp 16 while using Google Earth to snoop around North Korea. Stanton says that upwards of 10,000 men, women and children are imprisoned in Camp 16, which is a massive complex that measures 18 miles by 16 miles.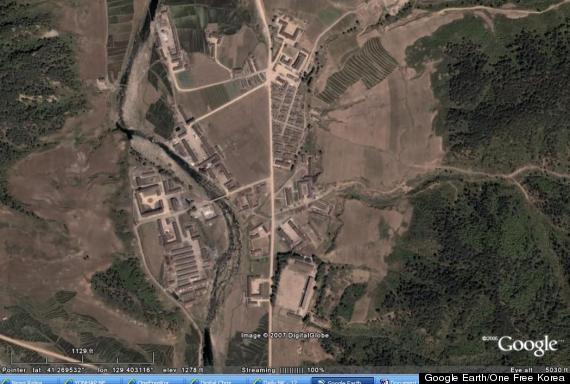 An image of Camp 16 from above
A U.S. non-governmental organization named the Committee for Human Rights in North Korea unveiled some of these camps in a 2003 book titled "The Hidden Gulag." An updated version of "The Hidden Gulag" was released in 2012, with one section acknowledging the importance of Google Earth in bringing more of the network of North Korean labor camps to light. "The dramatically improved, higher resolution satellite imagery now available through Google Earth allows the former prisoners to identify their former barracks and houses, their former execution grounds, and other landmarks in the camps," the study notes.
Google Earth has also allowed activists and users to see the more "ordinary" side of life in the country. At the blog NK Econ Watch, economist Curtis Melvin details not only the prison camps in North Korea, but facilities of every day life such as schools, factories or train stations as seen on Google Earth. On Sunday, Melvin wrote about a mosque within the country's capital city of Pyongyang.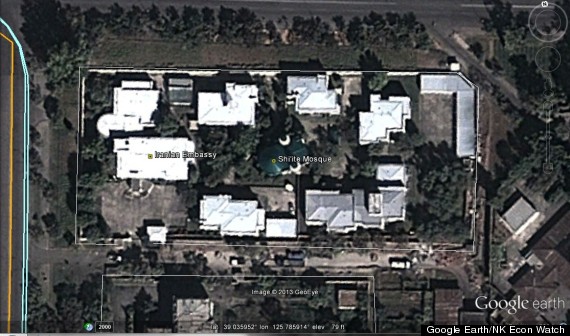 A mosque in the North Korean capital
Writing about Google Earth after Schmidt's trip, Timothy Stanley, a U.S. historian and blogger at Telegraph, argues that "the project demonstrates how hard it's becoming for governments to keep secrets from the rest of the world ... the more that North Korea accepts the need to open up then the more the light shines on this abominable regime."
CORRECTION: A previous version of this article stated that upwards of 250,000 prisoners were in the North Korean camps. This has been changed to "as many as."
Earlier on HuffPost:
Loading Slideshow
North Korea

Internet use is extremely restricted with many of North Korea's 24 million people unable to get online. Some North Koreans can access an internal Intranet that connects to state media. Members of the elite, resident foreigners and visitors in certain hotels are allowed full access to the Internet.

Iran

Most Western social media sites such as Facebook and Twitter are blocked in Iran, as well as political opposition and sexually explicit websites. But proxy server sites and other methods are widely used to get around the official restrictions. Iran has announced plans to create its own domestic Internet with fully monitored content, but international experts question whether such a complete break from the worldwide Net is possible. Earlier this week, Iran accounted it had developed its own YouTube-style video sharing site.

China

There are more than 500 million Chinese online but they contend with an extensive Internet filtering and censorship system popularly known as the "Great Fire Wall." Censors police blogs and domestic social media for content deemed pornographic or politically subversive and delete it. Many foreign websites, including YouTube, Facebook, Twitter and the New York Times are blocked. Searches for controversial topics such as corruption scandals or jailed Nobel Peace Prize winner Liu Xiaobo return error messages. Users evade controls using proxy servers.

Cuba

Tight control, slow connections and high costs mean only around 5 percent of Cubans have access to the global Internet, with another 23 percent relying instead on a government intranet with very limited content. Web access is mainly via public facilities where people must first register with identification.

Gulf Arab States

Political sites deemed threats to the state are often blocked. Since the Arab Spring, authorities across the Gulf have stepped up arrests of bloggers and others for posted considered offensive to rulers or advocating political reforms.

Central Asia

Internet censorship is prevalent across former Soviet Central Asian republics, but the strongest restrictions have been recorded in Iran's authoritarian neighbors to the north, Turkmenistan and Uzbekistan. Controls are strictest in Turkmenistan, where social networking sites Facebook and Twitter are out-of-bounds, as is video-sharing site YouTube and numerous news websites. Uzbekistan has taken a less extreme approach, but sites critical of the government are blocked as a matter of course. Tajikistan, which is like those countries also ruled by an unchallenged strong-man ruler, has twice this year barred access to Facebook after web-surfers used the site to post material critical of government officials.

Eritrea

The government restricts access to the Internet and closely monitors online communications. The U.S. State Department's latest human rights report said the Eritrean government monitored email without obtaining warrants as required by law, and that all Internet service users were required to use one of the three service providers owned directly by the government or controlled through high-ranking members of the country's sole party. But the vast majority people do not have Internet access.