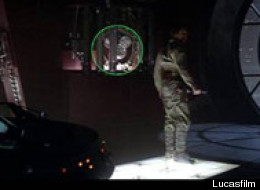 Mickey Mouse is your father?
As noticed by Star Wars Blog writer Pablo Hidalgo (via Slashfilm), the connection between Lucasfilm and Disney goes back much farther than Oct. 30, 2012, the date Disney purchased George Lucas' empire. In fact, "Star Wars" and Disney were first put together 33 years ago ... in "Star Wars."
During the climatic lightsaber duel between Luke Skywalker and Darth Vader in "Star Wars: Episode V - The Empire Strikes Back," none other than Mickey Mouse can be spotted in the background. As Hidalgo writes, "Just pointing out something that you'll now never be able to un-see."
Head over to Star Wars Blog to see the full Mickey Mouse cameo ("cameo"). Disney and Lucasfilm are busy putting together "Star Wars: Episode VII," because we now live in a world where there needs to be more "Star Wars" movies.
[Star Wars Blog via Slashfilm]
Reactions To Lucasfilm Sale
Lucasfilm was bought by Disney, there is no way I am wearing Mickey Mouse ears.

STAR WARS VII: THE EMPEROR'S NEW GROOVE

Marvel, Lucasfilm... Disney systematically buying up things that were vital to me at age 12. Next they acquire Robotech, Now & Laters, air.

Does the Disney/Lucasfilm merger mean that Leia is now a Disney Princess?

Saw news about Disney & Star Wars, looked at calendar. Nicely done Mayans, you were obviously strong in the Force. #DisneyBuysLucasFilm

It was like a million nerds (voices) crying out in unison then suddenly retweets! #DisneyBuysLucasfilm

Now that Disney has bought Lucasfilm, I think we can all agree that we want to see Tony Stark kill Jar Jar Binks in Star Wars 7.

Jack Sparrow steals the Millennium Falcon. Hijinks ensue. #DisneyBuysLucasfilm

I mean to quote my generation, this shit be cray cray #DisneyBuysLucasFilm

Star Wars Episode VII: The Jedi Wore Tennis Shoes #disneybuyslucasfilms

I felt a disturbance in the Force, as if millions of geeks were shocked in an instant #DisneybuysLucasfilms

NOW THAT DISNEY OWNS MARVEL + STAR WARS, HULK STARRING IN CROSSOVER MOVIE WHERE HULK SMASHES JAR JAR BINKS FOR 2 HOURS FOR, LIKE, NO REASON

Star Wars Episode 7: The Return of Miley Cyrus #DisneyBuysLucasFilms

Truly the twitter sphere now has something else to explode about. #disneybuyslucasfilms

Lucasfilm has just been sold to Disney. So Disney is now in control of the Dark Side? I KNEW IT!

I go for lunch and Disney buys Lucasfilm? WHAT THE WHAT?

I'm pretty sure this Disney-Lucasfilm news is breaking my corner of the internet.

Disney just bought Star Wars & LucasFilm. Meaning more princess than Jedi. #StarWars

Let's face it, Lucas had already Disneyfied Stars Wars, anyway. This seems more up front. - Disney buying Lucasfilm http://t.co/22NiPWfv

Not sure how to react to this -> "Princess Leia is now a member of the Disney Princess club, I guess." -- @abtran in a Facebook comment

Toydarian Story #DisneyBuysLucasFilm

#DisneyBuysLucasfilm Jar Jar Poppins

No one obviously told #Disney "IT'S A TRAP!!!" #Disneybuyslucasfilm

There was a disturbance in the force like the voices of a million nerds were scilenced. #DisneybuysLucasfilm

Now, if we can just get Disney to buy out JK Rowling.... #disneystarwars #disneypotter #disneybuyslucasfilm

Emperor Palpatine's New Groove #DisneyBuysLucasFilm

May the Force be with... Mickey Mouse? #DisneyBuysLucasfilm

A long time ago, in a galaxy fully complaint with SOPA and PIPA . . . . #DisneyBuysLucasfilm

So... the Internet just exploded. #DisneyBuysLucasFilm

I guess this means Jason Segal will make the next "Star Wars" movie. #DisneyBuysLucasFilm

Mulando Calrissian #DisneyBuysLucasFilm

Is there enough room at Disney World to build a Death Star? #DisneybuysLucasfilm

Medicloreans revealed to be Tinkerbell pixie dust. #DisneyBuysLucasFilm

I kinda get the feeing I might be the only one who is super-stoked about this... #DisneybuysLucasfilm

Pixar/Marvel/Indiana Jones/Star Wars crossover possibilities FTW? #DisneyBuysLucasfilm

Oh bloody hell. A Disney Jar Jar Binks is all we need. #tweetfleet #disneybuyslucasfilm

#DisneyBuysLucasfilm Jar Jar Poppins

#DisneyBuysLucasfilm Snow White and the 7 ewoks

RT @joshgreenman: Jar Jar, Goofy. Goofy, Jar Jar. #disneybuyslucasfilm