Tiger Woods' ex-wife, Elin Nordegren, may soon be moving into her new post-divorce pad in North Palm Beach, Fla.
From the looks of recent photos provided by real estate agent Jeff Lichtenstein, construction on the 21,000-square-foot beachfront home is nearing completion.
"I would estimate that she'll be in the house within six months. Nine months at the outside," Lichtenstein, who markets real estate from Juno Beach, Fla. to Palm Beach, Fla, told HuffPost Divorce. "The roof is being put on right now so it's not that far away." (Lichtenstein is not Nordegren's real estate agent.)
PHOTOS: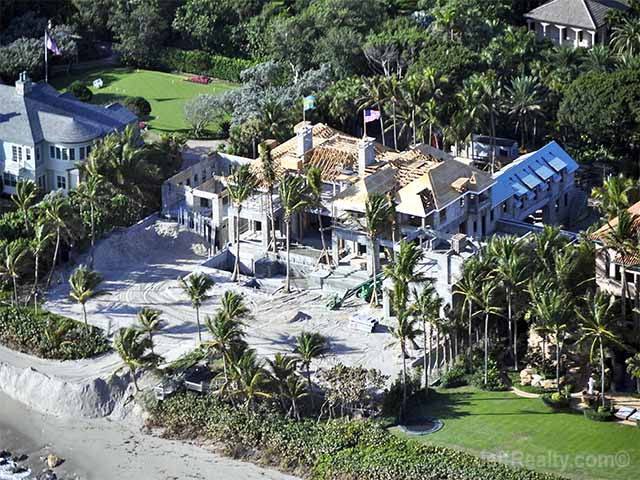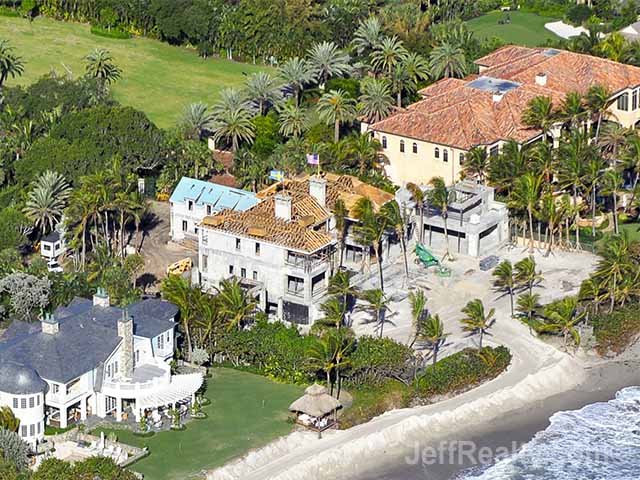 (Click here for more photos.)
Nordegren purchased the home in Feb. 2011. Then, last January, she tore down the 17,000-square-foot home that was on the property because it was cheaper to bulldoze the mansion than to renovate it to meet contemporary hurricane building codes. By May 2012, construction on the new home was reportedly underway.
Lichtenstein's photos show Swedish and American flags planted on top of the house -- a clear nod to the former model's Swedish roots.
The estate will reportedly boast an Olympic-sized swimming pool, a koi pond, spa and gym to boot.

Click through the slideshow below for more on Nordegren's new home and four other celebrities who invested in some pricey real estate post-split.
Priciest Post-Divorce Pads
When her marriage to Brad Pitt soured in 2005, Jennifer Aniston purchased a $13.5 million Beverly Hills estate she dubbed "Ohana" and threw herself into renovating it. The "Friends" star added on to the five bedroom, seven bathroom home, upping the total footage to 10,000 square feet and making the space more energy efficient. The wine cellar was said to boast a "biometric security system" so that only Aniston's unique fingerprint could open the lock. Aniston sold "Ohana" for a cool $36 million in the summer of 2011 and dropped $21 million for a sprawling modernist home in Bel Air with beau Justin Theroux the next year.

Tiger Wood's didn't let his 2010 divorce from Elin Nordegren stand in the way of renovating the Jupiter, Florida mansion he bought while they were still married; the golf pro simply changed his plans and turned the $60 million property into the ultimate bachelor pad. To that end, Woods reportedly outfitted the property with a running track, a four-hole golf course and a massive fitness center.

Woods wasn't the only one who got serious about real estate after divorce. Ex-wife Elin Nordegren purchased a $12.3 million, 17,178-square-foot oceanfront property in North Palm Beach in March 2011. Less than a year later, Nordegren bulldozed the mansion because it didn't meet South Florida's building codes to withstand hurricanes. In its place, a near replica of the former home was built, which reportedly includes 9 bedrooms, 2 living rooms, a detached guest house, and a wine cellar.

Kelsey Grammer married his fourth wife, Kayte Walsh, in February 2011, just two weeks after his divorce from "Real Housewives of Beverly Hills" star Camille Grammer was finalized. In May 2012, the "Fraiser" star decided to buy a new home to suit his new life and shelled out $6.5 million for a 6,093-foot Mediterranean-style mansion in Beverly Hills.

Just days after filing to divorce Arnold Schwarzenegger, Maria Shriver snagged a $12.2 million mansion in Brentwood, Los Angeles. The home, located just a few miles from the home she shared with Schwarzenegger, boasts over 11,000 square feet and reportedly includes eight bedrooms and seven baths -- not to mention a gym, theatre room and a wine cellar.
Keep in touch! Check out HuffPost Divorce on Facebook and Twitter.