There are a variety of cures for cooling down your burning mouth after eating spicy food. Some might drink some milk or eat a slice of bread, but one man took to extreme measures to cool down his tongue.
After ordering a Spicy McChicken sandwich, a man allegedly called police to a Chinese McDonald's because his food was too spicy, according to a post on Chinese microblogging site Sina Weibo. The McDonald's in question did its best to soothe the patron by giving him a soda and grilled chicken legs but it apparently wasn't enough to calm him down, according to China-based community website, The Nanfang.
(SCROLL DOWN TO SEE A PHOTO OF THE ALLEGED INCIDENT)
Commenters on Sina Weibo apparently weren't as understanding. They've accused him of having "shit for brains," and claimed it was a wise ploy to get some free food, Kotaku reports.
McDonald's didn't immediately respond to a request for comment from The Huffington Post.
This isn't the first time the fast food chain has gotten in trouble for its Spicy McChicken sandwich. In 2011, a woman sued McDonald's after claiming she was injured by a glass shard found in the sandwich, according to Reuters.
Police have dealt with disputes over McDonald's food in the past, too. In 2010, police were called to mediate a fight over the freshness of one McDonald's location's fries.
Here is a photo of the incident posted to Sina Weibo: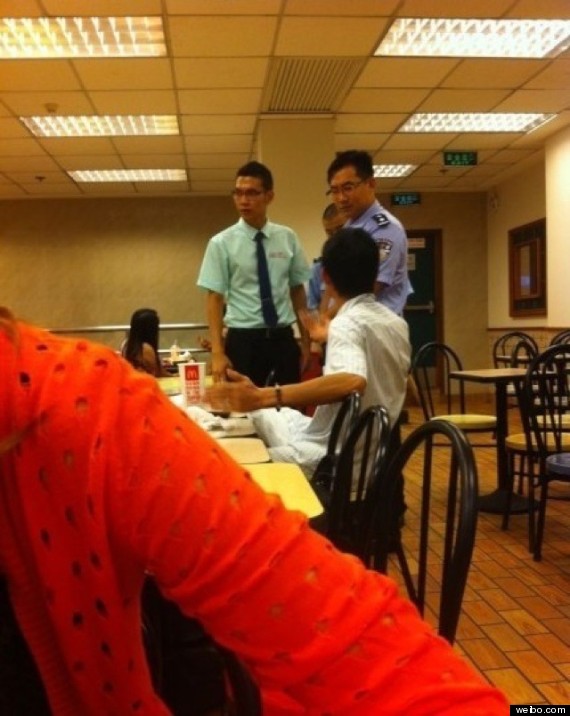 (Hat tip: Fark)
Loading Slideshow
McDonald's Grew During The Recession

McDonald's had <a href="http://www.slate.com/articles/business/moneybox/2009/08/who_won_the_recession.html" target="_hplink">higher sales growth in 2008</a> than in 2006 or 2007, opening nearly 600 stores that year, according to Slate. The chain was able to take advantage of Americans' recession tastes: Cheap, convenient food.

They Handle Food That Isn't Really Food

One <a href="http://www.reddit.com/r/AskReddit/comments/w2sv3/fast_food_workers_of_reddit_what_is_the_one_menu/" target="_hplink">Reddit user claiming to be an ex-McDonald's worker</a> said he once left a bag of chicken nuggets out on the counter for too long and "they melted. Into a pool of liquid." That didn't stop him from loving the nuggets, "still delicious," he wrote.

Fast Food Companies See Huge Profits On The Backs Of Low-Wage Workers

More than <a href="http://www.nelp.org/page/-/Press Releases/2012/PR_MinWageCorpProfits.pdf?nocdn=1" target="_hplink">60 percent of low-wage workers</a> are employed by big corporations, according to a July analysis by the National Employment Law Project. And more than 90 percent of those companies were profitable last year.

The Average Pay For A Fast Food Worker In New York City Is $9 Per Hour

Fast food workers in New York City make an <a href="http://blogs.villagevoice.com/forkintheroad/2012/11/fast_food_forward_strike_nyc.php" target="_hplink">average of $9 per hour</a>, according to the Village Voice. That comes to about $18,500 per year for full-time workers.

Fast Food Workers Are Unlikely To Get Paid Sick Days

For 40 percent of private sector workers, <a href="http://articles.baltimoresun.com/2012-11-28/news/bs-ed-sick-leave-20121128_1_sick-days-care-workers-service-workers" target="_hplink">taking a sick day</a> and still getting paid isn't an option, according to the Baltimore Sun. Fast food workers are especially likely to be part of that 40 percent.

The Boss Can Threaten To Take Workers' Health Care Away

Many fast food workers saw their health benefits put at risk this year, if they even had them at all. <a href="http://www.huffingtonpost.com/2012/11/09/papa-johns-obamacare-john-schnatter_n_2104202.html" target="_hplink">Papa John's CEO John Schnatter</a> said he would likely reduce some of his workers hours so that he wouldn't have to cover them in response to Obamacare. Jimmy John's founder, Jimmy John Liautaud told Fox News in October that <a href="http://www.foxnews.com/on-air/your-world-cavuto/2012/10/16/jimmy-johns-founder-business-owners-unsure-future" target="_hplink">he would "have to" cut workers' hours</a> so that he wasn't forced to cover them under Obamacare.

The Average Hourly Pay At Many Fast Food Eateries Is Less Than $8 An Hour

The average hourly pay at McDonald's, Wendy's, Burger King and Taco Bell is less than $8 an hour, according to <a href="http://www.cnbc.com/id/50015355" target="_hplink">salary data cited by CNBC</a>.

The Median Age Of A Fast Food Worker Is 28

As more workers fight for limited jobs, many older employees are gravitating towards the fast food industry. The median age of a fast <a href="http://www.theatlantic.com/business/archive/2012/11/mcjobs-should-pay-too-its-time-for-fast-food-workers-to-get-living-wages/265714/" target="_hplink">food worker is 28</a>, according to Bureau of Labor Statistics data cited by the Atlantic. For women, who make up two-thirds of the industry's employees, that age is 32.

Labor Leaders Rarely Try To Unionize Fast Food Workers

Fast food worker's went on strike in late November in New York City, showcasing a rare effort to organize the industry's workers. Labor leaders often don't make an effort to organize these workers because the high turnover makes the challenge daunting.

Fast Food Workers Are The Lowest Paid Workers In NYC

For all their work, fast food workers get very little dough. The lowest paid job category in New York City is "Combined Food Service and Preparation Workers, Including Fast Food," according to Bureau of Labor Department Statistics <a href="http://www.salon.com/2012/11/29/in_rare_strike_nyc_fast_food_workers_walk_out/" target="_hplink">cited by Salon</a>.