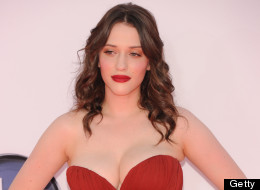 You know the saying: Marilyn Monroe was a size 16. Or size 10. Or actually, a size 8. And while we may never actually get down to the real size of the cuvy '50s icon -- now considered a beacon of classic beauty -- we do know that when it comes to beauty, changing norms are the standard.
In this spirit, here are a handful of women who defy conventional body types in Hollywood -- and have no problem talking about it.
Women Who Defy Conventional Body Types In Hollywood
"For seven years it's been happening. It's like, 'OK cool, the fat joke,'" the "American Idol" winner told Australia's Kyle and Jackie O Show in 2009. "I love my body. I'm very much OK with it. I don't think artists are ever the ones who have the problem with their weight, it is other people."

"Back when I was modeling, the first time I went to Italy I was having cappuccinos every day, and I gained 15 pounds. And I felt gorgeous! I would take my clothes off in front of the mirror and be like, Oh, I look like a woman. And I felt beautiful, and I never tried to lose it, 'cause I loved it," the "Mad Men" star told Health magazine.

"Everybody fluctuates, but I'm open about my weight and I'm still confident. "I didn't cry about it too much," Jessica Simpson told Lucky magazine in November 2011. "I got so much scrutiny for putting on extra pounds, but I think that the decision not to make myself anorexic was actually great for branding. Because when you're really, really skinny, not everybody can relate to you."

"When I was criticised for it, I said, 'I have cellulite. So what!,'" the reality star told Cosmopolitan UK. "I've never claimed to be perfect. It's crazy anyone should assume that just because you're in the spotlight, you're flawless. Sometimes I pig out and I still feel great, and think, 'That was so worth it!' That's how I feel a lot of the time. I think, 'See this little dimple of cellulite here? It was so worth it for that cookies 'n' cream ice cream!'"

"I don't think a girl with tiny thighs would have received so much no-pants attention… Get used to it. I'm going to live until 105 and I'm going to show my thighs every day," the "Girls" creator said at the New Yorker Festival in August 2012.

"I actually thought at the time that being thin made me better," Oprah Winfrey said on network show "Lifeclass." "You are not the shape of your body, you're not your status, you're not your position in life, you're not the car you drive no matter how fancy it is, you're not your house or your square footage."

"I think any time you are on a hit show as a young actor or actress, you feel [pressured]. Then as a woman, there's some additional pressures you feel to look a certain way and be a certain size. I was not the girl that was a size 2 and didn't work for it. I was never the waify model type," the former "Saved by the Bell" star told the website Me In My Place.

"No matter what I do, they're there," the "2 Broke Girls" star said of her breasts on the red carpet at the 2012 Emmy Awards. "They're always the same size."

The pop star told Vogue in April 2012, for its "Shape" issue: "I'm not a size 0 or 2. I'm not 6-feet-tall like a lot of the models that come around, and I'm like, 'Wow, I'm really short compared to models!'. I'm just a regular woman. I wear a size 6. You know, when I eat a little too much over the holidays, maybe a size 8. When I'm in shape, maybe a size 4."

"A few years ago I lost 30 pounds, and people still wanted to criticize. And honestly, I'm happy with myself if I'm a little heavier," Khloe Kardashian told Glamour magazine. "I realized: 'Why am I trying to conform to someone else's idea of beauty?' I think I'm beautiful either way."

"I'm never like, I'm plus-sized, I'm so much bigger than them other artists out there it's going to be a problem. I've never really thought about it at all. It only comes to my attention if I were to read something about it," the Grammy winner told Anderson Cooper on "60 MInutes" about her body image. "I think no matter what you look like, the key is to first of all be happy with yourself. And then you know if you want to try to improve things that you don't like about yourself, then do it after you appreciate yourself."

"My weight/loss/gain since i was child has tormented me. No amount of help has ever healed my pain about it. But YOU have," Lady Gaga wrote on her website in September 2012, when she launched the online discussion board "Body Revolution."