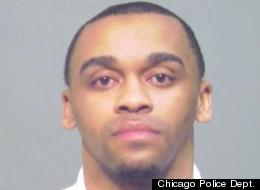 A charter school basketball coach on Chicago's far South Side is charged with sexually assaulting one of his students after he gave her and a friend a lift home.
Police say Kevin Jones, the 35-year-old varsity coach at Epic Charter Academy assaulted his 17-year-old victim in his car after discarding another passenger, according to ABC Chicago.
During the Jan. 17 incident, police say Jones told the girl's friend to get out of the car in the 8500 block of S. Green Bay Ave. around 7:30 p.m. reports the Chicago Sun-Times.
The first girl fled the car, but the Chicago Tribune reports she returned and allegedly saw Jones assaulting the girl. The witness later told her brother, who then notified the school.
Cindy Hansen, an attorney representing Epic Academy told the Tribune that as of Thursday, Jones was no longer with the school, but that she could not divulge whether he was fired or quit due to disclosure rules.
Police slapped Jones with charges of one count each of felony criminal sexual assault on a victim between 13 and 17 years old and attempted criminal sexual assault by force, reports MSNBC. Jones is expected in bond court Friday morning.