9 Absurd Ways Gadgets Can Be Destroyed (VIDEO)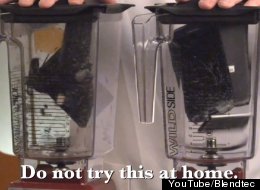 Have you ever thrown your favorite gadget into a tub of liquid nitrogen? Or taken one of your extra laptops and smashed it with a metal bat? Or, for kicks, sprayed a tablet of yours with paintballs?
Well, we've compiled nine videos uploaded by people who have done all of those things -- and more. Why people destroy electronics and posted YouTube videos of the demolitions, we'll never know. But what we can tell you is that the acts are fascinating to see. Browse through the gallery below to watch the most absurd clips of modern technology burned, beaten and even blended.
9 Ridiculous Tech Destruction Videos
Bulldozed several times, just to be safe.

If our title doesn't convince you, the epic music will.

Let's just say this doesn't end well (though AC/DC puts up quite a fight).

Buying a used phone from this guy might not the best idea.

Burn, iPod, burn.

Orange you glad you got to see that in ultra slow motion?

This leaves us with nothing to say but... OHOHO.

This YouTube user had four of these laptops "laying around." Clearly he had no choice but to beat 'em with a bat.

The Sony TV can handle bricks, but can it survive a concrete block?