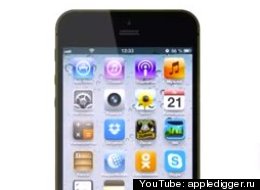 Hello, ladies and gentlemen, and welcome to This Week In Apple Rumors, our regular look back at all of the week's unconfirmed gossip, questionably sourced reports and blatant speculation about future Apple products from around the Web! Let's take a look back at what the various Apple blogs and websites were excited about in the past week, from Jan. 20-26. Check out our previous edition of Apple rumors here, and for all the latest you can follow me on Twitter right here.
The Galaxy S3 is creeping up on the iPhone in popularity. Phablets are going to be huge in 2013. Could Apple respond with a device sporting a 4.8-inch display called the "iPhone Math"? This "iPhone Math" -- and before we comment on the likelihood of the screen size, let's just declare that the name is probably incorrect -- has been the hot talk of the Apple rumorsphere. We've heard about it before, most notably from Reuters, who claimed the iPhone 5 would have a 4.6-inch screen in March of last year. (The actual iPhone 5, released six months later, has a screen only 4.0 inches long diagonally.) Now the rumor has been resurrected, by the oft-incorrect China Times, which claims that the so-called "iPhone Math," with 4.8-inch display and 12 megapixel camera, will be released in June. Digitimes says that Apple is indeed working on a larger iPhone, but that it won't be released until 2014 or later. We're not buying it. Mark Gurman of 9to5Mac rips this rumor apart in expert fashion: Everything about it -- the name, the skewed hardware upgrade cycle, the dimensions -- feels off. Though we'd love that extra row of icons on the homecreen -- and though we do love math! -- we're filing this one away for our end-of-year shame list. [iPhone Math prototype via applerigger.ru]

That Digitimes article, which cited unnamed sources in the supply chain, did contain a nugget that seemed more likely than that "iPhone Math." The rumor? That a 4.0-inch "iPhone 5S," as well as a cheaper counterpart, will appear later this year. The meat of the rumor, which we've heard from a couple of reliable sources now, is that Apple is preparing a mild upgrade to its iPhone 5, for release in the third quarter of this year. It might also unveil a cheaper version of the iPhone 5, perhaps with colored cases, for sale in developing markets like China, where carriers don't always subsidize the cost of devices. Until you hear otherwise, that looks like the plan. Keep in mind we're still way far out -- up to nine months away from an actual release -- but that's the consensus thus far: the "iPhone 5S" will arrive sometime in late summer or early fall. And perhaps -- perhaps! -- it will include a fingerprint sensor. (You can read that story here.)

Apple just recently unveiled and released the fourth-generation iPad (don't call it the "iPad 4") in October. It was essentially the third-generation iPad (don't call it the "iPad 3") with a lightning charger instead of the old unit. So when can we expect the fifth-generation iPad (don't call it the "iPad 5"), you might be wondering? New rumor, via well-sourced Jeremy Horwitz at iLounge: A completely redesigned "iPad 5" could be out by late March, or, more likely, says Horwitz, in October. You should really read his whole report, but Horwitz describes the new iPad as a "stretched iPad mini" -- which you can see at left. The bezels are thinner, and the device is thinner, all with the same battery life and Retina display. Again, check Horwitz's report for more. (For what it's worth: Horwitz's predictions align with those of respected Apple analyst Ming-Chi Kuo, who says to expect a thinner and lighter "iPad 5" in autumn of 2013. The iPad mini-fication of the iPad is afoot!)

And finally, from the Weird Apple Files: So long, Skechers Shape Ups; Apple is getting into the shoe business. ...or something like that. Apple won a patent last week on in-shoe technology that would notify a wearer when it was time to buy new a pair, based on the amount of activity it senses. When your shoes have taken all the punishment they can take, an alarm would go off on your iDevice and you can get yourself to the Famous Footwear for a new set of Jordans. You can read more at TechCrunch. As Patently Apple points out, this is an update to a patent from 2011, and not a new discovery, but it's never too early to start asking yourself: How much would you pay for a pair of iShoes? That's all for This Week In Apple Rumors. Make sure to check back next week when we'll have all the latest unsourced, unconfirmed speculation from the Apple rumorsphere. And if you can't wait seven days, you can always get up-to-the-minute Apple rumors by following me on Twitter right here.