'By Crooked Steps': Soundgarden Releases New Video With Help From Dave Grohl And Deadmau5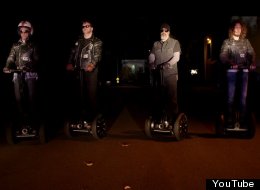 Today in bizarre collaboration news, Soundgarden has teamed up with Dave Grohl and Deadmau5 to release a new music video -- take a look above.
Titled "By Crooked Steps," the Soundgarden music video was directed by Grohl and features a Deadmau5 cameo. In addition to the guest appearance from Deadmau5, "By Crooked Steps" includes a Segway biker gang, gratuitous makeouts, the schooling of a nerdy DJ, and run-ins with the cops.
"By Crooked Steps" is a single off of Soundgarden's 2012 album, "King Animal," which was the band's first new album since 1996's "Down on the Upside."
This music video is the latest in a series of side projects from Grohl. The Nirvana and Foo Fighters alum recently showed the documentary "Sound City" at Sundance, and returned to the stage with his former Nirvana bandmates Krist Novoselic and Pat Smear last month for two collaborations with Paul McCartney.
Music video by Soundgarden performing Black Hole Sun. (C) 1994 A&M Records

Music video by Soundgarden performing Burden In My Hand. (C) 1996 A&M Records

Music video by Soundgarden performing Fell On Black Days. (C) 1994 A&M Records

Music video by Soundgarden performing Rusty Cage. (C) 1992 A&M Records

Music video by Soundgarden performing Pretty Noose. (C) 1996 UMG Recordings, Inc.

Music video by Soundgarden performing Spoonman. (C) 1994 A&M Records

Music video by Soundgarden performing Blow Up The Outside World. (C) 1996 A&M Records