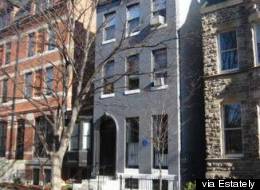 The Baltimore house where F. Scott Fitzgerald wrote some of his most notable works, and lived some of his toughest years, is for sale -- and it's reasonably priced! (At least it looks that way if you're accustomed to the punishing Washington, D.C. real estate market.)
The four bedroom, four bath, 3600-square foot townhouse at 1307 Park Ave. is in Baltimore's historic Bolton Hill neighborhood. It's listed for $450,000.
Fitzgerald, best known for writing The Great Gatsby, moved to this house after his previous Baltimore house burned down -- his wife, Zelda, is often fingered for the fire though other accounts blame faulty wiring.
He and his daughter with Zelda, Frances Scott "Scottie" Fitzgerald, lived in the Park Avenue house from fall of 1933 until fall of 1935, an unhappy time in Fitzgerald's personal life -- Zelda was institutionalized for much of it, and Fitzgerald himself struggled with insomnia and alcoholism, and faced persistent money troubles.
Check out photos of the house -- story continues below...:
According to a plaque on the house, however, that period was better for Fitzgerald, literarily -- Tender is the Night, Taps at Reveille and some of the essays from The Crack-Up were published while he lived there.
Let's hope that this house fares better than that of another Baltimore author. The wooden stairs on Edgar Allan Poe's Baltimore house were stolen last fall.
Here's the the listing for the Fitzgerald house on Estately.
Prada & Mui Mui: The Great Gatsby
Multi-striped sequins dress with a plastic and trimmings embroidery at the bottom. Inspired by the Prada Spring/Summer 2011 collection. Abito multirighe in paillettes con ricamo in frange in plastica e passamaneria. Ispirato alla collezione Prada Primavera/Estate 2011

Orange organza dress enriched with plastic fish scale-like sequin embroidery. Inspired by the Prada Fall/Winter 2011 collection. Abito in organza con ricamo di paillettes con motivo a scaglie di pesce in plastica arancio ispirato alla collezione Prada Autunno/Inverno 2011.

Radzmire dress with bustier embroidered with pearls, stones and sequin fringes. Inspired by a revisited silhouette of the 1920s, it is made contemporary by the use of modern fabrics and embroideries of the 1950s. Abito in radzmire con bustino ricamato di perle, pietre e piccole frange di paillettes. Ispirato alle silhouette anni '20 e rivisitato in chiave moderna con tessuti contemporanei e ricami anni '50.

Knee-length dress in octane-coloured tulle lined in matching silk cady. In the front, tulle is embroidered with a precious ramage pattern in crystal-coloured Swarovski. The dress's cuts are highlighted by subtle contrasting details in black silk. Abito al ginocchio in tulle color ottanio doppiato di cady di seta in tinta. Nella parte anteriore il tulle è ricamato da un prezioso ramage di cristalli svarowsky crystal. I tagli dell'abito sono evidenziati da sottili contrasti di seta nera.