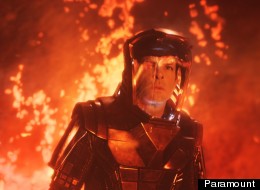 Just because J.J. Abrams has been named the director of "Star Wars: Episode VII" doesn't mean his "Star Trek" sequel has to hide in the corner. During Super Bowl XLVII on Sunday night, Paramount debuted a new "Star Trek Into Darkness" trailer.
Directed by Abrams, "Star Trek Into Darkness" returns the principal cast of "Star Trek" -- Chris Pine, Zachary Quinto, Simon Pegg, John Cho, Anton Yelchin, Karl Urban and Zoe Saldana -- while adding Alice Eve and Benedict Cumberbatch to the proceedings. Cumberbatch is playing the "Star Trek Into Darkness" villain, who may be Khan or Robert April or Gary Mitchell or John Harrison. "Shall we begin?" Cumberbatch tells Pine's Captain Kirk during the trailer's crescendo.
In addition to the "Star Trek Into Darkness" Super Bowl trailer, Paramount also unveiled a supplemental "reality app" that allows super fans to glean even more information about Abrams' sequel; head over to AdAge for the skinny on that.
"Star Trek Into Darkness" is out on May 17. Watch the trailer above and head over to Apple to check it out in HD.