Recipe Of The Day: Healthy Waffles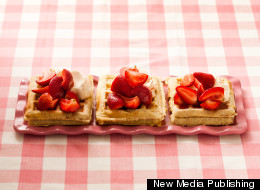 Do you know what a healthy waffle recipe means? It means you get to have a whole lot more waffles in your life -- and we'd all be better off with that. Because even though we love our pancakes and French toast for breakfast, there's something special about waffles -- even if they are healthy. (It's definitely because of their built-in maple-syrup pockets.)
This healthy waffle recipe replaces all the white flour with whole wheat flour. And, with only one tablespoon of sugar for the entire recipe, you can feel free to go a little heavy on the syrup.
Get the Whole Grain Waffles with Strawberries and Whipped Cream recipe
Want to read more from HuffPost Taste? Follow us on Twitter, Facebook, Pinterest and Tumblr.
Want to see more waffles?
20 Sweet and Savory Waffle Recipes
Get the Lemon Poppy Seed Waffles recipe from Lovin' From the Oven

Get the Chili and Cornbread Waffle Stacks recipe from Pinch of Yum

Get the Apple, Cheddar and Prosciutto Waffles recipe from 10th Kitchen

Get the Coconut Flour Waffles recipe from Deliciously Organic

Get the Cinnamon Roll Waffles recipe from Unsophisticook

Get the Sweet Potato Waffles recipe from A Golden Afternoon

Get the Orange Cinnamon Belgian Waffles with Dark Chocolate Hot Fudge recipe from Desserts for Breakfast

Get the Pint-Sized Chicken and Waffles recipe from Hungry Girl Por Vida

Get the Whole Wheat Pumpkin Waffles recipe from Lauren's Latest

Get the Brownie Waffles recipe from Domestic Fits

Get the Caramelized Banana Waffles recipe from Cooking on the Side

Get the Zucchini Waffles recipe from Gimme Some Oven

Get the Pumpkin Beer Waffles recipe from Hungry Girl Por Vida

Get the Ricotta Date Waffles recipe from Macheesmo

Get the PBR Waffles recipe from Macheesmo

Get the Simple Spelt Waffles recipe from A Spicy Perspective

Get the Spiced Apple Buttermilk Waffles recipe from Recipe Girl

Get the Ham, Cheddar and Brussels Sprouts Waffles recipe from Grab A Plate

Get the Eggnog Waffles recipe from Life and Kitchen

Get the Pomegranate Oatmeal Waffles recipe from Itsy Bitsy Foodies