What happens in Vegas stays in Vegas. That is, until it doesn't.
Just in time for Valentine's Day, Ancestry.com is lifting the veil on who got hitched in the unofficial marriage capital of the world (with 62 marriages per 1,000 residents, it should seriously be official).
Looking back five decades, from 1956 to 2005, they've uncovered some of Hollywood's hottest names who pulled a "Ross and Rachel" in Vegas. Just, hopefully less drunk.
For instance, did you know notorious bachelor George Clooney was once married, over 20 years ago? Way before Elisabetta Canalis and Stacy Keibler, hunky Mr. ER married Talia Balsam in 1989. They made it through three years before calling it quits.
Look, we even have his marriage license as proof!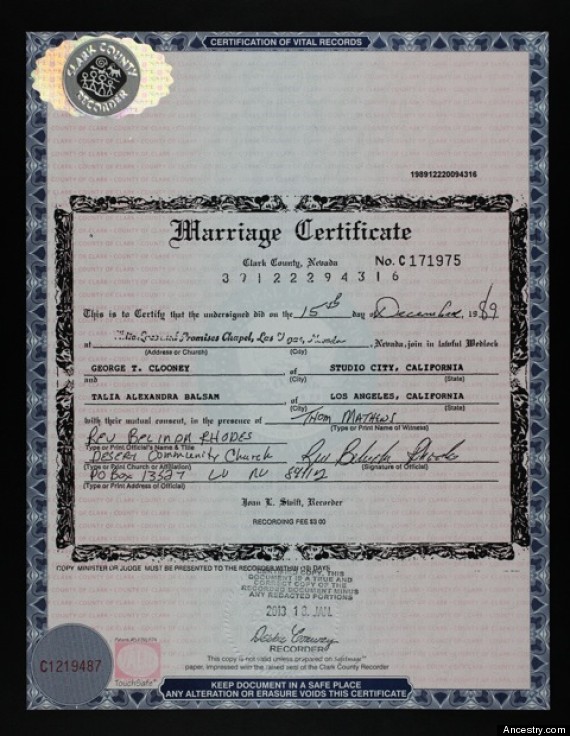 And hey, if Clooney fell prey, you know none of us are immune.
In 1963, Golden Girl Betty White got hitched to Allen Ludden.
Elvis Presley tied the knot with Priscilla Beaulieu in 1967.
Bette Midler wed Martin Rochus von Haselberg in 1984.
Demi Moore and Bruce Willis left the chapel as husband and wife in 1987.
The same year as Clooney, 1989, Jon Bon Jovi married Dorothea Hurley.
Clint Eastwood smiled for a day, when he married Dina Marie Ruiz in 1996.
Dennis Rodman and Carmen Electra reminded us that being bad can feel so good in 1998.
Evel Knievel took the plunge with Krystal M. Kennedy in 1999.
Angelina Jolie and Billy Bob Thornton wed in 2000.
2004 saw the 55-hour marriage of Britney Spears and Jason Alexander.
Want to find out who in your crazy family eloped in Sin City? Ancestry.com has nearly 300 million marriage records, spanning all 50 states, more than 16 countries and 500 years.
Related on HuffPost:
Loading Slideshow
Cher, Tom Cruise

Before Tom had to reportedly audition ladies for the part, Cher was his main squeeze. Back in the mid '80s and before he became a huge star, the two were going strong. "<a href="http://www.huffingtonpost.com/2008/04/30/cher-dishes-about-dating_n_99543.html">He was so wonderful. And I was so crazy about him</a>," said the iconic singer in 2008. "And he was so, like, different. He was a shy boy. He didn't have any money."

Ryan Gosling, Rachel McAdams

They made us swoon in "The Notebook" and swoon even harder when they took their love off-screen. These two Hollywood hotties dated from 2004 to 2007, then <a href="http://www.aceshowbiz.com/news/view/00019631.html">rekindled their romance a bit in 2008</a>.

Pamela Anderson, Michael Jackson

Back in 2008, Jacko was rumored to be dating "Baywatch" bombshell Pamela Anderson. "It was all arranged by their people in total secrecy, <a href="http://www.mirror.co.uk/3am/celebrity-news/michael-jacksons-secret-dates-with-pamela-333380">very cloak and dagger</a>," a source told the Mirror back in the day. "They are such a strange couple but they seemed to really hit it off."

Evan Rachel Wood, Marilyn Manson

Though by now Wood is married to British actor Jamie Bell and is <a href="http://www.huffingtonpost.com/2013/01/11/evan-rachel-wood-pregnant-jamie-bell_n_2456954.html">expecting their first child</a>, we cannot forget her wild streak: the actress was <a href="http://www.eonline.com/news/264209/evan-rachel-wood-talks-marilyn-manson-engagement-bisexuality-and-bieber">once engaged to shock rocker Marilyn Manson</a>.

Frank Sinatra, Mia Farrow

Legend Frank Sinatra wed iconic actress Mia Farrow in 1966, despite a three decade age difference. But that age difference is also what tore them apart, <a href="http://popcultureaddict.com/movies-2/strangeromance-htm/">after 16 months as husband and wife</a>.

Avril Lavigne, Brody Jenner

Before Nickelback's frontman (but after Sum 41's), the Canadian songstress dated reality TV hunk Jenner, also known as Kim Kardashian's half-brother. The two reportedly broke up a year ago because <a href="http://www.entertainmentwise.com/news/85655/Avril-Lavigne-Takes-Dig-At-Ex-Brody-Jenner-As-She-Announces-Engagement-To-Chad-Kroeger-">Lavigne wasn't ready to settle down</a>.

Jonny Lee Miller, Angelina Jolie

Before Brad Pitt and even before Billy Bob Thornton came Jonny Lee Miller, Angie's first husband. The two actors married in 1996, separated in 1997, and <a href="http://omg.yahoo.com/blogs/now/looking-back-angelina-jolie-first-two-marriages-011045632.html">divorced in 1999</a>, but are to this day good friends. Some <a href="http://www.nationalenquirer.com/celebrity/brads-fury-angie-still-hot-first-hubby">pesky rumors</a> recently hinted maybe a little <em>too</em> good, even.

Christina Hendricks, Geoffrey Arend

The voluptuous "Mad Men" star is the epitome of sex on her AMC show. Her husband, a nerd-geek actor in movies like "(500) Days of Summer," is not.

Kiefer Sutherland, Julia Roberts

In 1991, <a href="http://www.people.com/people/archive/article/0,,20115436,00.html">Roberts broke off her engagement</a> to Sutherland after more than a year together. The wedding cake was ready to go and so were the bridesmaids dresses, but rumors of the actor's infidelity (with a go-go girl, no less) sent Roberts flying into another man's arms.

Lyle Lovett, Julia Roberts

Lovett and Roberts were <a href="http://www.people.com/people/archive/article/0,,20105480,00.html">married for almost two years</a> back when she was America's sweetheart, nearly two decades ago. The 27-year-old actress fell hard for the 37-year-old country crooner and they were married just three weeks after they met.

Winona Ryder, Jimmy Fallon

Winona Ryder and Jimmy Fallon were reportedly linked in 2002, though <a href="http://www.wmagazine.com/celebrities/archive/winona_ryder">she denied a relationship in W magazine</a> that same year: "I do date once in a while, and I've gone out with wonderful people in the past. Although not with Jimmy Fallon, who everyone thinks is my boyfriend. We're just great friends."

Lance Armstrong, Ashley Olsen

In 2007, then 21-year-old Olsen was spotted<a href="http://www.huffingtonpost.com/2007/10/31/lance-armstrong-and-ashle_n_70525.html" target="_hplink"> making out with Armstrong</a>, 15 years her senior, at Rose Bar in New York. Yeah, we don't really get it either.

Roger Ebert, Oprah Winfrey

Roger Ebert and Oprah went on two dates way back when the two were just starting out in Chicago -- and Ebert counts himself as her mentor. "Yes, it is true, I persuaded Oprah to become the most successful and famous woman in the world," <a href="http://rogerebert.suntimes.com/apps/pbcs.dll/article?AID=/20051116/COMMENTARY/511160301" target="_hplink">Ebert wrote in 2005</a>.

John Tesh, Oprah Winfrey

What's even more bizarre than Oprah and Roger Ebert? Oprah and musician/television host John Tesh. Tesh allegedly left Oprah broken-hearted in the 1970s when <a href="http://www.nydailynews.com/entertainment/gossip/kitty-kelley-tell-all-book-reveals-john-tesh-bolted-lover-oprah-winfrey-middle-night-article-1.167057">he bolted in the middle of the night</a> from the apartment they shared in Nashville, Tenn.

Enrique Iglesias, Sofia Vergara

It's strange to think of now, but Vergara was once more commonly referred to as <a href="http://www.people.com/people/archive/article/0,,20139975,00.html">Iglesias' ex</a> before hitting it big with the ABC sitcom "Modern Family."

Helen Hunt, Matthew Broderick

Helen Hunt and Matthew Broderick gave love a shot in 1987 and although happily every after wasn't in the cards for the pair, the couple did forge a lifelong friendship. Hunt and Broderick are even comfortable enough with their relationship that <a href="http://articles.nydailynews.com/2008-04-23/gossip/17895768_1_cinema-society-outfit-onstage">they filmed a sex scene together for 2008's "Then She Found Me."</a>

Gary Oldman, Uma Thurman

How did we miss this? <a href="http://www.zimbio.com/dating/3zGpPZJkBxZ/Gary+Oldman+married+Uma+Thurman/Gary+Oldman">Gary Oldman and Uma Thurman were married</a> from 1990 to 1992.

George Clooney, Talia Balsam

George Clooney may be the ultimate bachelor, but he did get married, just once, to actress Talia Balsam. (Balsam is now married to John Slattery of "Mad Men"). <br><br>"I was married, so I gave it a shot,"<a href="http://www.cbsnews.com/8301-31749_162-20029324-10391698.html" target="_hplink"> Clooney told Piers Morgan</a> in 2011. "I've proven how good I was at it, and I just...I'm allowed one."

Alanis Morissette, Ryan Reynolds

Before Blake, before Scarlett, there was Alanis: Reynolds dated fellow Canadian Morissette from 2002 until 2007, when they called off their engagement. Morissette later admitted that her album <a href="http://www.accesshollywood.com/alanis-morissette-talks-ryan-reynolds-breakup-covering-my-humps_article_10455?&__source=rss%257Clatest_news" target="_hplink">"Flavors of Entanglement" was about their breakup</a>.

Conan O'Brien, Lisa Kudrow

These <a href="http://articles.nydailynews.com/2011-06-29/gossip/29737338_1_phoebe-buffay-improv-groundlings" target="_hplink">two funny people dated</a> when he was a writer for "Saturday Night Live" and she was working as a comedian in Los Angeles. "He was really smart, really funny and he thought I was funny, but found we were better as friends," <a href="http://xfinity.comcast.net/slideshow/entertainment-forgottencouples/6/" target="_hplink">Kudrow said of their brief romance</a>.

Johnny Depp, Ellen Barkin

Before his two-year relationship with Kate Moss, <a href="http://voices.yahoo.com/johnny-depps-love-life-past-present-5708768.html">Johnny Depp briefly dated Ellen Barkin in 1994</a>.

Jennifer Lopez, Casper Smart

Split the difference: J.Lo rebounded with 25-year-old Casper Smart (a backup dancer) after splitting with her husband of seven years, Marc Anthony, in July 2011.

Courteney Cox, Michael Keaton

The "Friends" star and "Batman" actor dated <a href="http://www.people.com/people/archive/article/0,,20102215,00.html" target="_hplink">from 1989 to 1995</a>.

Ryan Gosling, Sandra Bullock

The hunky heartthrob and funny girl were together from 2002 to 2003. "I had two of the greatest girlfriends of all time. I haven't met anybody who could top them,"<a href="http://www.usmagazine.com/celebrity-news/news/ryan-gosling-exes-sandra-bullock-rachel-were-the-best-girlfriends-ever-2011179#ixzz1wZWnD4oD" target="_hplink"> Gosling told Us Weekly</a>in 2011 (about Bullock and Rachel McAdams, whom he dated afterward). We wonder what current amour Eva Mendes might have to say about that?

Howard Stern, Beth Ostrosky

Something tells us that the radio talk-show host didn't get his stunning actress wife to say "yes" based on his refined manners and general sense of grooming.

Drew Barrymore, David Arquette

These two Hollywood staples were briefly linked in 1991 -- eight years before they starred together in 1999's "Never Been Kissed."

Drew Barrymore, Tom Green

In 2001, the Canadian comedian <a href="http://articles.cnn.com/2001-12-17/entertainment/green.divorce_1_divorce-irreconcilable-differences-ann-gurrola?_s=PM:SHOWBIZ">filed for divorce</a> less than six months after marrying the then 26-year-old Barrymore, saying: "Drew is a wonderful woman, I love her very much. I wish our marriage could have worked out, I wish her much happiness."

Sarah Jessica Parker, Robert Downey Jr.

By his own admission, Robert Downey Jr. was less than a model boyfriend to Sarah Jessica Parker, whom he dated from 1984 to 1991. "I liked to drink, and I had a drug problem, and that didn't jibe with Sarah Jessica, because it is the furthest thing from what she is," <a href="http://www.huffingtonpost.com/2008/04/16/robert-downey-jr-on-datin_n_97012.html" target="_hplink">Downey Jr. said of their relationship</a>.

Carson Daly, Tara Reid; Katie Holmes, Chris Kelin

Cutest -- and weirdest -- double date ever? Carson Daly/Tara Reid and Katie Holmes/Chris Klein are the epitome of the '90s here.

Moby, Natalie Portman

According to Moby, his fling with Portman caused a lot of nerd wrath. "You don't date Luke Skywalker's mom and not have them hate your guts," <a href="http://www.nypost.com/p/pagesix/item_YRyKLctrCmIeaFysWHXogP#ixzz1wZUpAuA0" target="_hplink">he said about their romance</a>.

Ashton Kutcher, January Jones

Long before Ashton Kutcher married and divorced Demi Moore and January Jones gave to her baby boy (whose father she refuses to reveal), <a href="http://www.huffingtonpost.com/2010/10/27/ashton-kutcher-january-jo_n_774749.html">these two gave it a go in the romance department</a>.

Brooke Shields, Nicolas Cage

Not much is known about their relationship, but somewhere in the late '80s, Shields and Cage dated for about a year.

Billy Corgan, Tila Tequila

The romance between the Smashing Pumpkins frontman and reality star came out of nowhere, and left just as quickly as it arrived.

Owen Wilson, Sheryl Crow

The couple broke up in 2002, but there were no hard feelings. "I love Owen. He's so talented, and a great, great person," <a href="http://www.usatoday.com/life/music/2002/2002-04-15-crow.htm" target="_hplink">Crow said about the actor the same year.

Josh Hutcherson, Vanessa Hudgens

Ah, live television. The "Hunger Games" star and Hudgens shared an <a href="http://www.huffingtonpost.com/2012/01/18/josh-hutcherson-and-vanes_n_1212160.html">awkward moment on an Australian morning show</a> when an interviewer asked the pair how long they had been going out. "We're not," Hutcherson said. "We were at one point, but she broke my heart. No, I'm just kidding. That was a while ago. We're really good friends now."

Jack Nicholson, Lara Flynn Boyle

The unlikely couple had an <a href="http://www.popsugar.com/Look-Whos-Back-Together-Again-12062" target="_hplink">on-again, off-again relationship</a> from 1999-2006.

Jennifer Love Hewitt, Joey Lawrence

Jennifer Love Hewitt and Joey Lawrence were <a href="http://www.ivillage.com/jennifer-love-hewitt-cheating-famous-boyfriends-book/1-a-142303">a match made in teen icon heaven</a> from 1995 - 1996.

Scott Baio, Pamela Anderson

Scott Baio and Pamela Anderson <a href="http://www.people.com/people/archive/article/0,,20061439,00.html">called each other sweetheart in the late '80s and early '90s</a>.

Emilio Estevez, Demi Moore

Emilio Estevez and Demi Moore were romantically tangled from 1985 - 1987. After starring in 1985's "St. Elmo's Fire," <a href="http://www.zimbio.com/dating/aVh7uTRFCeI/Emilio+Estevez+engaged+Demi+Moore/Demi+Moore">the pair became engaged but never made it to the church</a>.

Andre Agassi, Brooke Shields

Nowadays, it's hard to imagine that one of the most high-profile couples in the '90s was tennis star Andre Agassi and actress Brooke Shields. The couple dated for six years before marrying in 1999; they divorced just two years later.

Zach Braff, Taylor Bagley

Humor beats beauty! Zach Braff has dated a string of ridiculously pretty women, from Mandy Moore to his current girlfriend, British model Taylor Bagley.

Cameron Diaz, Matt Dillon

The telegenic "There's Something About Mary" co-stars dated for three years before splitting in 1998 -- the same year the hit comedy hit the big screen.

Macaulay Culkin, Mila Kunis

It seems like ages ago, but <a href="http://www.huffingtonpost.com/2011/01/03/its-over-mila-kunis-and-macauley-culkin-breakup_n_803457.html" target="_hplink">Kunis split from rumored fiance Culkin</a> only in September 2011. They began dating in 2002.

Madonna, Dennis Rodman

There are a lot of crazy rumors surrounding this unlikely pair, among them that <a href="http://www.hollywood.com/news/Rodman_Surprised_He_Couldnt_Impregnate_Madonna/3466906" target="_hplink">Madonna desperately wanted to be impregnated </a>by the former basketball star in the early '90s.

Shia LaBeouf, Hilary Duff

LaBeouf and Duff, who just gave birth to her first child, went on an epically bad date -- according to LaBeouf himself. "Probably the worst date either of us have ever had," <a href="http://www.hollywoodlife.com/2011/06/28/shia-labeouf-megan-fox-transformers-dark-of-the-moon/" target="_hplink">the "Transformers" star told Details</a> of their failed connection.

Aaron Carter, Lindsay Lohan

It's crazy to think about now, but Lohan and Carter were once a hot item, albeit not without some controversy. Carter had previously been dating that <em>other</em> teen star Hilary Duff, and <a href="http://newsroom.mtv.com/2011/08/15/love-triangle-hilary-duff-pregnant-aaron-carter-lindsay-lohan/">cheated on her with LiLo</a>.

Emma Stone, Kieran Culkin

After meeting on the set of 2009's "Paper Man," Stone and Culkin were <a href="http://articles.nydailynews.com/2010-04-07/gossip/27061116_1_emma-stone-kieran-culkin-stars" target="_hplink">rumored to be dating </a>. Stone is now currently dating "Spiderman" co-star Andrew Garfield.

John Stamos, Marlee Matlin

Johan Stamos and Marlee Matlin <a href="http://www.theinsider.com/gossip/40647_They_Dated_Surprising_Hookups/index.html?page=71">reportedly dated in 1989</a> -- but romantic or platonic, the pair remain good friends <a href="https://twitter.com/MarleeMatlin/status/144285645173555201">and at least carry on a Twitter relationship</a>.

Seal, Tyra Banks

Seal sure has a thing for telegenic supermodels! Seal and Tyra confirmed their budding romance when they stepped out to the Essence Awards in 1996, but broke up shortly thereafter.

Whoopi Goldberg, Ted Danson

You better believe it: In 1992, <a href="http://www.people.com/people/archive/article/0,,20110576,00.html">Danson was apparently so smitten with Goldberg</a> during the filming of "Made in America" that it led to a divorce with his then wife-of-16-years, Casey, the next year. "I'd walk in Whoopi's shadow for the rest of my life--I adore the woman," Danson said about Goldberg.

Sean Lennon, Leelee Sobieski

John Lennon's son and Sobieski were spotted canoodling during a Rock & Roll Hall Of Fame induction in 2004, when the former teen star was just 20 years old.