Juicer Types: The Difference Between Cold Press Juicers vs. Centrifugal Juice Extractors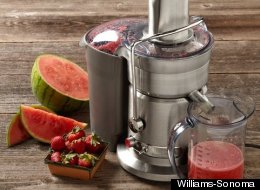 It's entirely possible that you're curious about buying a juicer. In case you haven't heard, juicing is trending. We're not talking about the Barry Bonds type of juicing, but the Jack LaLanne type. Recent claims have promised that drinking fresh-pressed juices can help you lose weight, boost immunity, prevent cancer and cleanse your system. Whether that's entirely true remains to be seen, but it can't hurt, right?
We're food editors, so we obviously don't hate food enough to go on a full-on juice cleanse. But it would be nice to incorporate those health benefits into our diet -- you know, to clean out all the totchos and doughnuts in there. The only problem is deciding which juicer to buy.
Unless you're a millionaire who can afford the original Norwalk hydraulic press juicer for $2,495, there are two basic types of options on the market for you:
1. Centrifugal Juice Extractors
Traditionally, this is the most common type of juicer. These typically utilize a fast-spinning metal blade that spins against a mesh filter, separating juice from flesh via centrifugal force. The juice and pulp are then separated into different containers. The problem with centrifugal juicers is that the fast-spinning metal blade generates heat, which destroys some of the enzymes in the fruits and vegetables you're juicing. The heat also oxidizes those nutrients, rendering less nutritious juice than a cold-press juicer.
We tried the Breville Juice Fountain Elite, $299.95 at Williams-Sonoma
2. Cold Press Juicers (a.k.a. Masticating Juicers)
These newer juicers extract juice by first crushing and then pressing fruit and vegetables for the highest juice yield. Because they don't produce as much heat, they keep more of the fresh ingredients' nutrients intact. This is closer to what you'll get (but NOT the same) from a BluePrint type of cleanse.
We tried the Breville Juice Fountain Crush, $399.95 at Williams-Sonoma
The Breakdown
After testing the juicers and doing some research, here's what we found:
| | | |
| --- | --- | --- |
| | Centrifugal Juicer | Slow Juicer |
| Nutrient Retention | Not so great. The high-speed spinning creates some heat, which can break down nutrients. | High. This process produces no heat, thus maintaining more of the ingredients' nutrients. |
| Ability To Process Leafy Greens? | Less efficient. Far less of the juice is able to be extracted from greens. | Quite efficient. Great for fans of green juice. |
| Ability To Process Nuts? | No | Yes -- great for making your favorite almond or cashew milks |
| Noise Level | As loud as a blender | Very, very quiet (you can hear the television while you're juicing) |
| Speed | No advantage -- the two juicers, run side by side, juice at the same speed | No advantage |
| Pulp | Some | A lot |
| Price | Lower | Higher |
The gist:
Buy a centrifugal juicer if:
-- You use the juice mostly for cooking, baking or other processes where heat will eventually be applied
-- You're not picky about getting maximum nutrients
-- You're trying to save cash
Buy a slow press juicer if:
-- You're into cleansing, making nut milks and green juices, and you like fresh juice
-- You want to pack the most nutrients into your body as possible
-- You don't mind spending a few extra bucks
Happy juicing!
Want to read more from HuffPost Taste? Follow us on Twitter, Facebook, Pinterest and Tumblr.
Clarification: Language has been added to this article to indicate that while masticating juicers do produce some heat, that amount is negligible in comparison to centrifugal juicers.
Here's how to incorporate that juice into some delicious smoothies:
Get the Strawberry, Banana and Almond Butter Smoothie from Food & Wine You'll want to freeze your banana and strawberries for this smoothie recipe -- doing so helps create a thick frozen texture. A little bit of almond butter adds a nutty flavor as well as a nutrient boost.

Get the Cantaloupe Smoothie recipe from Curious Country Cook Cantaloupe in a smoothie -- why not? Cantaloupe, orange juice and a few strawberries combine to create this frothy delight, perfect when melons are in season.

Get the Purple Berry Smoothie recipe All you need are raspberries and blueberries to create this pretty purple smoothie packed with antioxidants. The base is made with yogurt so it's extra creamy.

Get the Strawberry-Peach Smoothie recipe from Unrefined Kitchen Strawberries and peaches make a great flavor combination in this smoothie recipe. Use coconut milk and just a tiny bit of coconut oil to create a silky consistency.

Get the Acai Super Smoothie recipe The South American berry acai is known for its health benefits. Here it combines with raspberries, banana and pomegranate juice to create a super smoothie. Use frozen acai puree, which you can find in health food stores.

Get the Berry-Cherry Smoothie recipe from Eat Spin Run Repeat The flavors of cherries and strawberries really shine in this yogurt smoothie. A bit of cranberry juice helps accentuate their tart flavors.

Get the Oat and Apricot Smoothie recipe from SomedaySpoon The oats in this smoothie provide a great energy boost. Blended with fresh apricots and yogurt, the drink takes on a nice fruity and nutty flavor.

Get the Citrus-Berry Smoothie recipe Blend your choice of fresh berries with orange juice and yogurt to create this healthy smoothie, which includes dry milk and wheat germ for a nutritional perk.

Get the Vanilla, Plum and Buttermilk Smoothie from MarthaStewart.com For this smoothie, the plums are first poached in a vanilla bean syrup before being pureed with buttermilk. Cooking the plums enhances the flavor of the finished smoothie.

Get the Pomegranate Berry Smoothie recipe Pomegranate juice ties together all the ingredients in this smoothie: mixed berries, banana and a very different ingredient, cottage cheese. Once blended, its consistency will be as creamy as yogurt but even more healthful.

Learn how to make a fruit smoothie that's creamy and delicious.