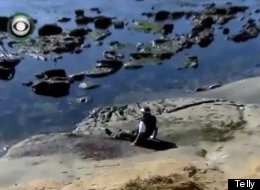 Phil Mickelson may have provided more comedy at the Pebble Beach Pro Am on Saturday than Bill Murray.
While looking for his ball on the 18th hole, Mickelson had to travel to the rocks. As he made his way down, he accidentally slipped and fell on his backside.
Whoops.
Deadspin called the tumble the "unquestionable sports highlight of this or any year," while SB Nation described it as "so, so Phil."
Mickelson, who won this tournament in 2012, ended up taking a triple bogey on the hole and shooting 1-over par in the third round. He's 1-under par overall heading into Sunday.

WATCH VIDEO ABOVE