The 40 days of Lent that lead to Easter are the most sacred and spiritually powerful in the Christian calendar. From the Ash Wednesday reminder to 'remember that you are dust, and to dust you shall return,' to the the Stations of the Cross on Good Friday, to the joyful Easter song of 'Christ the Lord Is Risen Today' -- Lent is a time when Christians are invited to examine our faith, and deepen the commitment to live the Christian life.
[Scroll down to see our Lent liveblog.]
Starting on Feb. 13, Ash Wednesday until Easter on 31st March, HuffPost Religion offers you the opportunity to walk together with an online community of pilgrims through this season of grown and discovery. Each day HuffPost will be updating this liveblog with scripture lessons, prayers, music, poetry, hymns, ideas for charitable service and supportive comments and suggestions from fellow HuffPost Lent community members to help make your fast meaningful and powerful. We will be offering daily Lenten reflections by some of the most respected Christian voices who will share with you deep wisdom for your walk with Christ.
All are encouraged to share Lenten reflections and experiences with us. What does the season of Lent mean to you? What spiritual exercises and meditations do you practice during Lent? Whether you're observing Lent for the first time, or you've observed Lent your entire life, we want to hear from you. Send your personal reflections (300-500 words) and photos to religion@huffingtonpost.com. We are excited to embark on this journey with you.
May you have a blessed Lent!
Click through for some Lenten meditations
Week 1 of Lent (Feb. 13, 14, 15, 16)
Week 2 of Lent (Feb. 18, 19, 20, 21, 22, 23)
Week 3 of Lent (Feb. 25, 26, 27, 28, March 1, 2)
Week 4 of Lent (March 4, 5, 6, 7, 8, 9)
Week 5 of Lent (March 11, 12, 13, 14, 15, 16)
Week 6 of Lent (March 18, 19, 20, 21, 22, 23)
Holy Week (March 24 [Palm Sunday], 25, 26, 27, 28 [Maundy Thursday], 29 [Good Friday], 30 [Holy Saturday])
Easter Sunday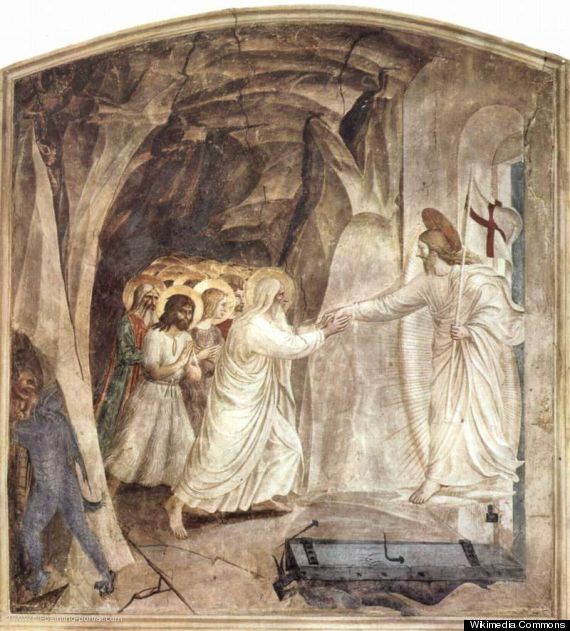 [Image: Fra Angelico's Christ's Descent to Limbo (ca. 1437-1446)]
From 1 Peter 3
For Christ also suffered for sins once for all, the righteous for the unrighteous, in order to bring you to God. He was put to death in the flesh, but made alive in the spirit, in which also he went and made a proclamation to the spirits in prison, who in former times did not obey, when God waited patiently in the days of Noah, during the building of the ark, in which a few, that is, eight people, were saved through water. And baptism, which this prefigured, now saves you -- not as a removal of dirt from the body, but as an appeal to God for a good conscience, through the resurrection of Jesus Christ, who has gone into heaven and is at the right hand of God, with angels, authorities, and powers made subject to him.
"The ancient Christian church," said the professor in his Irish accent, "celebrated the Triduum. Can anybody tell me what the Triduum is?"
No hands went up.
"I'll give you a hint: you might call it Holy Week."
"Ah," said one student, "it is the three days that begin on Thursday night and culminate on Sunday with Easter."
"Yes," nodded the professor. "What names do we give to those days?"
"Maundy Thursday."
"Good Friday."
"Easter Sunday."
"You're forgetting one," he said. "Holy Saturday."
"Huh?"
"Come on," he responded, "you confess the events of Holy Saturday every time you say the Apostles' Creed. What did Jesus do between Good Friday and Easter morning? He descended into hell. And what did he do there? Read 1 Peter 3, my friends. Christ preached. Christ brought the good news to those whom most think are beyond saving. And you thought he was just biding his time, waiting for Sunday. No, I tell you. He was busy. He was doing something very important."
Prayer:
Holy God, we are waiting for tomorrow. We need the light and joy of Easter in our lives. As we wait, remind us that our Lord is never satisfied leaving the lost in their personal hells. This Holy Saturday, focus us on the Christ who kicks down the gates of Hades and brings good news to us in the worst of circumstances. Hallelujah! This is the triumphant Christ whom we long to greet in the morning, fresh from his junket to hell. Amen.
The Rev. Dr. Scott Black Johnston is senior pastor of Fifth Avenue Presbyterian Church in Manhattan.