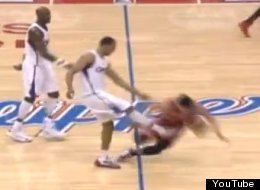 After scoring 46 points in the first quarter (!), you would think that the Clippers would take a more relaxed approach when defending the Rockets, but bench player Ryan Hollins doesn't have that same mentality.
During the second quarter, Hollins landed a sneaky kick on Lin while the point guard was falling to the ground.
Problem is, it was done right in front of the referee and he was hit with a technical for his actions.
Why so mad, Hollins?
WATCH VIDEO ABOVE