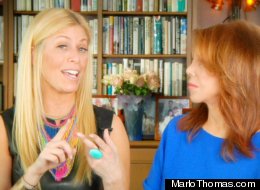 Everybody loves a deal! Style Expert and New York Times Best-Selling Author Jill Martin does the "Steals and Deals" segment on the TODAY Show, so she's well-versed in shopping on a budget. When she met with me on Mondays With Marlo, Jill spoke about RentTheRunway.com, a site where you can rent designer pieces for a very small fraction of their actual cost. She also touted stores like Target, H&M and Forever 21, where you can uncover fantastic finds if you do a little digging.
For more advice on looking fabulous, see Jill's tips on staying stylish:
Jill Martin's Tips On Staying Stylish
If your midsection is wider than you'd like it to be, skip wearing a belt. It will just draw attention to your problem area.

Draw attention to your favorite features by wearing accessories that highlight that area. Love your décolletage? Put on a striking necklace. Are your legs your best feature? Choose a skirt that shows them off.

Forget matching jewelry sets. Wearing too much jewelry that pops is distracting. Stick to one statement piece. Jill's favorite trick? Turn around in front of a mirror and keep on the first piece that catches your eye -- ditch the rest.

The mod look is back this spring. Incorporate it into your wardrobe with color-blocked dresses and tops, boxy bags and shoes with chunky square heels.

Choosing undergarments designed to keep everything tucked in, like Spanx, will help you look trimmer and sleeker in all your outfits, no matter what your size.

Sticking to one darker color in your outfit, like navy or gray, will help you look longer and taller. Avoid wearing lots of bright colors together; it will have the visual effect of chopping you and making you look wider.

It's easier than ever to get a deal. If you have a formal occasion coming up, check Rent the Runway, where you can rent a designer dress for your special event at a fraction of its retail price, or eBay. For everyday pieces, check stores like Target, H&M and Forever 21. They offer runway-inspired designs at prices that are easier on the wallet.

Wearing jeans or pants with a bootcut or a flare instead of skinny jeans will help streamline your body, helping you look thinner and taller. Try them with a faux fur jacket to look extra glam.

Forget the old rules. This season, mixing and matching is in style. Experimenting with mixing up gold and silver jewelry or combining two different types of print, like tiny polka dots with plaid.

Plus-sized ladies will always like one part of their body over the rest. If you prefer your upper body to your lower half, wearing a bold piece like a long necklace will help you look slimmer. Try shopping for clothing at department stores, too. They have a wide selection and brands at fits at your disposal.

Your feet don't have to suffer to look good. There are tons of cute flats and sandals that will keep your feet comfortable and stylish. Check out options at stores like Payless, Target and H&M. If you can't totally give up the heels just yet, carry a pair of flats in your bag to change into if your feet start to feel uncomfortable -- discomfort isn't sexy!

About 75 percent of your closet's contents are just taking up space. Pull out your five favorite pieces -- the go-to items you wear when you want to look and feel good -- and measure everything else in your closet to those standards. If they're not good enough for the five pieces, donate them or swap with friends. Having fewer choices will force you to be creative with what you already own.

Though trends come and go, there are a few items you'll want to keep around for seasons to come. Invest in high-quality jeans, a leather jacket, a pair of go-to heels and a great tote. Go cheaper on trendy, "in style now" clothes and costume jewelry.

Everyone should have at least one item in their closet that makes them look and feel amazing -- your very own beautiful outfit. Invest in this item, whether it's a cashmere sweater or a little black dress and pull it out when you need a little boost.

Does your job have a casual dress code but impromptu dinner and drinks meetings? Don't turn down a chance a fun evening because you're dressed for the office. Keep fishnet stockings, heels and statement earrings or a necklace in your desk drawer. That way, you can dress up what you're already wearing without lugging your closet around with you.
Add Marlo On Facebook:
Follow Marlo on Twitter:

Weekly Newsletter

Sign up to receive my email newsletter each week - It will keep you up-to-date on upcoming articles, Mondays with Marlo guests, videos, and more!

Sign up here