Anna Lamb-Creasey of Clayton County, Ga., learned of her son's death almost a month after it happened. But she didn't see it on the news or hear it from a neighbor. She found out from a Facebook message sent by a police-controlled masquerade account, reports Atlanta-based news outlet WSBTV.
Lamb-Creasey's son, Rickie Lamb, was killed by a vehicle in Forest Park in the last week in January. It wasn't until Valentine's Day that she found out he had died, according to a post she wrote on the fundraising website set up for her son's funeral.
Clarence Cox, a spokesperson for the Clayton County Police, told The Huffington Post over the phone Tuesday that police sent the Facebook message to the distraught mother from an account bearing the name "Misty Hancock" and a profile photo of rapper TI. The account had been used previously "in an undercover capacity," Cox said. "We had no intention of it getting out all over the media like this."
Cox also said police "had used all the traditional methods" to locate Lamb-Creasey before sending the Facebook message, even sending officers from other jurisdictions to the multiple addresses listed for Rickie Lamb's family.
Lamb-Creasey, who called hospitals and jails to locate her son, told WSBTV that when she gets a message from someone she isn't Facebook friends with, the message gets filtered. The local channel said it was Lamb-Creasey's daughter, who also received the Facebook message from police, that learned of Rickie Lamb's death after responding to the message.
(Story continues below.)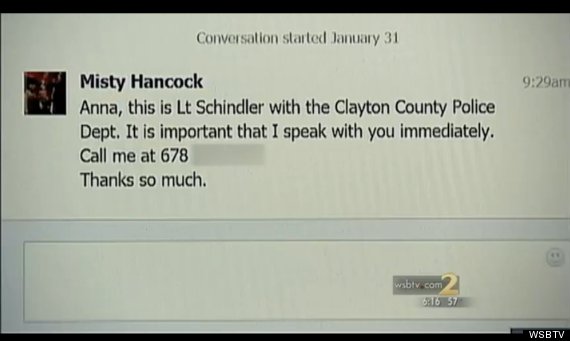 The message sent by police.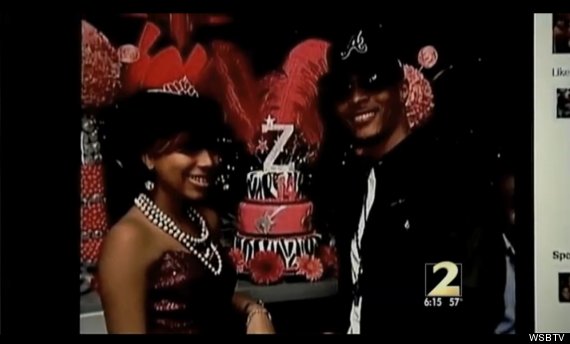 The profile photo for the "Misty Hancock" account.
While it's odd for police to use Facebook to notify family members of a death, the social network is increasingly becoming the first source of information about the passing of a loved one.
In November the Associated Press told the story of a married couple, living near Atlanta, who were forwarded a Facebook post informing them of the death of their 17-year-old daughter. The college freshman had been found dead on a dormitory couch at Valdosta State University, 250 miles south of the couple's home.
A few months earlier, HuffPost covered the story of military wife Ariell Taylor-Brown, who learned of her husband's death in Afghanistan after receiving a Facebook message from a fellow soldier in her husband's platoon, who broke protocol in sending the message.
Loading Slideshow
Clickjacking

Clickjackers on Facebook entice users to copy and paste text into their browser bar by posting too-good-to-be-true offers and eye-catching headlines. Once the user infects his own computer with the malicious code, the clickjackers can take control of his account, spam his friends and further spread their scam. For example, clickjacking schemes hit Facebook soon after bin Laden's death and spread like wildfire by purporting to offer users a glimpse at <a href="http://www.huffingtonpost.com/2011/05/04/bin-laden-death-video-hoax_n_857730.html" target="_hplink">video or photos of bin Laden's death</a>.

Fake Polls Or Questionnaires

If you click on an ad or a link that takes you to questionnaire on a site outside Facebook, it's best to close the page. When you complete a fake quiz, you help a scammer earn commission. Sometimes the quiz may ask you to enter your mobile number before you can view your results. If the scammers get your number, they could run up charges on your account.

Phishing Schemes

Phishers go after your credentials (username, password and sometimes more), then take over your profile, and may attempt to gain access to your other online accounts. Phishing schemes can be difficult to spot, especially if the scammers have set up a page that resembles Facebook's login portal.

Phony Email Or Message

<a href="http://www.facebook.com/help/?page=1187" target="_hplink">Facebook warns</a> users to be on the lookout for emails or messages from scammers masquerading as "The Facebook Team" or "Facebook." These messages often suggest "urgent action" and may ask the user to update his account. They frequently contain links to malware sites or virus-ridden attachments. They may even ask for your username and password. The best advice Facebook offers is to report the sender and delete the messages without clicking anything.

Money Transfer Scam

If a friend sent you a desperate-sounding Facebook chat message or wall post asking for an emergency money transfer, you'd want to help, right? Naturally. That's what makes this scam so awful. The point is to get you to wire money to scammers via Western Union or another transfer service.

Fake Friend Request

Not all <a href="http://www.huffingtonpost.com/2011/02/10/facebook-friend-request-spam_n_821584.html?page=1" target="_hplink">friend requests</a> come from real people, despite Facebook's safeguards against bots. Some Facebook accounts exist purely to establish broad connections for spamming or extracting personal data from users, so watch out whose friend requests you accept.

Fake Page Spam

Malicious pages, groups or event invitations aim to trick the user into performing actions that Facebook considers "abusive." For instance, a fake invite might offer a prize if you forward it to all your friends or post spammy content on their walls. Sometimes a scammer will set up fake pages as a front for a clickjacking or phishing scheme.

Rogue Apps

Malicious apps are pretty common on Facebook these days. They can be a cover for phishing, malware, clickjacking or money transfer schemes. Oftentimes, the apps look convincingly real enough for users to click "Allow," as they would do with a normal Facebook app. However, rogue apps use this permission to spread spam through your network of friends. For example, the recent "<a href="http://www.huffingtonpost.com/2011/04/08/facebook-closing-accounts-scam-app_n_846737.html" target="_hplink">Facebook Shutdown</a>" scam spread by claiming that Facebook would delete all inactive accounts except those that confirmed via app installation.

The Koobface Worm

The <a href="http://en.wikipedia.org/wiki/Koobface" target="_hplink">Koobface worm</a> is getting on in years (it first appeared in late 2008) and has been mostly scrubbed from the site, but Facebook still warns users to look out for it. Koobface spreads across social networks like Facebook via posts containing a link that claims to be an Adobe Flash Player update. Really, the link downloads malware that will infect your computer, hijack your Facebook profile and spam all your friends with its malicious download link. This worm affects mostly Windows users.