'5 Broken Cameras' Director Emad Burnat: 'It's Not Normal For A Human To Be Treated Like This'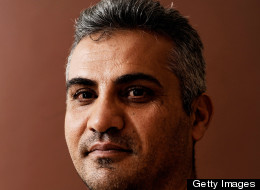 Michael Moore and Emad Burnat, the Oscar-nominated director behind "5 Broken Cameras" who was detained by immigration officials at Los Angeles International Airport on Tuesday night, appeared on HuffPost Live on Wednesday to discuss the incident.
"It was strange for me last night when I arrived at the airport in Los Angeles, because I came to the United States this year six times. This is the first time that's happened to me," Burnat told HuffPost Live host Ahmed Shihab-Eldin. "They started asking me questions and taking pictures. They were asking me for documents and invitations. I told them I had the hotel reservation, I am the Oscar nominee and I came here for this purpose. I had the invitation in my iPhone and I had all documents on my iPhone. They told me, 'We don't care, we need more documents, we need papers, and if you don't give us documents we will send you back home.'"
Burnat, the first Palestinian to ever receive an Oscar nomination, said he was accustomed to such treatment, but that doesn't make it right.
"All the Palestinians get the same treatment in our country, in our home and in different countries," Burnat said (video above). "So it's not normal for a human to be treated like this for all our lives, or for our kids. So I am seeking for peace and for freedom for my kids. And I want them to be treated like humans, not because we are Palestinians that we should get bad treatment or different treatment."
Burnat, who co-directed the film "5 Broken Cameras" with Guy Davidi, an Israeli, was on his way into the United States to attend Sunday's Oscars ceremony when he was held up for 90 minutes by airport security on Tuesday. The director contacted Moore, who was hosting a dinner for the Best Documentary Feature and Short nominees. Moore relayed Burnat's situation via Twitter to over 1.4 million followers.
"5 Broken Cameras" is one of five Best Documentary Feature nominees at the 85th annual Academy Awards. The film is joined in the category by "How to Survive a Plague," "Searching for Sugar Man," "The Invisible War" and "The Gatekeepers." More on the controversy surrounding the origin country of "5 Broken Cameras" can be found here.
Watch Burnat and Moore on HuffPost Live above.
Best Documentary Nominees
Subscribe ow.ly | Facebook ow.ly | Twitter ow.ly Release Date: Genre: Documentary | History | News Cast: Bill Bahlman, David Barr and Gregg Bordowitz Directors: David France Writer: David France, Todd Woody Richman Studio: IFC Films Plot: The story of two coalitions -- ACT UP and TAG (Treatment Action Group) -- whose activism and innovation turned AIDS from a death sentence into a manageable condition.

Subscribe to TRAILERS: bit.ly Subscribe to COMING SOON: bit.ly 5 Broken Cameras Official Trailer #1 (2012) - Documentary HD An extraordinary work of both cinematic and political activism, 5 Broken Cameras is a deeply personal, firsthand account of non-violent resistance in Bil'in, a West Bank village threatened by encroaching Israeli settlements. Shot almost entirely by Palestinian farmer Emad Burnat, who bought his first camera in 2005 to record the birth of his youngest son, the footage was later given to Israeli co-director Guy Davidi to edit. Structured around the violent destruction of each one of Burnat's cameras, the filmmakers' collaboration follows one family's evolution over five years of village turmoil. Burnat watches from behind the lens as olive trees are bulldozed, protests intensify, and lives are lost. "I feel like the camera protects me," he says, "but it's an illusion." www.kinolorber.com "5 Broken Cameras trailer" "5 Broken Cameras movie" "5 Broken Cameras HD" HD 2012 "Emad Burnat" "Guy Davidi" movieclips movieclipstrailers movie clips movieclipscomingsoon

The Gatekeepers Official Trailer #1 (2013) - Shin Bet Documentary

From Oscar and Emmy-nominated filmmaker Kirby Dick (This Film Is Not Yet Rated; Twist of Faith) comes THE INVISIBLE WAR, a groundbreaking investigative documentary about one of America's most shameful and best-kept secrets - the epidemic of rape within the US military. The film paints a startling picture of the extent of the problem - today, a female soldier in combat zones is more likely to be raped by a fellow soldier than killed by enemy fire. Twenty percent of all active-duty female servicewomen are sexually assaulted. Profoundly moving, the film follows the stories of several idealistic young servicewomen who were raped and then betrayed by their own officers when they courageously came forward to report. Both a rallying cry for the hundreds of thousands of men and women who've been assaulted and a hopeful road map for change, THE INVISIBLE WAR is one of those rare films so powerful it has already helped change military policy.