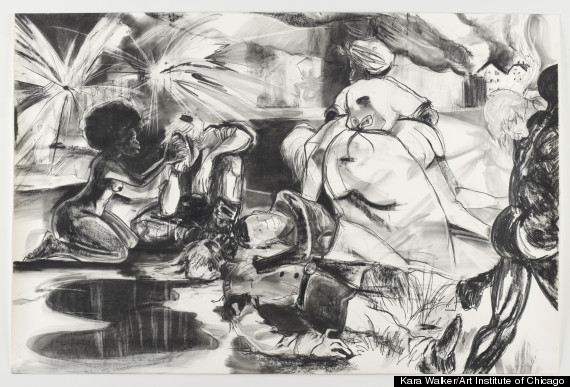 Kara Walker, "The Theater" from 'Rise Up Ye Mighty Race', 2012, graphite crayon and pastel on paper
Walker's most recent exhibit, "Rise Up Ye Mighty Race," opens today at the Art Institute of Chicago. Comprised of paintings, drawings, collages and shadow puppets that play off the silent power of the black silhouette, the array of imagery once again draws focus to the artist's dramatic and eroticized view of America's violent history.
For Walker, her five large-scale graphite drawings and 40 miniature works and cutouts reference Marcus Garvey's black nationalism and "The Turner Diaries," as well as her own notion of racial struggle. In the press release for the exhibit, she describes the artworks as "a kind of paranoid panorama wall work -- with supplemental drawings large and small, to chronicle what can be called a diary of my ever-present, never-ending war with race."
Scroll through a preview of Walker's images, on view now at the Art Institute of Chicago until August 11, 2013.
Kara Walker's "Rise Up Ye Mighty Race"
FOLLOW HUFFPOST