Dan Meyer Swallows Sword While Pulling Car At Ripley's Baltimore On Sword Swallowers Day 2013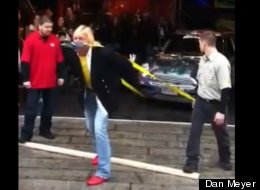 The problem with a company that sports the motto "Believe It Or Not!" is that as soon as you believe something, you want more . . . and more . . . and more.
So, for International Sword Swallowers Day 2013, Ripley's raised the bar significantly, showing off the best in extreme steel slurping.
In Baltimore, Dan Meyer swallowed a sword while pulling a 3,300 Mini Cooper.
"I had blood on my sword after that little stunt," Meyer told the Huffington Post. "And I woke up with a fat lip."
After Meyers pulled the jewel-encrusted car 10 feet, fellow sword swallower Lady Diane Falk told him not to worry about the blood.
"A little blood is a good thing," she told him. "That let's everyone knows that sword swallowing is real."
Indeed, it only seems like stage magic when a performer jabs a 20+ inch blade down his or her throat. It's actually a practiced art that goes back centuries in Europe and Asia, where sword swallowing evolved simultaneously as a time-honored tradition.
Some other highlights from Sword Swallowing Day 2013:
At the Ripley's in New York City, Todd Robbins led a large contingent featuring Natasha Veruschka, among others, who swallowed multiple swords at once.
In Dallas, Richard Leboeuf swallowed a sword while juggling, while Shel Higgens did it while jumping rope on a unicycle.
In Newport Beach, Twisted Trystan deep throated a power drill, running at full speed.
Patricia Forrest stood on tippy toes, ballerina-style, performing pointe work while gobbling a blade, in Panama City Beach.
And in Atlantic City, David Peyre-Ferry swallowed a sword while sandwiched between a bed of nails.
WORLD SWORD SWALLOWERS DAY (Story continues below)
Sword Swallowing Day 2013
Feb. 23, 2013, marks the seventh annual World Sword Swallowers Day, a day when sword swallowers all over the world point out the contributions this ancient sideshow art has made to humanity.

"Being a sword swallower means being aware of the passageways in a way the average person is not," said George McArthur, a7-foot, 3-inch sword swallower. "Once you learn the skill, you have to effect the various sphincter muscles down the throat and be aware so something doesn't go down the wrong passageway."

Sword swallowing dates back to around 4,000 B.C. and was invented in the southern part of India.

Learning to swallow a sword can take years, because the person has overcome natural reflexes and learn to nudge the heart aside so the sword can go down the esophagus.

Some people think sword swallowers use collapsible swords, but that is not the case with the 200-or-so members of the Sword Swallowers Association International (SSAI).

Sword swallowers have made many contributions to humanity. In 1868, a sword swallower was used by Dr. Adolf Kussmaul in Freiburg, Germany, to develop the first rigid endoscopy, and a sword swallower underwent the first esophageal electrocardiogram in Wales in 1906.

World Sword Swallowing Day is always held on the last Saturday of February, which is National Swallowing Disorders Month.

The participating swordsmen and women plan to raise money for esophogeal cancer research and a relief fund for injured sword swallowers set up by the SSAI.

Sword swallowing can have permanent effects. Some practitioners report increased neck pain because they have to position it so a sword can go straight down.

At 2:23 p.m. local time, sword swallowers will do a simultaneous swallow.

Sword swallowing is so rare that the performer usually perform solo, so the artists love the chance to work and meet other swordsmen and women.

Asia Ray, 20, is the youngest female sword swallower in the world. She learned to do it by first swallowing a coat hanger.

Morgue, a shock artist for the Venice Beach Freakshow, learned sword swallowing four years ago as a way to pay respect to the most ancient form of shocking people.

Brianna Belladonna of the Venice Beach Freakshow said learning how to swallow a sword has helped her feel she can do anything.