Who says women's rights activists don't have a sense of humor? Judging from this satirical piece from 1915, posted on Twitter by iRevolt, suffragettes knew how to make a good joke.
Writer, poet, activist and general badass Alice Duer Miller outlines five (obviously tongue-in-cheek) reasons why men should not be afforded the right to vote. These reasons include the fact that "men are too emotional to vote" and "because a man's place is in the army." The piece was published in Duer Miller's 1915 book of satirical poetry, "Are Women People?" based off of her New York Tribune column.
LOOK: 5 Reasons Why Men Shouldn't Vote In 1915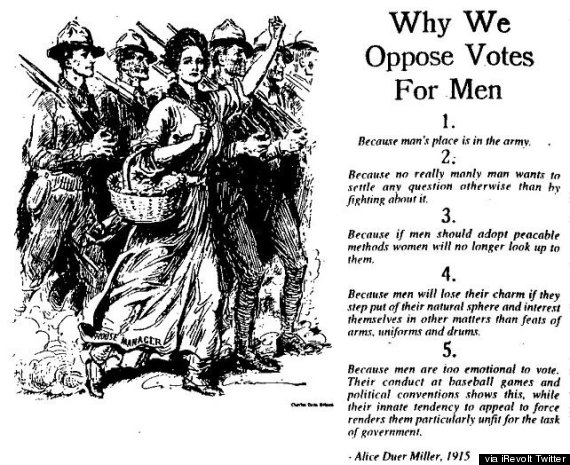 [H/T Jezebel]
Also on HuffPost:
Loading Slideshow
This wood engraving shows a session of the National Woman's Suffrage Association during a political convention in Chicago, Ill., in 1880. (AP Photo)

Grace Wilbur Trout, a leader in the Chicago suffrage movement and newly elected president of the Chicago Political Equality League, arranged to have an elaborate suffrage float in the 1910 Sane Fourth Parade, which celebrated the 4th of July and promoted temperance. The appearance of this float aroused lots of interest among women all over Chicago. (i20157)

Suffrage button, c. 1910. "Votes for women" were not easy to achieve. In 1878, suffragists first proposed a constitutional amendment to grant all women the right to vote. They reintroduced it each year until 1919, when Congress finally passed it. Chicago History Museum Collection, Gift of Mary Nestor Estate (ICHi-61935)

Delegates to the Women's Suffrage Legislature. (Left to right) Jane Addams of the Hull House Settlement and Miss Elizabeth Burke of the University of Chicago, in Chicago, Illinois, in 1911. Addams was a leader of the women's suffrage movement, serving as a Vice President of the National Woman Suffrage Association from 1911 to 1914. (DN-0009050)

Chicago Suffragists Grace Wilbur Trout, Belle Squires, S. Grace Nichols, and Ella S. Stewart driving an automobile with a banner that reads: "Votes for Women," on South Michigan Avenue in Chicago, Illinois, ca. 1910. Trout was the leader of Illinois's first Suffrage Automobile Tour. (DN-0008359)

Jane Addams with other suffragists advocating for the vote for women. This image was taken in Chicago during the Republican National Convention of 1912. Addams campaigned for the Progressive Party and Teddy Roosevelt, who was running on a platform for women's suffrage during the election of 1912. (DN-0059240)

In 1912, the majority of male voters in Chicago, using ballots like this one, indicated that they did not approve of granting women suffrage. However, just a year later, in 1913, women won the right to vote in Illinois. Chicago History Museum Collection (ICHi-14325)

Chicago voters used this ballot box in 1912 to express their opinion of extending suffrage to women. Although this non-binding vote failed, just one year later women won the right to vote in Illinois. Chicago History Museum Collection, Gift of Mr. Sidney Holzman, 1968.141 (i32106)

Mrs. George Wells demonstrating in Chicago before going with a delegation of more than 80 women to a suffrage parade in Washington, D.C., March 1913. The event included 5,000 participants, as well as bands, brigades, and floats. (DN-0060283)

Catharine Waugh McCulloch returning to Chicago from a trip to Springfield, Illinois, to campaign for the right of women to vote, 1913. McCulloch was an attorney, an activist, a suffragist, and the first female Justice of the Peace in Illinois in 1907. (DN-0060623)

Suffragist Mrs. C. L. Hartwell, holding a sign that reads "Silence," comments on the status of women without the vote. Chicago, Illinois, 1914. (DN-0062899)

Suffragists worked to persuade male voters and lawmakers to extend voting rights to women with publications such as this. Voting, they argued, helped mothers protect their children and being denied the right to vote was discrimination. Chicago History Museum Collection (ICHi-25533)

Margaret H. Haley, a local and national teacher union leader in Chicago, reminded people to vote. Haley believed that there was a strong link between suffrage and teachers' reform goals, so she fought for the vote. Chicago, ca. 1915. (ICHi-10601)

Calendar card, 1916- Voting rights varied from state to state. This color-coded map and calendar shows which states had passed women's suffrage and which had not. Chicago History Museum Collection, x.3494.2010 (ICHi:61914)

Mrs. George Taylor and Catharine Waugh McCulloch, holding a banner advocating for women's suffrage at a Chicago political parade during the Woodrow Wilson-Charles Evans Hughes election of 1916. (DN-0067220)

Even in the absence of national suffrage, women still expressed their political views. This photograph shows a parade by women supporting the Democratic Party and Woodrow Wilson, since he was in favor of women's suffrage. Chicago 1916. (DN-67219)

Suffrage leaflet, 1916: This broadside advertised a convention held by the National Women's Party. The group's ideas and actions were considered radical, even by some other suffragists. (i26348)

In this Dec. 2, 2011 photo, Michelle Duster, great-granddaughter of civil rights pioneer Ida B. Wells, holds a portrait of Wells in her home in Chicago's South Side. The journalist and anti-lynching crusader was also a suffragist, founding the Alpha Suffrage Club, the first such organization for African American women in Illinois. (AP Photo/Charles Rex Arbogast)

Gloria Steinem: The Contagion Of Rights Movements

Steinem discusses the different movements of the time and the common factor they all possessed: the idea of equality.