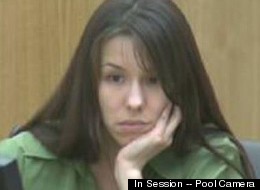 The confessed killer and the aggressive prosecutor are set to confront each other again Tuesday, as cross-examination resumes in Jodi Arias first-degree murder trial.
In her 10th day on the witness stand on Monday, Jodi Arias faced a blistering attack from Maricopa County prosecutor Juan Martinez, ruffling her composure throughout the proceeding.
At one point, Arias told the court that only God knew what she was thinking when she killed her boyfriend Travis Alexander.
"God's not here. We can't subpoena him," a snarky Martinez shot back.
The veteran prosecutor has attempted to portray arias as a jealous and bitter ex-girlfriend, who took her anger out on Alexander when she shot him in the head, stabbed him 27 times and cut his throat from ear to ear inside his Mesa, Ariz., home on June 4, 2008.
The 32-year-old photographer claims self-defense in the killing, claiming a violent prone Alexander attacked her when she dropped his camera.
Arias faces the death penalty if convicted in a trial that has drawn world-wide attention.
Read below for minute-by-minute updates from court Tuesday:
Judge Stephens has recessed court for the evening.
Arias' attorney, Kurt Nurmi, took up some issues with the judge. Nurmi said Arias is not receiving her lunches from the sheriff's department during the trial and is having migraine headaches. Judge Sherry Stephens said she would address the issues.
Court will resume at 12:15 p.m. ET., Wednesday.
The Huffington Post is live blogging Tuesday's testimony. Check back here for updates.