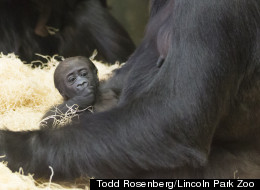 A 3 month-old baby gorilla at Chicago's Lincoln Park Zoo is recovering after sustaining a serious facial injury, zoo officials announced Monday.
According to Kevin Bell, the zoo's executive director and CEO, Nayembi -- who was born last November -- was found with cuts to her face last week at the zoo's Regenstein Center for African Apes and was immediately separated from the rest of the gorilla group with her mother. The injury was likely inflicted by another gorilla, though Bell wrote that there were no prior signs of aggression in the group.
Bell wrote Monday that Nayembi is now in stable condition after undergoing surgery, playing and getting plenty of sleep as she recovers. She will now be under close monitoring.
Nayembi was the zoo's second gorilla baby born last fall -- to parents Rollie and Kwan. Nayembi's father Kwan also fathered Patty, a new gorilla baby born in October, with troop member Bana.