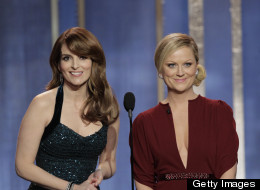 On Sunday night's Oscar telecast, William Shatner -- who appeared on the show "from the future" as Captain James T. Kirk to explain how poorly Seth MacFarlane's hosting gig would be received by the media -- asked, "Why couldn't they get Tina and Amy to host?" The Tina and Amy in question here are Tina Fey and Amy Poehler, who both received rave reviews for their recent efforts hosting the Golden Globes. Fey is currently promoting her new film "Admission" (co-starring Paul Rudd and opening March 22), and we asked her about Shatner's wish and if she had any interest whatsoever in hosting the 2014 Oscars.
[The full interview with Fey will publish closer to the film's March 22nd release date.]
Congratulations on William Shatner mentioning your name during the Oscars.
[Laughs] Thank you. It's an honor to be "Shatnered."
Admittedly, of all the things I thought I'd see during the Oscars, William Shatner mentioning your name was not one of them.
No, you didn't write that on a piece of paper and mail it to yourself.
[...]
Is it a possibility that you and Amy Poehler could wind up hosting the Oscars next year? I don't know how that works with NBC, since the Golden Globes were on the same network as both of your shows. Can you two go host the Oscars on ABC if you wanted to?
No, you can. But I just feel like that gig is so hard. Especially for, like, a woman -- the amount of months that would be spent trying on dresses alone ... no way.
The reaction to Amy and you hosting the Golden Globes was really great.
Oh, thank you. We had fun.
It's disappointing to hear, "No way." I was hoping for at least "a one in a million chance."
I wish I could tell you there was.
Mike Ryan is senior writer for Huffington Post Entertainment. You can contact him directly on Twitter.
"This is nuts," Jennifer Lawrence exclaimed after winning Best Actress at the Academy Awards on Sunday night. That quote -- a perfect blend of genuine enthusiasm and youthful exuberance -- is why she should host the 2014 Oscars. Lawrence is able to mix irreverence (she flipped off the press!) and class (she wished fellow nominee Emmanuelle Riva a happy birthday and seemed to mean it) together with ease. She would also surely court the young male demographic that the Oscars so desperately desire. It's J.Law's world. Give her the Dolby Theatre.

One of these years, Sandra Bullock is going to host an awards show and everyone is going to love it.

Last year, Emma Stone stole the Oscars from everyone by being charming and awesome. This January, Emma Stone stole the Oscar nominations announcement from Seth MacFarlane by being charming and awesome. Isn't it time the AMPAS bites the bullet and hires her to host? Is she too good at being charming and awesome to emcee the Oscars?

They bombed during this year's Oscars, but Rudd and McCarthy have an energy together that could be harnessed into hosting gold -- as long as they're given the right material to work with. Last night was not the right material, but remember them in "This Is 40"? Yeah, like that.

Them. Now and forever.

Is there anyone who doesn't love Bryan Cranston? He's got this effortless likability despite playing the terrifying Walter White on "Breaking Bad." He's also good on his feet: Witness Cranston's onstage save at the Spirit Awards on Saturday night when "Safety Not Guaranteed" screenwriter Derek Connolly was spiraling down a Jameson hole.

More Meryl Streep at the Oscars is automatically a good thing, but pairing her with Daniel Day-Lewis -- who proved himself to be an expert showman time and again during this year's awards season -- seems like too good of an opportunity to pass up. Only issue: They might spend six months getting into "character" as hosts, depriving everyone of a movie or two.

Just as long as Ferrell keeps that mustache.

See that picture? Just erase Seth MacFarlane and voila! Why Gordon-Levitt and Radcliffe? Because, more and more, hosting the Oscars has become an event that requires versatility -- singing, dancing, joking, charming versatility. These two both have those adjectives on their business cards. (Probably.)

Speaking of singing, dancing, joking and charming: Bring back Hugh Jackman? Or ...

... just hire Neil Patrick Harris and really turn the Oscars into the Tonys. Or ...

... put them both together already.