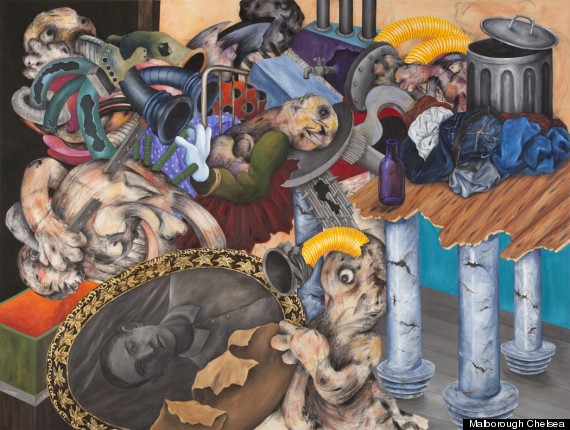 Ahmed Alsoudani, Untitled, 2012, acrylic and charcoal on canvas

The British icon's work is joined by mysterious iconographer Philip Guston, Portugese surrealist Paula Rego and New York painter Ahmed Alsoudani, whose visceral aesthetic ties the other legends together. Simply titled "Alsoudani, Bacon, Guston, Rego," the anything-but-simple exhibition weaves four unique visions into an unlikely harmony. As Christian Viveros-Fauné writes in the exhibition essay: "Decidedly modern in every way, their works illuminate hidden corners of the mind as if seen by torchlight."
Francis Bacon's raw and deranged features turn hunched backs and truncated limbs into horrifying mysteries that refuse to be solved. His inclination towards fragmentation is mirrored in Paula Rego's folkloric visions, though in her works power dynamics and gender relations control the disjointed narratives.
Philip Guston's rough-edged cartoons feed off the space between personal memory and the dark corners of history, both of which also play a role in Ahmed Alsoudani's cacophonous canvases. The Baghdad-born artist creates paintings somewhere between a rejected Disney cartoon and Picasso's "Guernica." His mastery of conveying disturbing dreamscapes with visceral sharpness ties this contemporary artist to the worldwide legends hanging around him.
"Alsoudani, Bacon, Guston, Rego" will show at Marlborough Chelsea until March 30, 2013. Do you think Alsoudani's work can hold its own amid these surrounding giants? See a slideshow of the images below and let us know if this group exhibition gives you goosebumps.
Alsoudani, Bacon, Guston, Rego
SUBSCRIBE AND FOLLOW
Get top stories and blog posts emailed to me each day. Newsletters may offer personalized content or advertisements.
Learn more