World's Fair Photos: Artist Ives Maes Captures The Abandoned Ruins Of Expos In 'Afterimages' (PHOTOS)
Ives Maes searched the globe looking for the long-lost ruins of World's Fairs. With camera in hand, the Belgian artist roamed from Moscow to Paris to New York, capturing the forgotten pavilions and festive sculptures of expos past.
His eerie images, filled with empty courtyards and aged structures hiding in plain site, are the subject of a new exhibit at the Stadtmuseum in Ghent, Belgium. Titled "Afterimages," the works are a visual history of the World's Fairs, constructed over years of research and travel on the part of Mr. Maes. The show includes 40 images dating back to the first fair in London in 1851 and ending with the most recent celebration in Shanghai in 2010. From the UK to China, the photographs are a nod to the utopian views present in architecture across the ages, and an examination of how those ideals have played out after the excitement finally fades.
We had the opportunity to chat with Ives Maes over email. Scroll down for photos of the project.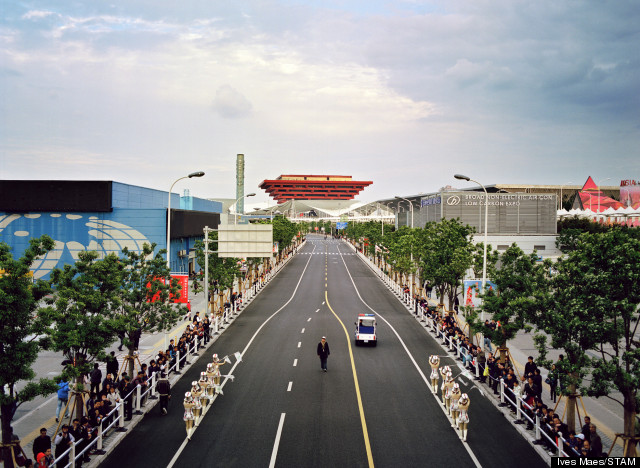 HP: What inspired you to focus on World's Fair Sites?
IM: In my work I have always been attracted towards what I call "the ruinous state of temporary architecture," even when I was in university. When I came across the World's Fair history, which was fairly unknown to me before 2006, it just seemed like the perfect world to me. It was sort of a micro-cosmos, a mirror image of the world. It had an amazing heritage of temporary architecture but more so, in all it's glamour, it showed a horrifying political history. This combination made me dig into it. When doing research I read that the most known expo monument, the Eiffel Tower, was erected just for the duration of the exhibition of 1889. So I started researching on other monuments that were meant to disappear but never did. This state of 'lingering' buildings is so interesting. I hoped to find a book by a photographer or historian that travelled the world to go and find out what was left and documented it. But I couldn't find such a book, so I decided to make it myself.
HP: What type of preparation went into this project? How did you pick your sites?
IM: There is a lot of research that goes into it. I spent two years reading before I started taking photographs. Every site is different and there is different material to be found. Buildings like the Montreal Expo 67 have been such landmarks in history that there is so much written about them. But on the other side you have a French colonial exposition in Hanoi in 1902 for which you have to dig into libraries to find information. The interview continues after the slideshow.
Sunsphere (Knoxville International Energy Exposition, Knoxville, 1982) 2012

USSR Pavilion (Exposition Internationale des Arts et Techniques dans la Vie Moderne, Paris, 1937) 2012

USSR Pavilion (Exposition Internationale des Arts et Techniques dans la Vie Moderne, Paris, 1937) 2012

Court of Honor (Texas Centennial Exposition, Dallas, 1936) 2012

Tower of the Sun (Japan World Exposition, Osaka, 1970) 2010

Grand Palais (Exposition Universelle, Paris, 1900) 2012

St. Pieters Station (Exposition Universelle et Industrielle, Ghent, 1913) 2011

Dutch Pavilion (Expo 2000, Hanover, 2000) 2012

St. Louis Museum of Art (Louisiana Purchase International Exposition, St. Louis, 1904) 2011

Yugoslavian Pavilion (Exposition Universelle et Internationale de Bruxelles, 1958) 2012

Closing Parade (Shanghai Expo 2010, Shanghai, 2010) 2010
HP: How many sites did you visit?
IM: At first I wanted to photograph all the sites that took place since 1851, the first "official" World's Fair in London. That resulted in a problem, since there is no officially correct number of fairs. In 1928 the Bureau des Expositions was installed in Paris, the official institution that hands out the title "Universal World Exhibition." They also did that in retrospect, giving official titles to the largest fairs that took place before 1928. They made a selection out of the wild growth of fairs in the 19th century but eliminated so many interesting exhibits. Photographing all the official sites in the world wasn't so challenging, since there aren't so many. But including all these other interesting fairs was. In my "unofficial" list there are 97 fairs, of which I visited 78 sites between 2008 and 2012. (This was the first time I counted them!)
Unofficial fairs are, for example, the American National Exhibit in Moscow in 1959. That wasn't a World's Fair because it was an exchange between the US and the USSR. But also the New York World's Fair of 1964 isn't an official fair since it exceeded the time limit of 6 months by extending the fair to 1965, and thus was "disqualified." Another example is the Zagreb Trade Fair that took place annually since 1956 and where every European country had its own pavilion to trade across the Iron Curtain.
HP: Do you have a favorite site?
IM: Moscow. In 1939, the USSR opened the All Union Agricultural Exhibit that actually remained open until 1992. Every state of the USSR had it's own pavilion and every year new pavilions, such as a pavilion for space travel, appeared. After 1992 and the fall of communism, the sites dilapidated. Now, the Lenin Monument, the largest building on the fair site, is a dreary mall. The Cosmos Pavilion, once showcasing the Sputnik and the achievements of Yuri Gagarin, is closed because the glass dome is falling down bit by bit. The famous Vostoc rocket, from the first space travels, is rusting away. It is completely a post apocalyptic view.
But perhaps even more surprising than Moscow was Seville. In Europe you don't really expect such neglect but the site of the fair in Seville in 1992 was never demolished because of money shortages, and many of the pavilions are now overgrown with plants. There sadly stands a rocket as well, the first European Arianne rocket.
HP: Several descriptions of your work have noted the "sculptural quality" of your photographs. Is this something deliberate in your art?
IM: Actually, I am an installation artist. I have been trained as a sculptor. Photography has always been an interest, but I never considered myself as a photographer. And I still don't. I needed photography as a means of proof of the architectural remains of World's Fairs. But once the photograph is taken, and the proof is secured, I asked myself what to do with the negatives.
The photographs are massively reproduced in the book "The Future of Yesterday" that I have published with Ludion. But I do make exhibitions with those photographs because printed photographs have a physical presence. The history and invention of photography is very closely related to the history of World's Fairs as well. Some of the most exciting photographic experiments were made for Expo's such as El lissitsky's photographic sculptures in the 1920s or the "Photomurals" made for the American Pavilion in 1958. For me, these facts tied the whole project together.
For more on Ive Mae's exhibition at the Nelson-Atkins Museum in Kansas City, see our previous article on his work here. Let us know what you think of his project in the comments section.