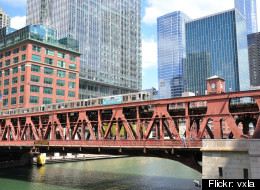 It wasn't just a typical "case of the Mondays" that made for a stressful morning commute for many CTA "L" riders starting out their weeks Monday morning.
Monday marked the first weekday test of how the closure of the 90-year-old Wells Street bridge -- and subsequent service disruptions on the CTA Brown and Purple Lines and expected crowding on the Red Line through Friday -- would impact a busy morning commute.
The changes made for a lot of confusion and anger due to mislabeled trains and garbled train operator announcements, according to the Chicago Tribune.
Mayor Rahm Emanuel said Sunday that he will be sharing in CTA riders' pain due to the service cuts as he typically rides the Brown Line to City Hall from his Ravenswood home twice a week, the Chicago Sun-Times reports.
"It's going to be an inconvenience, you can't spin your way out of this," the mayor admitted to the newspaper.
But Emanuel explained to CBS Chicago that short-term inconvenience will be worth it in the long run as CDOT and the CTA are doing the construction work at the same time, which he said will save eight days of work and about half a million dollars.
The CTA will be offering added bus service, shuttle buses and a free Loop shuttle train and has laid out the various service disruptions and alternative commute options in detail on its website. A second nine-day closure period will also impact riders on the Brown and Purple lines from April 26 to May 5.
Photo by vxla via Flickr.