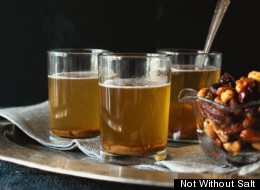 Our kitchens would not be the same without food bloggers. From their beautiful photography that inspires us to get off the couch and into the kitchen to the creative daringness they demonstrate in their recipes, food bloggers continually wow us. In many ways, food bloggers make us better home cooks all around.
To show our appreciation for our favorite blogs on the web, we decided to round up the 10 that have inspired us the most this month. Whether it's their prose, their mouth-watering desserts or their food styling that has intrigued us, these food bloggers are shining bright this month.
Want to read more from HuffPost Taste? Follow us on Twitter, Facebook, Pinterest and Tumblr.
Buttercream & Roses | buttercreamandroses.com Prepare to be wowed by Buttercream & Roses' food photography. We're not sure if her artful diptychs inspire us to cook or take pictures, but either way we can't bring ourselves to look away.

Manger | mimithorisson.com/ If you've ever dreamt of giving it all up to live a quiet life in the French countryside, you can vicariously live that dream through this blog -- with great recipes along the way.

Wanna Be A Country Cleaver | countrycleaver.com With a strong love for the country, but living the city life in Seattle, Wanna Be A Country Cleaver fills her pages with comforting country-inspired recipes.

Cafe Johnsonia | cafejohnsonia.com For solid, well-rounded recipes Cafe Johnsonsia will not let you down.

Damn Delicious | damndelicious.tumblr.com/ One visit to Damn Delicious and your jaw will drop. We'd like to get our hands on everything she makes.

Not Without Salt | notwithoutsalt.com We have to warn you before you visit the blog Not Without Salt. You will spend hours upon hours looking through her archives. And then, you'll be forever addicted.

Treats | treats-sf.com If dessert's your thing, Treats is exactly the blog you want to check out. Treats covers the classics like a deep dish apple pie, but then also gives you more creative sweets like s'mores cupcakes.

Roost | roost.com Visiting Roost feels very much like you're going back in time, to a place where the small details mattered and the food was wholesome.

A Cozy Kitchen | acozykitchen.com/ Visiting A Cozy Kitchen blog really does feel like a comforting kitchen is where you're spending your time. And with recipes like pretzel milk pancakes, why would you want to be anywhere else?

The Urban Poser | urbanposer.blogspot.com/ If you're looking for a new gluten-free blog, one with beautiful photographs and mouth-watering recipes, The Urban Poser is for you.