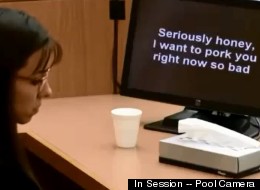 The defense team in Jodi Arias' murder trial is in damage control mode Tuesday as they try to undo a blistering cross-examination that poked gaping holes in the defendant's story.
If Monday was any indication of what's to come, the task before the defense is a daunting one.
Defense attorney Kurt Nurmi attempts to undo the damage inflicted by prosecutor Juan Martinez during five long days of heated cross examination was widely viewed as a disaster by legal analysts and talking heads.
In court proceedings Monday, Nurmi achieved little more than reinforcing the image of his client having a raunchy sex life, without seeming to prove that she was intimidated and exploited by her ex-boyfriend, as the defense is trying to prove.
Arias, 32, is accused of the June 4, 2008 slaying of Travis Alexander inside his Mesa, Ariz., home. Alexander was stabbed 27 times, shot twice in the face and his throat was slashed. Arias' attorney's say she killed in self-defense. She faces the death penalty if convicted.
As the questioning progressed Monday, jurors got to hear Arias talk of anal sex, oral sex, and fetishism involving candy.
Trial watchers got to hear how many times Arias had anal sex; how no commercial lubricant was used the first time with Alexander, "I think he might've spit on his hand," Arias said, and how Tootsie Pops were used in her sexcapades.
In one of the most talked-about moments, Arias spoke of Alexander ejaculating in her face.
"Sometimes it hurt if it got in my eyes," she said in open court.
The relevance? Apparently only Nurmi knows.
While the sex testimony may have been of interest to some, there is no doubting that the momentum in the trial slowed significantly during Nurmi's redirect.
The defense is expected to continue their redirect of Arias' testimony when court resumes at 12:30 p.m. Eastern time.
Read below for minute-by-minute updates from court Tuesday:
"Was there a secret life going on behind those doors," Nurmi asked in regard to Alexander's bedroom.
"Yes," Arias replied.
The Huffington Post is live blogging Tuesday's testimony. Check back here for updates.