The Spring Foods We Can Hardly Wait To Eat (PHOTOS)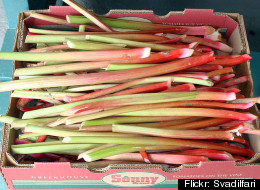 It happens every year around this time. We've eaten all the root vegetables we can eat. We love kale, but we're getting bored. Our hearts yearn for spring temperatures, spring flowers and, most importantly, spring foods.
We're ready for the onion shoots to start appearing and our seasonal allergies to kick in. We can hardly wait until our farmers markets begin to burst at the seams with vendors again, after being sleepy and quiet for most of the winter. We know we are a few weeks away, but there are some spring foods we just can't wait to start talking about. So that's what we've done. (We talk about food all day, guys, it was bound to happen.) What spring foods are you most looking forward to? Let us know in the comments!
Want to read more from HuffPost Taste? Follow us on Twitter, Facebook, Pinterest and Tumblr.
Why We Can't Wait For Spring
"Snap peas! I eat them compulsively. They're kind of late spring, though." -- Madeleine Crum, Associate Editor, HuffPost Taste Photo via Flickr user whitneyinchicago

"RHUBARB. Rhubarb jam, rhubarb crumble, rhubarb pie, poached rhubarb, rhubarb sauce for duck. I know it's poisonous to do so, but when I was a kid I would pick raw rhubarb from our patch and eat it straight from the ground. Not only does that explain why I'm so in love with it today, but it also probably explains a lot of other things about me." -- Kristen Aiken, Senior Editor, HuffPost Taste Photo via Flickr user Svadilfari

"Spring strawberries. I don't plan to do anything with spring strawberries but eat them by the bucket loads. March is a very difficult month for me since the Florida strawberries are out of season and the spring ones haven't yet come in. But once they do, all is right in the world again." -- Julie Thomson, Associate Editor, HuffPost Taste Photo via Flickr user Fried Dough

"While everyone else is complaining about hearing people freak out about ramps returning, I'll actually be the one doing it. I'm making white asparagus with ramp sauce every day until my doctor says I have to stop." -- Rebecca Orchant, Associate Editor, HuffPost Taste Photo via Flickr user kthread

"Fiddlehead ferns!" -- Rachel Tepper, Associate Editor HuffPost Food Photo via Flickr user kthread

"Spring lamb! I liked a good frenched chop, simple sauteed and finished in the oven, served with roast potatoes and some nice peas or asparagus." -- Joe Satran, Food Reporter, The Huffington Post Photo via Flickr user BethOlsonCreative

"This is maybe closer to summer, but I always look forward to tomatoes that don't taste like ass (technical term)." -- Carey Polis, Food Editor, HuffPost Food Photo via Flickr user advencap

This is the one spring junk food we can pretty much all agree on. Especially since our Taste Senior Editor Kristen made doughnuts with them last year. Yes. Cadbury egg doughnuts. Get the recipe!