Jennie Garth showed some post-split positivity when she recently tattooed her three favorite words on the inside of her left arm -- "I love you."
"I don't say [the words] enough to other people, let alone to myself," the former "90210" actress told Health magazine at the Lindt Gold Bunny Celebrity Auction in New York on Tuesday. "When you say them, it makes you want to be gentle and kind. Even if you're mad, there's that love."
LOOK: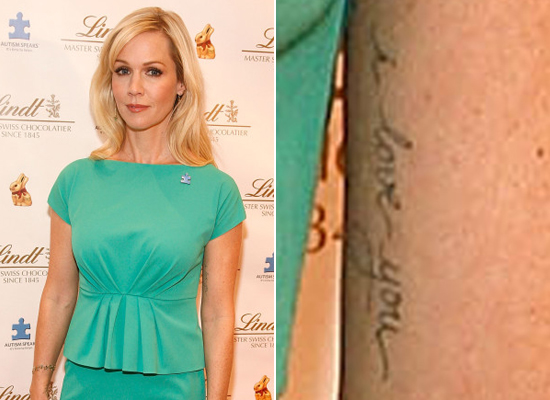 Photo by Getty Images

It seems like Garth has come a long way in the last year. After her husband, "Nurse Jackie" actor Peter Facinelli, filed for divorce in March 2012, Garth told People magazine that she had been "very resistant" to the idea of ending their 11-year marriage.
"I didn't want it to happen," she said of the split. "It took me some time to come to peace with it."
Recently, Garth has been dating Big Gigantic drummer Jeremy Salken. Facinelli went public with his relationship with his "Nurse Jackie" co-star, Jaimie Alexander, in November 2012.
Click through the slideshow below for tattooed celebrities who were left with ink-stained reminders of their exes post-split.
Russell Brand has reportedly removed or covered up the Sanskrit tattoo he got with then-fiancee Katy Perry in 2010. The couple split in December 2011 after 14 months of marriage.

She thought their love would last forever, so Kat Von D got a tattoo of then-fiance Jesse James as a young boy under her arm. While the artwork will last a lifetime, their relationship ended in July 2011. A month later, they rekindled their romance, but broke it off soon after amid reports of James' repeated infidelity.

"The Voice" coach got the phrase "I am my beloved's and my beloved is mine" tattooed on her lower back in honor of her then-husband Jordan Bratman, along with his initials. The couple announced their split in the fall of 2010. The divorce was officially finalized in April 2011.

The former "Desperate Housewives" actress decided to get her wedding date (7-7-07) tattooed in Roman numerals on her wrist in honor of her husband, basketball star Tony Parker. While sevens are supposed to be lucky, the number wasn't on their side. The couple filed for divorce in November 2010. In March 2011, the tattoo was noticeably absent from Longoria's wrist. The actress is also removing the other two tattoos dedicated to Parker -- including his basketball jersey number and his initials.

Angelina Jolie had "Billy Bob" tattooed on her left shoulder. She was married to Thornton from 2000 to 2003.

She has since had the tattoo removed and covered with the coordinates of the birth places of each of her and Pitt's children, adding an additional line of Pitt's birthplace in Spring 2011. Thornton turned his "Angelina" tattoo into an angel.

Blake Fielder-Civil got "Amy" inked behind his ear...

And Winehouse's left lapel said "Blake's." However, the relationship didn't last. Their divorce was granted in July 2009, and Winehouse passed away just two years later.

Bristol Palin's baby daddy Levi Johnston had her name inked around his ring finger in 2008, but has since announced his intentions to have it removed. Palin and Johnston broke up for good in July 2010.

Denise Richards had "Charlie" tattooed on the inside of her left ankle. Richards and ex-husband Charlie Sheen were married from 2002 through 2006.

After their ugly divorce, Richards had the tattoo of his name turned into a fairy.

Britney Spears and Kevin Federline were once madly in love, and what better way to express those feelings than through matching tattoos! The couple got matching sets of dice on their wrists -- his in blue, her's in pink -- in May 2004. The couple divorced in 2006.
Keep in touch! Check out HuffPost Divorce on Facebook and Twitter.