"Bachelor" Sean Lowe is officially engaged to Catherine Giudici, and the two have decided to wait until their wedding night to get physical.
In a candid interview with People magazine, Lowe revealed that he and Giudici will wait until marriage to have sex. "From my perspective, I've lived life kind of selfishly for a long time," he told the magazine. "Now, I'm going to try to live it the way I know to be right." Lowe is a conservative Christian and has been called a "born-again virgin."
SCROLL FOR PHOTO
Giudici says that she has chosen to "honor him."
Lowe's sexual status wasn't discussed openly on the show, but most on the "Bachelor" set knew that he was saving himself. "It's well known in the 'Bachelor' circle that he doesn't have sex," a source who knows Lowe told the New York Daily News back in January. "But he's so charming and so polite. It's a different kind of show this time around because he's super-religious. He does party, but he also does Bible readings."
When asked about the "born-again virgin" title, Lowe told the Daily Beast, "I'm shocked. I don't know why every tabloid feels the need to talk about it. I've never described myself that way."
Still, he did admit the gossip was true. "It's a decision that I've made," he told the Daily Beast about remaining celibate. "But I don't think it needs to be discussed on the show. That's my personal opinion ... for me, it's a non-story."
According to the Seattle Times, Giudici plans on moving to Los Angeles to support Lowe while he is on "Dancing with the Stars." The bride-to-be has chosen her best friend, Crista Osher, as her Maid of Honor, but she hasn't begun planning the nuptials yet. "I grew up a tomboy," she said. "So I didn't think about my wedding too much growing up."
While no date has been set for Lowe and Giudici's wedding, ABC has plans to air the event.
If the two do make it down the aisle, they will join the 12.4 percent of other "Bachelor" and "Bachelorette" contestants who have actually stayed together over the show's 10-year run, WetPaint notes.
PHOTO: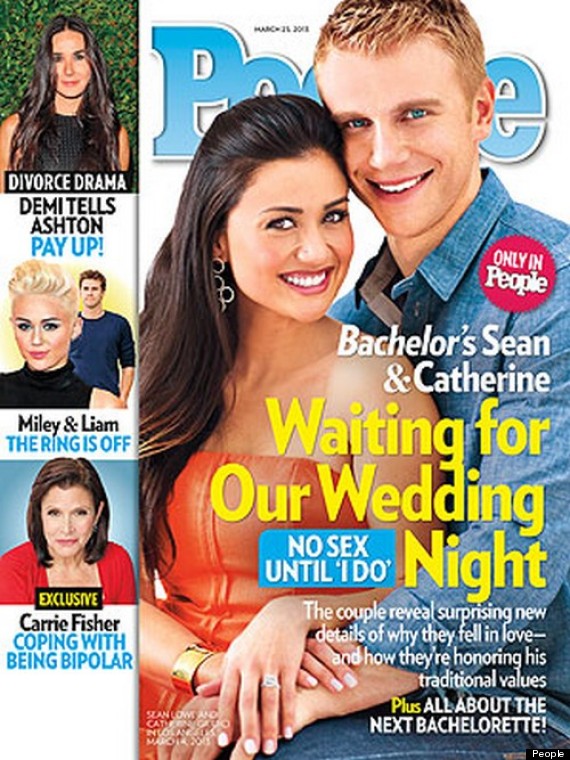 Read more details about Lowe and Giudici's nuptials in the upcoming issue of People, on newsstands Friday.
Click through the slideshow below to see other "Bachelor" and "Bachelorette" contestants.
Former Bachelor/Bachelorettes
On Jan. 24, it was officially revealed that Emily Maynard would be the next "Bachelorette," premiering on ABC in the spring of 2012. The 25-year-old former contestant on "The Bachelor" -- who split from Season 15 "Bachelor" Brad Womack in July 2011 -- is the show's first single mom.

The 28-year-old winemaker had his heart broken on "The Bachelorette" when his marriage proposal to Ashley Hebert was rejected during the seventh season finale of the reality series. But he bounded back to become the 16th "Bachelor" and he's currently looking for love on ABC.

This announced their engagement to the world on the Aug. 1, 2011 proposal episode aired on ABC. They are still working on their wedding plans, as of December 2011.

Jason was the runner-up on Season 4 of "The Bachelorette" and then became "The Bachelor" in its 13th season. He proposed to Melissa Rycroft and then revealed that he still loved the runner-up, Molly Malaney. Apparently, he stuck with his second choice: Mesnick and Malaney's wedding aired in a two-hour special called "The Bachelor: Jason and Molly's Wedding" in March 2010.

Melissa Rycroft was the first woman that Jason Mesnick proposed to before ditching her for Molly. (Remember when that drama went down?) She went on to capitalize on being a woman scorned with a contract to be on "Dancing With the Stars," which made her a bit more famous and led to lucrative deals for the sales of photos of her wedding to Tye Strickland and growing family (the couple currently has a one-year-old daughter, Ava Grace Strickland).

For nearly a decade, Trista Rehn has been extending her 15 minutes from her time spent on the debut season of "The Bachelor" in 2002. She next went on to become the first-ever "Bachelorette" and received $1 million from ABC to televise her wedding to firefighter Ryan Sutter. She has since appeared in a Kentucky Fried Chicken commercial, a Brad Paisley video and on "Dancing With the Stars." She recently became a quasi-spokeswoman for the permanent birth control, Essure. On a more positive note, she and Sutter have used their fame to promote various causes including the American Heart Association.

Travis Lane Stork, who refused to propose on national television to Sarah Stone, actually put his faux-fame to relative good use by taking a spot on the medical talk show "The Doctors" and writing the diet book, The Lean Belly Prescription.

Vienna Girardi and Jake Pavelka were probably the most fame-whorey of all former "Bachelor" couples -- and we say that with love. Though the couple split up in June 2010, both have found ways to keep their names in the headlines...
Keep in touch! Check out HuffPost Weddings on Facebook, Twitter and Pinterest.