Marriage Proposal Movie Trailer Scares Bride-To-Be (VIDEO)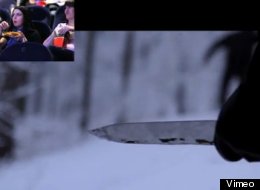 How's this for a surprise ending?
A twisted romantic from Poland recently mocked up a pretty convincing scary movie trailer, starring himself, to propose to his unsuspecting girlfriend.
The video mixed snippets of scenes from "The Grey," "The Bourne Ultimatum" and "Essential Killing" to amp up a horror vibe that made her cringe in the theater. But as the preview faded to black and the lights went up, the romeo appeared inside the theater with flowers and a ring. And she said "yes."
Not only did this guy secure his soul mate, he also got some good reviews.
"This new one raises the bar for effort," AdWeek raved.
"We're pretty sure this couple will always have a love affair with film trailers from now on," Mashable wrote.
The smitten filmmaker has some competition out there on the proposal trailer scene. Maybe there should be an awards ceremony called the Ask Hers.
Watch the video above to see the romantic stunt, then click through the slideshow below for seven more movie trailer proposals.
Movie Trailer Marriage Proposals
Matt Still told his girlfriend, Ginny, that he had to work, and asked her brother to take her to a movie. This trailer began to play, and the rest is history.

This "trailer" is really more of a short film, which its German creator said was inspired by Matt Still's proposal. The film includes a race to the movie theater, interrupted by a woman who always seems to be in his way.

The day after Christmas in 2012, Jeremy Heesan surprised his girlfriend with a fake movie trailer, which included a scene of him asking her father for permission to marry her. He played it in a local movie theater when she thought she was about to see "The Hobbit."

Sid Cesar proposed to his longtime girlfriend, Sara, in December 2010 with a movie trailer starring... Muppets! Cesar explained on his blog that he created the lookalike Muppets at an FAO Schwartz workshop, then arranged for a local theater to play the film after three "real" trailers. Sara immediately recognized the "Sara" and "Sid" Muppets, and said "yes."

New York Times columnist David Pogue's trailer tells the story of his and girlfriend Nicki's relationship. He showed it to Nicki in August 2012 in front of their family and friends.

This action-packed trailer was a total shock for Andrew Parrish's girlfriend, Kimberly Harris! After accepting Parrish's proposal, Harris said she was excited while watching the trailer. "I saw your side profile and I knew it was you with your spiky hair," she said.

One Sydney man created a "trailer" for an action movie called "The Proposal" -- starring himself and his girlfriend, of course. He filmed the trailer with the help of his brother and cousins, and showed the trailer to his girlfriend, Lisa, in November 2012.
Keep in touch! Check out HuffPost Weddings on Facebook, Twitter and Pinterest.