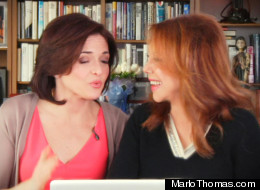 Is the "Queen Bee Phenomenon" a real thing? Facebook COO and author Sheryl Sandberg sounded off when she joined me on Mondays With Marlo. In the past, women in high-profile roles were more likely to keep women in junior-level positions down, since there weren't many spots at the top. Sheryl explained that it's common for marginalized groups to marginalize others when they achieve success. But today, thankfully, this isn't as common.

Click here for the full interview.

For more on Sheryl, see her remarkable journey to the top:

Facebook COO Sheryl Sandberg
In March 2013, Sheryl released her new book, "Lean In," and it instantly shot to the top of the New York Times bestseller list -- and landed her on the cover of Time magazine.

Sheryl had never spoken about women's issues in public before her TED talk on "Why We Have Too Few Women Leaders," and she was advised against it by her peers, who claimed that it would draw attention to the fact that she is a woman. Sheryl laughed and said, "I think they know I'm a women." The video of her TED talk instantly went viral. Overnight, Sheryl established herself as a leading advocate for women in the workplace.

The oldest of three children, Sheryl possessed undeniable leadership skills from an early age. But while young boys are often encouraged to lead, Sheryl was regularly referred to as "bossy." Part of her mission today is to teach parents to encourage their young daughters to develop their leadership skills, instead of dismissing them as overly aggressive.

For her whole early life, Sheryl felt that she needed to hold herself back from being too successful or appearing too smart. In high school, she was voted "Most Likely to Succeed" by her peers, but was embarrassed by the recognition. She asked a friend on the yearbook staff to remove that title from her name.

After serving as Chief of Staff at the U.S. Treasury Department, Sheryl made her way to Silicon Valley, where she accepted a position as Vice President of Google's Global Online Sales & Operations. At the time, Google was a small start-up, but during her stint with the company, it became an unprecedented success.

Sheryl met Facebook founder Mark Zuckerberg at a Christmas party held by Yahoo COO Dan Rosensweig in late 2007. Although he wasn't actively looking for a new COO for Facebook, Mark knew that Sheryl would be perfect for the job. After several months of becoming acquainted with one another, Sheryl left her post at Google to become Facebook's Chief Operating Officer.

In various interviews, Sheryl has stressed to women the importance of choosing a partner who supports their career and agrees to assist with housework and childcare. Her husband, SurveyMonkey CEO Dave Goldberg, possesses these qualities, which allows the pair to operate as a team.

A graduate of Harvard College, Sheryl earned her A.B. in economics and went on to earn an MBA from Harvard Business School. In May 2011, she spoke at the commencement ceremony at Barnard College about achieving equality in the workplace and seeking ways to find work/life balance.

Sheryl is no stranger to economics. At Harvard, she met mentor Larry Summers, who later recruited her to serve as his research assistant at the World Bank. Here she appears on stage alongside Danielle Gray, deputy director of the National Economic Council; Mari Pangestu, Indonesia's trade minister; and moderator Chris Jansing at the APEC Women and the Economy Summit in September 2011.

After a stint as a business consultant, Sheryl served as the Chief of Staff for the United States Treasury Department under President Bill Clinton from 1996 to 2001. Here, she joins the former president and Katie Couric at the Women for Women International Gala at the Museum of Modern Art in November 2011.

President Obama listens intently to Sheryl's advice during a meeting of the President's Council on Jobs and Competitiveness. The council was established to promote growth in American business and equip American workers with the skills they need to succeed.

Arianna Huffington has been a strong supporter of Sheryl's "Lean In" message, which calls for women to eliminate self-doubt and focus on their personal well-being. Here, Sheryl joins Arianna at the 2011 Matrix Awards, which honor women in communications and the arts.

Who has Sheryl referred to as her biggest personal role model? Her mother, of course! Here, she escorts her mom, Adele Sandberg, to the White House for the State Dinner for South Korea in October 2011.

In Sheryl's current position at Facebook, she oversees business operations, which includes everything from marketing and sales to public policy and human resources. Here Sheryl speaks to an audience of marketing professionals at a Facebook event in February 2012.

Now a highly sought-after speaker on the world stage, Sheryl participated in a panel discussion at the World Economic Forum in Switzerland in January 2013.

Sheryl spoke about women in business with Chelsea Clinton as part of the promotion for her new book, "Lean In" in March 2013.
Add Marlo On Facebook:
Follow Marlo on Twitter:

Weekly Newsletter

Sign up to receive my email newsletter each week - It will keep you up-to-date on upcoming articles, Mondays with Marlo guests, videos, and more!

Sign up here