We were able to put aside the fact that Lindsay Lohan arrived to court a whopping 48 minutes late for her trial, but we had to shake our heads when we saw the outfit she had on. Sheer pants? Really?
After missing her flight, the actress made her unfashionably late entrance at the Los Angeles Superior Court in a white and beige Phillip Lim ensemble, complete with a peplum top, a rosary and a strange skirt overlay over white pants. Call us crazy, but we don't think see-through attire is the best way to boost credibility after allegedly crashing your car, lying to police and violating your probation.
Of course, the 26-year-old wasn't the only one grabbing the media's attention. Her attorney, Mark Heller, caught our eye with his snazzy Louis Vuitton briefcase. Oh, and apparently Lindsay got glitter bombed?
And since so much of our attention is focused on the style world, we feel like it's our duty to give the actress some pointers for her next trial outfit: Avoid strange, distracting fur (like this), reckless makeup application (like this) and going sheer again. Got it, Linds?
Here's Lindsay in her sheer pants...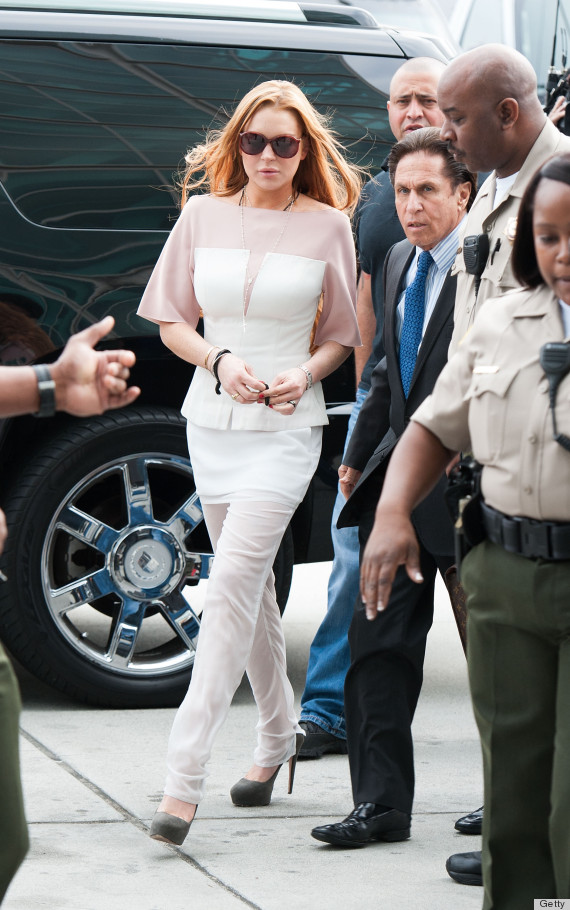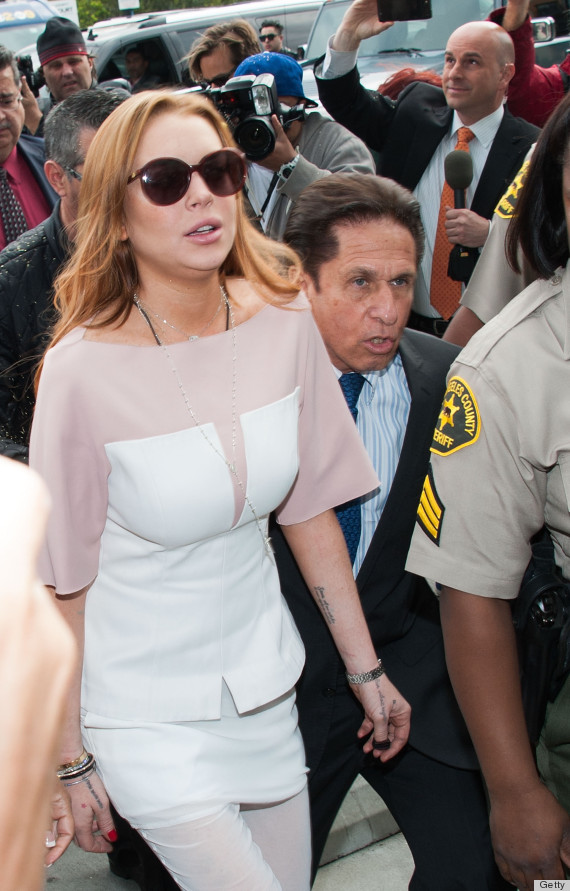 And here's her lawyer with his prominently-placed Louis Vuitton briefcase...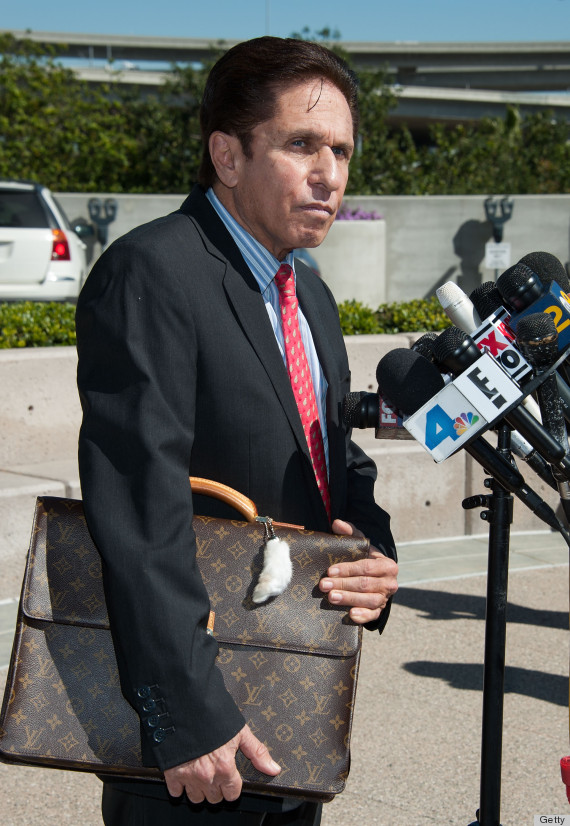 See what other celebs wore to court:
Celebrity Court Room Fashions
With his bland tan suit and ugly tie, Michael Lohan attempted to look put-together at a 2005 divorce hearing--while he was serving time in jail. The divorce was finalized in August 2007 after a bitter and ongoing court battle.

Winona was always dressed to the nines in suits, sweaters, heels and matching handbags...and presumably none of it had anything to do with her shoplifting charges.

Martha's recipe for court arrival attire? Long overcoats and a Birkin bag.

Kobe was used to dressing for court, albeit the basketball court. But it was good practice for matching colors.

With sunglasses, clothes that never met an iron and buttons ready to burst, Courtney may have been legally blind.

The King of Pop was also the King of the Courtroom, looking royal in embroidered blazers.

An entirely brown suit might be a crime in itself.

Courtroom sidewalk or catwalk? Naomi couldn't tell with all of the flashing cameras.

Nicole turned up in court dressing under Audrey Hepburn's influence.

Foxy didn't hear that leopard print and pigtails bend style laws.

Chris Brown's court clothes were pretty stylish...

...while Rihanna kept it classy with pearls and a textured black dress.

Amy ditched her wifebeater and cutoffs for a blazer, collared shirt, black skirt and ballet flats...one step forward out of twelve.

O.J. looked calm and collected in color-coordinated suits. The gloves were from a different outfit.

Sean Combs always looked like a million Benjamins on his way to the bench.

With acrylics, ringlets, double-breasted suits and red lipstick, Anna Nicole always managed to stay classy, baby.

Boy George left his wigs and face paint at the Culture Club.

Tatum O'Neal kept things simple, and her eyes closed.

Lil' Kim's lawyer also played the part of stylist, convincing her that pasties are prohibited.

Brinkley filed for divorce from fourth husband Peter Cook after he had an affair with an 18-year-old assistant, and was criticized for electing to keep her divorce trial open to the public, despite warnings that her kids might be affected by the ugly proceedings. She certainly wasn't criticized for an outfit she donned at the beginning of the trial in July 2008--a white blouse tucked into a high-waisted khaki skirt with a black thick belt and nude sandals.

In a ruling that strengthened the status of prenuptial agreements in British law, Lord Justice Mathew Thorpe ruled that German heiress Katrin Radmacher's prenup with her ex should determine how their assets are divided. Radmacher's ensemble, a white zipper dress and coat with beige suede pumps, was both elegant and appropriate for the hearing.

Paul McCartney looked winter-chic leaving court after a divorce hearing with ex Heather Mills. After four years of fighting in court--the divorce was finalized in 2010--McCartney was ordered to pay Mills a $47.5 million settlement.

Jamie McCourt donned a form-fitting white shift dress with side accents for one of many hearings about the validity of a post-nuptial agreement that gave Frank McCourt sole ownership of the Dodgers. Jamie looked business-chic in her white ensemble and appeared relaxed, laughing with her lawyers before the hearing began. The agreement was subsequently thrown out--leaving The Dodgers' fate in limbo.

Robert was charged with possession of some crazy ties and hair gel.

Britney Spears divorced her husband of two years, backup dancer Kevin Federline, in November 2006. She reappeared in court two years later for a custody hearing regarding visitation rights for her two sons. Perhaps she aimed to look conservative, but her pilgrim-esque white lace (doily?) dress was a misstep.

Perhaps Heather Mills could use some of the $47.5 million she received in a divorce settlement from Paul McCartney to buy a new wardrobe. The multicolored suit and vest she wore to a hearing matched her ridiculous court antics; at one point, she emptied a pitcher of water on McCartney's lawyer. "I thought it did her a world of good," she later said.

Jon Gosselin--formerly of "Jon & Kate Plus 8"--needs to be reminded of a fashion don't: black and navy. The famed father of sextuplets donned navy pants with a black suit jacket and purple-patterned tie to a divorce hearing in 2009.
Want more? Be sure to check out HuffPost Style on Twitter, Facebook, Tumblr, Pinterest and Instagram at @HuffPostStyle.
--
Do you have a style story idea or tip? Email us at stylesubmissions@huffingtonpost.com. (PR pitches sent to this address will be ignored.)