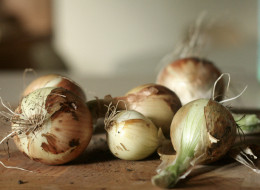 We all have our ways of pinching pennies. For some of us, it's at the grocery store. For others, it's finding ways to cut corners while cooking. But there aren't many who take advantage of the easiest way to save money -- and that's by keeping kitchen scraps like onion roots and old potatoes to grow (or regrow) their food.
We know what you're thinking. This sounds too complicated. It sounds like something only hippies would do. But, it's not. Regrowing your own vegetables from scraps that were going to get thrown out takes no more than a minute of thought, and just a little bit more effort. Andy Whiteley, co-founder of Wake Up World, explains what produce can be regrown and details how it's done. We've put together the 10 most practical -- and easiest -- for you below.
Want to read more from HuffPost Taste? Follow us on Twitter, Facebook, Pinterest and Tumblr.
via Wake Up World
Foods Thatll Regrow Themselves
When it comes to regrowing scallions, or leeks too for that matter, it's as simple as sticking the root end in a glass of water and placing it in sunlight. You'll want to change the water every couple of days, but aside from that these scallions will just grow.

Just like with scallions, place the root end of lemongrass in a glass of water. Within a week or two it'll start to grow and will be ready for planting.

Use all the celery you want, just keep the root end intact. Put the white end in a glass of water and watch it grow back. In about a week, it will be ready for planting. And just a few weeks after that, you'll have a whole new head of celery.

Don't throw out the end of romaine! Use it to regrow a head of lettuce, just like you would celery. Never buy another head of lettuce again.

Before you let that last little knob of ginger shrivel up in your fridge, put it in a pot of soil. Before you know it, the ginger will be growing shoots and roots. Just be sure to place it in a location with filtered light.

When you see one of your potatoes "growing eyes," cut it into one inch pieces being sure to leave one to two eyes per piece. Let the cut pieces sit out for two days, allowing it to dry out and callous over. Plant the pieces eight inches deep in soil and watch it grow.

With one clove of garlic, you can grow a whole plant. Just plant a clove, root side down, in soil. Once shoots start to appear, trim them down so the plant focuses on the garlic bulb.

If you save and plant the root end of onions, you'll never have to buy another one. Just cover the root end (plus half an inch of onion) with soil in a spot full of sun.

Mushrooms are a little trickier to regrow, but it can be done. Just remove the head from the stem, plant the stem in nutrient-rich potted soil, leaving just the top exposed. Place it in filtered light during the day and in a cool temperature at night.

Regrowing pineapple is a long-term investment -- you won't get fruit from it for 2-3 years. To do it, remove the green top from the fruit ensuring no fruit is attached. Remove some of the base leaves and plant in a sunny spot. Water every day for the first week, and then just once a week. It will begin to grow in a few months, and give you fruit in a couple of years.