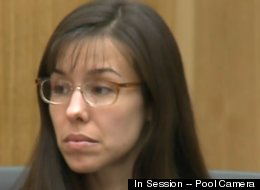 Testimony is set to resume Wednesday before Arizona jurors who are weighing whether 32-year-old Jodi Arias is guilty of first-degree murder for the brutal 2008 slaying of her ex-boyfriend, Travis Alexander.
On Tuesday, the defense team's first expert witness, psychologist Richard Samuels, endured a lengthy and scathing cross-examination by Maricopa County Prosecutor Juan Martinez.
For the second time in two days Samuels was backed into a corner by Martinez regarding Arias' questionable diagnosis of post-traumatic stress disorder, and the expert's admitted failure to re-administer the test after Arias admitted lying.
The expert was also hammered by the prosecutor for what was described as a failure to keep clear and accurate reports.
Martinez pounced on a report by Samuels' that indicated Arias met just two of the criteria for PTSD, when the guidelines require three for a diagnosis. Samuels said there was a typographical error in the report.
"Sir, with regard to this, you're getting paid. How much are you getting paid per hour?" asked Martinez.
"I get paid per hour, $250," Samuels said.
"And for $250 an hour you're saying that you weren't paying enough attention to put whatever else was needed?" asked Martinez.
"I reviewed the report numerous times and I must admit I missed it," Samuels said.
Samuels previously admitted Arias was given the test for PTSD before she admitted killing Alexander. At the time the test was given, in January 2010, Arias was claiming two unknown intruders had killed Alexander.
Arias at first vehemently denied any involvement in killing Alexander. His body was discovered June 8, 2008, in his Mesa, Ariz., apartment. An autopsy revealed he had been shot in the head, stabbed 27 times, and slashed in the throat.
After DNA pinned Arias to the crime scene, she changed her story, claiming there had been a home invasion by two unknown killers. She later admitted to killing Alexander, but claimed it was in self-defense. The prosecution contends she murdered Alexander in a jealous rage over his new love interest.
The defense team is expected to redirect Samuels' testimony today. Afterward, the judge will ask the defense expert a number of questions the jury has submitted for him. The juror questions should give some insight into how significant they consider the experts testimony in the case.
Arias is charged with first-degree murder and faces the death penalty if convicted.
The trial is set to resume at about 4:00 p.m. Eastern time, when the defense is expected to redirect Samuels testimony.
Read below for minute-by-minute updates from court Wednesday:
As a result of a spectator throwing up in the courtroom the trial has been recessed for the evening. The trial will resume tomorrow at 1:30 p.m. Eastern time.
The Huffington Post is live blogging Wednesday's testimony. Check back here for updates.