Playing on Florida International University's home court in Miami will now be a day at the beach.
The school revealed the winning design of its new basketball floor to The Huffington Post on Thursday -- a baseline-to-baseline shore design that might have players thinking they have sand in their shoes. (Story continues below.)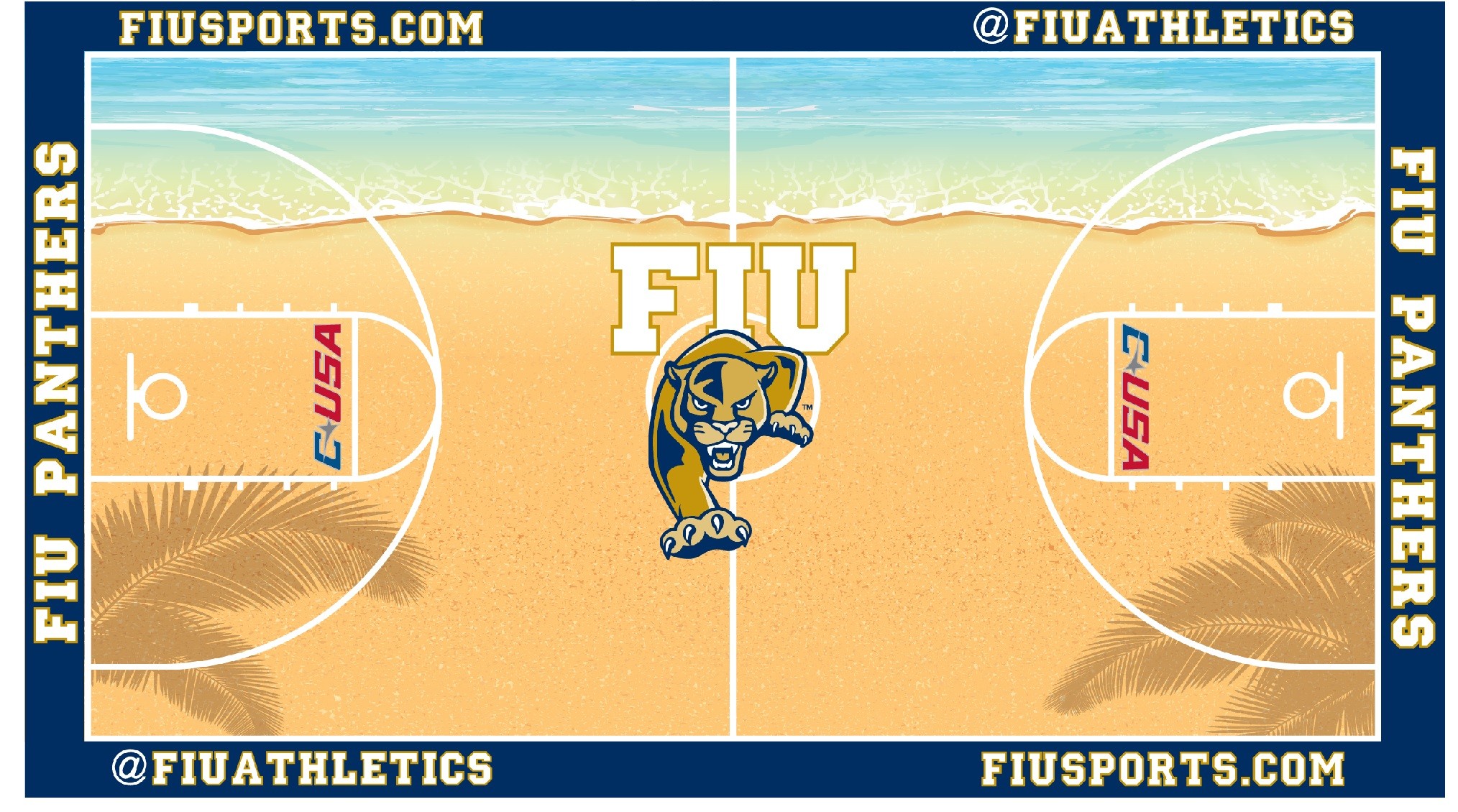 Photo Credit: Courtesy of FIU
Athletic Director Pete Garcia told HuffPost Thursday that he came up with the idea to attract recruits, provide a homecourt advantage and make money -- the school is getting a sponsor to pay for it. FIU is negotiating with a painting contractor now, and Garcia said the job should be completed for less than $1 million.
Garcia added that the postcard motif reinforces southern Florida's natural assets with a distinctive 94- by 50-foot wood canvas. "I don't know if we're the first ones to have something like this, but I don't know of anyone else who has one," he told HuffPost.
Outlets such as Yahoo! and Deadspin had reported on some of the earlier options tweeted by FIU Coach Richard Pitino (see below). One featured the Miami skyline with FIU's Roary the Panther mascot bursting through, but Pitino requested more sand, less buildings, Garcia said.
The other was a slight variation on the winner, in which Roary still stalks center court against a sand-and-surf background bathed in palm frond shadows.
The court will herald FIU's move from the Sun Belt Conference to Conference USA next season.
As the NCAA Tournament unfolds with the Louisville team coached by Pitino's dad, Rick, seeded No. 1, the younger Pitino managed to grab some attention. No easy feat considering FIU's season ended March 11 with a 2-point loss to Western Kentucky in the conference tournament final.
But no matter how the team does next season, at least FIU will have a shore thing.
The rejected options:

Redoing our court in a few weeks. This idea came across my desk. I am intrigued. Retweet if you like it! twitter.com/CoachPitinoFIU…

— Richard Pitino (@CoachPitinoFIU) March 18, 2013
Huge fan of this latest court proposal. Retweet if you agree! twitter.com/CoachPitinoFIU…

— Richard Pitino (@CoachPitinoFIU) March 20, 2013
Related on HuffPost:
Loading Slideshow
1992: Duke vs. Kentucky - Elite 8

With just 2.1 seconds left, Duke's Grant Hill heaved a pass down to Christian Laettner, who was all the way at the free throw line. Laettner caught it, stepped back and swished a fade away jumper to beat Kentucky as the Blue Devils advanced to the Final four.

1983: N.C. State vs. Houston - National Championship

Tied at 52, Lornezo Charles put back Derrick Whittenburg's air ball and dunked it as time expired to give N.C State a 74-72 victory over Houston in the 1983 National Championship game.

1998: Valparaiso vs. Ole Miss - 1st Round

In the first round, No. 14 seed Valparaiso's Bryce Drew nailed a 3-pointer as time expired, giving the Rebels a 70-69 victory over Ole Miss.

2003: Maryland vs. UNCW - 1st Round

Down 73-72 with five seconds left in regulation, Maryland's Drew Nicholas dribbled down the court and nailed a desperation 3-pointer to put away UNCW in the first round, 75-73.

1995: Missouri vs. UCLA - 2nd Round

Down 74-73 in the second round of the 1995 NCAA tournament, Tyus Edney of UCLA drove the ball the full length of the court and made a tough layup, leading the Bruins past Missouri and into the Sweet 16.

1998: UCONN vs. Washington - Sweet 16

Down 74-73 in the Sweet 16, Rip Hamilton of Connecticut grabbed the loose ball and hit a fade away jumper at the buzzer to beat Washington 75-74.

2006: Texas vs. West Virginia - Sweet 16

After West Virginia tied the game at 71 with five seconds remaining, Texas' Kenton Paulino knocked down a long 3-pointer at the buzzer to beat the Mountaineers 74-71.

1981: Arkansas vs. Louisville - 2nd Round

In the second round of the 1981 NCAA tournament, U.S Reed nailed a half court shot at the buzzer, giving Arkansas the victory over the defending champs Louisville.

1990: UCONN vs. Clemson - Sweet 16

Down 70-69 to Clemson with just one second on the clock, Connecticut's Tate George caught a full court pass, turned around and made a short jumper as time expired and Uconn won 71-70.

1992: Georgia Tech vs. USC - 2nd Round

James Forrest of Georgia Tech <a href="http://chronicle.augusta.com/stories/2004/03/21/gat_409468.shtml" target="_blank">hadn't made a 3-pointer all season. </a>With one second showing on the clock, Forrest received the inbound pass and threw up a 3-pointer. It fell right in, giving the Yellow Jackets a 79-78 victory over USC.

2010: Michigan State vs. Maryland - 2nd Round

After Greivis Vasquez and the Terps rallied to take a one-point lead with 6.6 seconds remaining, Korie Lucious nailed a 3-pointer at the buzzer to send Michigan State into the Sweet 16.

2010: Murray State vs. Vanderbilt - 1st Round

Trailing by one point with 4.2 seconds left, Murray State's Danero Thomas received a pass at the top of the key and took one dribble to his right. Then he stopped, took a fadeaway jumper and nailed a game-winning buzzer beater to upset Vanderbilt.

1984: VCU vs. Northeastern - 1st Round

With his team trailing Jim Calhoun's Northeastern squad 69-68 with two seconds remaining, VCU's Rolando Lamb received the inbounds pass just inside the 3-point line. Lamb then turned around and threw up a quick shot and made it at the buzzer. The No. 6 Rams avoided the upset.

1986: Iowa State vs. Miami (OH) - 1st Round

With just two seconds remaining and the score tied at 79, Iowa State's Jeff Hornacek received the inbounds pass just beyond the 3-point line. He took one dribble, turned and nailed a game-winning 3-pointer at the buzzer.

2011: Butler vs. ODU - 1st Round

Butler's Matt Howard was in the right place at the right time after a desperation shot missed in the final seconds. Howard was there for the rebound and quick put-back just as time expired, giving the No. 8 Bulldogs a 60-58 win.

1990: UNC vs. Oklahoma - 2nd Round

No. 8 UNC inbounded the ball underneath the Oklahoma basket with eight seconds remaining and the score tied at 77. Rick Fox got the ball on the right wing, drove the baseline and made a running layup as time expired to knock off the No. 1 Sooners.

2008: Western Kentucky vs. Drake - 2nd Round

Trailing by one point with time winding down, No. 12 Western Kentucky's Ty Rogers got the ball well behind the 3-point line on the right wing. He hoisted a desperation 3-pointer and hit nothing but net, ending No. 5 Drake's season.

1977: Marquette vs. UNC Charlotte - Final Four

Marquette had to inbound the ball from under its own basket and score in three seconds to avoid overtime. Butch Lee launched a pass toward Jerome Whitehead all the way in the far paint. Whitehead recovered the deflected ball, turned around and made a layup at the buzzer to send Marquette into the championship game.

2000: Florida vs. Butler - 1st Round

Trailing by one with seven seconds remaining, Mike Miller of the No. 5 Florida Gators got the ball on the left wing. He dribbled to his right and through the lane, throwing up a running layup. It fell through the net as time expired, sending Florida to the second round.